Dallas Uber and Lyft Rideshare Accident Lawyer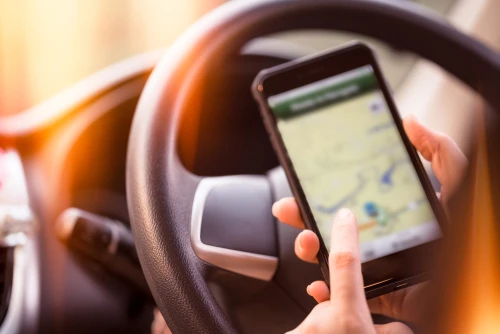 If you look closely enough, you'll see Lyft and Uber drivers all over the city of Dallas. It's great that we can get a quick ride from a few taps on a rideshare phone app. However, no matter how convenient these services are, if a driver causes an accident, they should be held responsible. This is where a Dallas Uber and Lyft rideshare accident lawyer can help.
If you were hurt in a Lyft or Uber accident that was not your fault, our Dallas car accident law firm is here to help. Our lawyers are up-to-date on the most current laws surrounding these services, and we are ready to fight for your rights. Plus, we do not collect a fee unless we win you a settlement or a verdict.
To get started with your FREE consultation, call us at (469) 998-4069 or contact us online now. We'll go over the details of your accident, discuss your legal options, and let you know how we can help — at no financial risk to you.
Why Uber and Lyft Rideshare Accident Cases Can Be Difficult
Any auto accident can leave you with serious injuries and damages. If you were not at fault for the accident, you may be entitled to financial compensation for your medical costs, lost wages, and much more. But when the accident involves a rideshare company, the legal side of things can be especially difficult.
Companies like Uber and Lyft have a lot of resources. In certain accident situations, they provide insurance coverage of at least $1 million per incident. While this might seem like a positive thing, it also means the company will fight hard to maintain its assets.
Uber and Lyft and their insurance companies will work to reduce their expenses after an accident claim. They might use tactics like:
Downplaying the severity of your injuries
Trying to blame you for the accident
Denying their liability in the driver's accident
Intimidating you into accepting a lower settlement
Also, some rideshare contracts will contain liability waivers that they can use to deny negligence in an accident. This might force you to turn to the driver for compensation instead, which rarely means the same degree of compensation.
To know your rights immediately and not get taken advantage of, reach out to an experienced Dallas Uber and Lyft rideshare accident lawyer. They can help you gather evidence from the accident, show who was at fault, and understand your recovery options. For a FREE consultation with a compassionate rideshare accident lawyer, call (469) 998-4069 or contact us online today.
How Fault and Negligence Work in a Rideshare Accident Claim
Texas uses the concept of proportionate responsibility when it comes to compensation for accident damages (Texas Civil Practice and Remedies Code section 33.001):
If you (as the person bringing an injury case) are more than 50% responsible for the injury accident, you cannot recover damages.
If you are 50% or less at fault for the accident, you can still recover damages based on your percentage of responsibility.
For example, if you are 10% responsible for the accident and an Uber driver is 90% at fault, the driver (and their insurance company) should be liable for 90% of your damages. You would only be responsible for 10% of your costs.
So, even if you are partially at fault for the accident, you are not necessarily barred from recovering damages. In fact, we find that many of our clients initially blame themselves but are surprised to learn they were not at all responsible for their accident.
Insurance companies will try to use the proportionate responsibility law to their advantage. They know that if they can blame you for part of the accident, they can reduce their liability for the costs.
Don't get blamed for an accident that was not your fault. An experienced Dallas lawyer can help protect your rights and even handle the insurance company for you. We highly recommend at least speaking with a good lawyer before having any communication with Uber's, Lyft's, or the at-fault driver's insurance company.
Lyft and Uber Driver Insurance Requirements
New Texas insurance requirements for Lyft and Uber began in 2017. This law required the ridesharing companies, also known as transportation network companies (TNCs), to provide more liability insurance.
Under the TNC insurance requirements, Lyft and Uber must both provide the following for their drivers:
$50,000 liability insurance per person injured in an accident
Up to $100,000 liability insurance per accident
$25,000 property damage insurance per accident
Note that this is the coverage provided to Lyft and Uber drivers when they have their app on but aren't yet giving a ride to someone. If the driver is transporting a passenger through the app when an accident happens, the ridesharing company must provide $1 million in coverage.
Uber and Lyft Driver Personal Insurance
When a Lyft or Uber driver is not using the app (in other words, using their vehicle for personal reasons), the driver's personal insurance coverage only applies. All drivers are required to carry the minimum auto insurance for Texas, which is:
$30,000 liability insurance per person injured in an accident
Up to $60,000 liability insurance per accident
$25,000 in property damage insurance per accident
The driver's working status when your accident happened will determine where you need to file your claim and what type of compensation you might be able to expect. In some cases, you might need to file more than one claim. If more than one driver was partially at fault for the accident, you might also need to file claims with multiple drivers' insurance companies.
Common Causes of Uber or Lyft Accidents in Dallas
Ridesharing drivers are prone to accidents in many of the same ways other drivers can cause crashes. An Uber or Lyft driver might cause an accident because of:
Distracted driving
Reckless driving
Driving under the influence
Failing to obey traffic signals
Road rage
Uber and Lyft drivers must use a phone app to view ride requests, send and receive messages and calls, accept passengers, and use the GPS system. Although this modern technology is incredible, it can also easily be distracting. Plus, rideshare drivers must also resist the urge to engage in other distracted driving behaviors, such as texting and driving.
Rideshare drivers can also become distracted by their passengers. If someone in the vehicle is particularly engaging, loud, belligerent, or talkative, the driver might have trouble paying attention to the road. Drivers who accept rides at nighttime and on the weekends may have to deal with very drunk passengers, for example.
Talk to a Dallas Uber and Lyft Rideshare Accident Lawyer for Free Today
If you were injured in an Uber or Lyft rideshare accident in Dallas, get the legal assistance you need today. Our Dallas car accident lawyers can answer your questions and go over your options during a FREE, no-obligation consultation. To get your FREE consultation today, call (469) 998-4069 or contact us online.
Frequently Asked Questions