Dallas Dump Truck Lawyer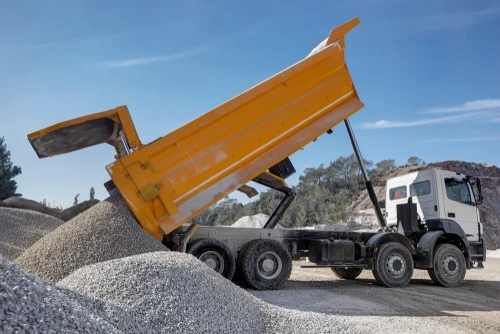 Dump truck accidents in Dallas are often severe, even fatal. Depending on the size and load capacity, a dump truck can weigh between 20,000 pounds and 400 tons. This massive weight means that dump trucks can cause substantial impacts in a collision. Even a minor crash involving a dump truck can severely damage your car.
In an accident involving a dump truck and a standard-sized car, pickup truck, or SUV, there may be injuries or even fatalities that affect you and your family for the rest of your lives. That's why it's imperative to seek legal help if you've been in an accident involving a dump truck.
Getting the compensation you deserve from a dump truck driver, owner, or construction company may be challenging, especially if you're still recovering from the accident. That's why our law offices in Dallas are offering 100% consultation calls to you or your loved one who has been in a dump truck accident.
To learn how our accident attorneys can help, call (214) 496-5227 today for your complimentary consultation. We'll assess your case and explain how our attorneys can fight for you. If we don't win, you don't pay.
Types of Dump Trucks Involved in Accidents
A dump truck is a large transport vehicle used to move raw materials like gravel and sand. They can also be used to transport industrial waste or coal. Sometimes referred to as "dumper trucks" or "tipper trucks," a standard dump truck contains a large, open, flatbed attached to the vehicle's frame.
This truck bed is hinged and uses a carefully engineered hydraulic system to lift the bed, allowing the vehicle to dump its load onto the ground behind the truck. Dump trucks are a common sight at most commercial construction sites. They can also be leased for private use.
In addition to the standard dump truck described above, you may encounter the following types of dump trucks:
Transfer Dump Truck: This is a dump truck with an attached trailer, which usually resembles a second truck bed.
Semi-Trailer End Dump Truck: This type of dump truck is much larger and heavier than a standard dump truck. Its front end resembles a tractor-trailer, and the vehicle possesses multiple axles. Due to weight restrictions, semi-trailer end dump trucks may not be as conventional in Dallas.
Side Dump Truck: As the name implies, a side dump truck is hinged differently. Its hydraulic equipment opens to the side, enabling the driver to dump the truck's load sideways instead of backward.
Haul Truck: Generally used near quarries and mines, these substantial industrial vehicles are some of the largest dump trucks on the planet. They are built much sturdier than smaller dump trucks and may carry as much as 400 tons per load.
How Dump Trucks Cause Car Accidents
Dump trucks can pose a severe danger to Dallas drivers. As with any large vehicle, dump trucks can inflict considerable damage to smaller cars simply by their size and mass.
The force of impact of a dump truck will be exponentially higher than a typical car or truck traveling at the same speed. Dump trucks also require a greater stopping distance — this means that when a dump truck driver needs to come to a full stop, they must decelerate and hit the brakes much sooner than a regular driver. If the dump truck driver is inexperienced, distracted, or impaired, they may cause an accident by misjudging the stopping distance.
Additionally, dump trucks have significantly larger blindspots. These industrial vehicles are often raised much higher off the ground than a passenger vehicle. If you are driving a small compact car or a motorcycle, they may not see you. That's why it's recommended to exercise great caution when passing dump trucks. If you can't see the driver in the dump truck's side mirrors, you can assume the dump truck driver doesn't see you.
On highways, dump trucks may cause accidents if their load hasn't been secured. Gravel, sand, dust, or other raw materials in the truck bed may come loose and fly into the road. These materials can crack your windshield, damage your car's paint, or cause more severe accidents by creating slippery road conditions.
On side streets in Dallas and surrounding Texas communities, dump truck accidents happen when the driver is backing up without assistance. It can be difficult for drivers to see where they're going when they're reversing the vehicle. Often, construction sites assign spotters to assist the dump truck driver. However, even with help from workers outside the motor vehicle, accidents still occur when the driver fails to control the dump truck.
Finally, dump truck accidents may happen as a result of the truck's namesake action. If the truck is not safely secured on a flat, level surface, it may tip over when it dumps its load. Although this type of dump truck accident is much more likely to occur on a construction site without private vehicles nearby, it still represents a potential risk.
Establishing Liability In A Dump Truck Accident
Because there may be multiple parties responsible, establishing liability when you have been involved in an accident with a dump truck may be somewhat more complicated than other car accidents. The owner of the truck fleet and the construction company leasing the truck may share liability.
Helping determine who's at fault in a dump truck accident is just one of our legal team's services. Our Dallas lawyers will fight to get you the compensation you deserve by making a free consultation call. Contact us today at (214) 496-5227. Remember, if we don't win your case, you won't owe us anything.
Don't let an accident with a Dallas dump truck continue to impact you. Take action and seek representation from our attorneys. We can help if you were in a minor collision with a dump truck, hit by loose cargo, or injured in a severe accident.
Frequently Asked Questions