Dallas Oversized Loads Lawyer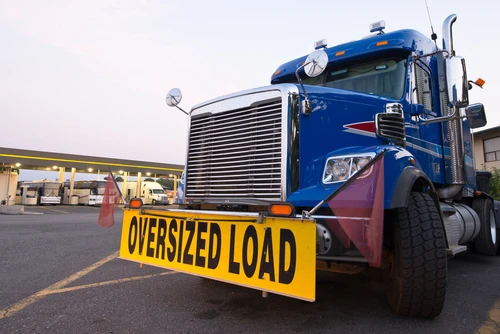 Large trucks are on Dallas roads every day, and just one oversized load can cause a severe accident. If an overloaded truck caused your accident, you have rights. Talk to a Dallas oversized loads lawyer about your legal options today.
Our Dallas car and truck accident law firm is here to help. We have assisted many clients in getting the settlement they deserve to recover their accident costs. Our goal is to make the process as stress-free as possible for you, so we don't charge you a fee unless we win you compensation.
To get started with a FREE consultation and case evaluation, call us at (469) 998-4069 or contact us online today.
Loading Guidelines for Trucks in Texas
According to the Texas Department of Motor Vehicles (TxDMV), trucks with loads that exceed state weight or size limits must carry an oversize/overweight permit. Drivers must also follow a specific route provided by the TxDMV when traveling on Texas roads.
A truck and its load are oversized if both exceed eight feet, six inches in width and 14 feet in height. Length limits are as follows:
Truck-trailer: unlimited
Semi-trailer: 59 feet
Trailer or semi-trailer of a twin-trailer combination: 28.5 feet
Truck towing a trailer that is carrying boats: 65 feet
Weight limits range from 20,000 pounds to 80,000 pounds depending on the vehicle's details.
Trucks and other commercial vehicles take up a lot of room on Dallas roads, which makes them riskier than other vehicles. Truckers and trucking companies must load and secure cargo properly. If a load is oversized, and it causes an accident, the consequences can be catastrophic.
How Oversized Loads Lead to Truck Accidents in Dallas
Here are some of the most common ways oversized loads cause accidents:
Steering issues
Driving too fast downhill
Driving too slowly uphill
Longer stop distances
A higher center of gravity (which increases the risk of rollover accidents)
Spilled cargo
Flat or blown tires
Oversized trucks are unstable, more difficult to navigate, and more prone to actions that cause crashes. Truck drivers have a legal duty to ensure safe practices so that they don't harm other drivers. When a driver (or someone else) fails in that duty, they are responsible for the damages.
Determining Fault in an Oversized Load Accident
If an oversized truck load caused your accident, you'll need to determine who was negligent. Negligence is the key factor in a Texas personal injury case. You can file an injury claim with the at-fault party's insurance company to seek compensation.
The responsible party in an oversized load accident might be any of the following:
The truck driver
The trucking company
The cargo loading company
A manufacturing company
A local government entity
A third-party driver
The at-fault party in this type of accident is typically the truck's driver or their employer. However, there are situations where a person who loaded the cargo, another driver, or the entity responsible for maintaining the roads might be accountable.
A Dallas oversized loads lawyer can help investigate the accident and determine exactly who was negligent. From there, they can help you file a claim and fight for your compensation rights.
Oversized Load Accidents Versus Other Accidents
Truck accidents are often more complicated than "normal" car accidents. You'll need to consider all responsible parties and federal transportation laws that apply to truck loading. If a large company is involved, their insurance companies will be ready to fight back and reduce what they have to pay.
Oversized load accident damages are also often very severe. The following types of injuries are common:
Traumatic brain injuries
Fractures
Loss of limb
Spinal cord injuries
Paralysis
Back injuries
Permanent disabilities
Unfortunately, fatal injuries are widespread in truck accidents simply because these vehicles are so large and heavy.
The complexity of truck accidents can make the legal side of things very difficult. Thankfully, a Dallas oversize loads lawyer can make a huge difference. Your lawyer will know how to determine the responsible party, where to file your claim(s), and how to fight for the full compensation you deserve.
Oversized Load Truck Accident Damages
The types of damages you can include in an injury claim are covered under Civil Practice and Remedies Code Section 41.001. Before filing your claim, you'll need to know the full extent of your economic damages and non-economic damages.
Economic damages are those that account for actual losses. For example, common economic damages are:
Medical bills
Prescription medications
Physical therapy
Lost wages
Vehicle repairs
Dollar values cannot demonstrate non-economic damages. Physical pain and suffering, loss of consortium, mental or emotional pain, physical impairment, and disfigurement are examples of non-economic costs. Your lawyer can help you accurately calculate the value of these damages when including them in your injury claim.
To learn more about your compensation options and how legal counsel can help your recovery, call us at (469) 998-4069 or contact us online for a FREE, no-risk consultation.
Never Accept the First Settlement Offer
After your accident, the at-fault party's insurance company might try contacting you. They might even offer you an upfront settlement for your damages. Although this quick money offer might be tempting, you should never accept the first offer.
Before accepting or signing anything from the insurance company, talk to a Dallas oversized loads lawyer. Insurance adjusters are skilled at looking for ways to reduce the value of your claim, and it can be hard to spot their tactics without a professional on your side.
Your lawyer can handle all communication with the insurer. Plus, if you get a lowball settlement offer, your lawyer will know how to negotiate and seek a settlement that helps cover your damages.
Speak with a Dallas Oversized Loads Lawyer for Free Today
Our Dallas car accident lawyers can help you after an oversized load accident. We know what it takes to win cases, and we're not afraid to stand up for your rights. We do not charge a fee unless we win you compensation, so there is no risk in contacting us.
To schedule a FREE consultation and get matched with the best attorney for your needs, call (469) 998-4069 or contact us online today. We're even happy to come to you (or meet wherever is most convenient) if you don't have transportation to us.
Frequently Asked Questions