Richardson Oversized Loads Accident Lawyer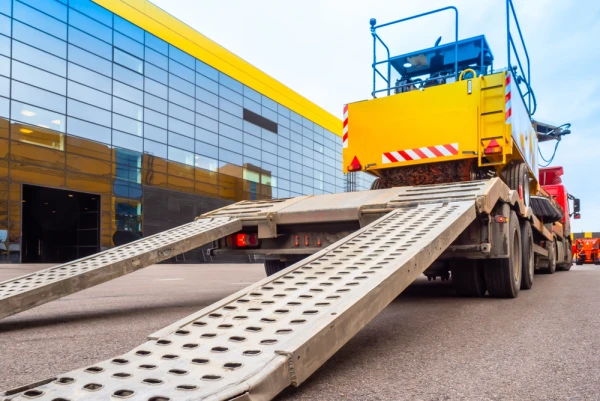 In commercial trucking, an oversized load is any transportation job where the cargo exceeds normal legal limits. Oversized loads can be abnormally heavy, long, or wide. Cargo often consists of raw materials like lumber, prefabricated modular homes and buildings, or other vehicles.
Oversized loads are essential to the Texas economy. Without oversized loads, many industries such as construction wouldn't be able to thrive. Unfortunately, oversized loads can cause severe accidents. A car crash involving an oversized load is often fatal.
If you're involved in an accident caused by oversized loads, you may be eligible for personal injury compensation. Transportation companies that operate oversized loads are required to follow rigorous safety standards. When these standards aren't met, the company could be liable for any accidents.
Call (214) 740-4556 to explore your legal options after an accident involving oversized loads. Our Richardson, TX accident lawyers can help. We will listen to your story and determine how much compensation you could receive. Then, we'll develop a unique legal strategy for your case.
Consultations with our lawyers are always free and there's no obligation to use our services. If we take you on as a client, you won't be billed unless we help you win.
Causes of Accidents Involving Oversized Loads
According to the Federal Motor Carrier Safety Administration (FMCSA), there were over 20,000 vehicles involved in accidents in Texas in 2019. This includes 10,784 injuries and 683 fatalities. Unfortunately, car crashes involving oversized loads contributed to these high numbers.
It's not easy to obtain a permit for oversized loads. Transportation companies must follow special safety regulations for oversized loads, and drivers must be properly licensed. Due to the difficulty of these loads, drivers assigned to these jobs are usually seasoned professionals with years of trucking experience.
Additionally, oversized loads are often accompanied by escort vehicles. The transportation company may send employees in smaller pickup trucks or on motorcycles to accompany the oversized load. These employees will drive directly ahead or behind the oversized load with warning flags or flashing lights. They alert other drivers to the presence of the oversized load and provide support for the main driver.
Unfortunately, oversized load accidents still occur despite these safety precautions. When oversized loads are involved in car crashes, the victims often receive severe debilitating injuries. Many are killed.
The size of an oversized load makes these accidents particularly dangerous. In the United States, oversized loads are wider than 8.5 feet and may be over 13.5 feet tall. These transport vehicles may be so wide that they take up multiple lanes of traffic.
Weight is determined by several factors, including the number of axles. Although regulations vary, an oversized load is usually 20,000 pounds per single axle. With the weight of the tractor trailer factored in, an oversized load could weigh as much as 80,000 pounds total. That's over twenty times the weight of a normal car.
When oversized loads encounter a hazard, such as another driver making reckless maneuvers, it's dangerous for everyone on the road. Oversized loads are difficult to steer as a result of their size and weight.
A vehicle hauling an oversized load cannot make quick lane changes or tight turns. When the driver hits the brakes, an oversized load may need 100 yards or more to come to a complete stop. This can result in serious accidents.
Common causes of accidents involving oversized loads include:
Bad Weather
Bad weather is a hazard for all drivers but poses a serious danger for trucks hauling an oversized load. In rain, snow, and fog, the driver's limited visibility becomes reduced even further. Accidents can occur when bad weather prevents the driver from seeing the road. They may change lanes without noticing another car.
Additionally, bad weather can dangerously impact the surface of the street. When flooded or covered in ice or snow, many vehicles have difficulty braking. A slippery road makes it harder for your tires to gain traction. It's easy to spin out or skid. When this happens to oversized loads, the results can be tragic.
Many accidents also happen when other cars behave recklessly, improperly passing or tailgating the truck that's hauling the oversized load. Unfortunately, bad weather often brings out the worst in other drivers. Accidents may happen when a driver speeds around an oversized load during a storm.
Poor Road Conditions
Poor road conditions are also responsible for oversized load accidents. Potholes, wheel ruts, or objects in the road pose a serious threat to these vehicles. A vehicle hauling an oversized load can be difficult to control.
If poor road conditions cause the driver to lose control of the vehicle, it may sideswipe other cars. Oversized loads are also prone to rollover accidents. These loads are often unbalanced due to their extreme size and weight.
When poor road conditions affect the vehicle's balance, it may tip over and crush a smaller car. A fallen load can also create accidents by forcing other drivers to come to a sudden stop or swerve around it.
Blind Spots
Finally, oversized load accidents can occur as a result of blind spots. If you see an oversized load on the highway, be sure to follow blind spot safety tips.
Truck drivers often have blind spots of 200 feet on either side of their vehicle. They also cannot see behind their truck. Oversized loads may make blind spots even worse because they're wider and longer than normal cargo.
Unfortunately, blind spots contribute to oversized load accidents when other drivers pass improperly or tailgate. These accidents can involve multiple vehicles. You may be struck by an oversized load that loses control as a result of another driver's reckless behavior.
Seek Help From an Accident Lawyer for Oversized Load Crashes
Have you been in a car accident involving an oversized load in Richardson, TX? You're not alone. Our accident lawyers will help you get back on your feet. Call (214) 740-4556 for your free consultation.
Frequently Asked Questions