Richardson Semi-Truck Accident Lawyer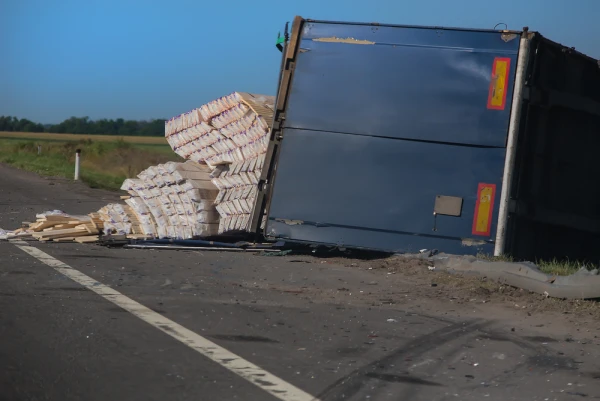 Semi-truck accidents are often dangerous. Each year, semi-truck accidents claim lives. According to the Federal Motor Carrier Safety Administration (FMCSA), there were over 4,200 fatal truck accidents in the United States in 2017.
But even a nonlethal crash involving a semi-truck is still a serious incident. Semi-truck accidents are among the worst kinds of car accidents. They may result in property damage, totaled vehicles, and injuries.
Many of the injuries from semi-truck accidents are lifelong. They may require years of rehabilitation or cause permanent disability. If you're involved in a semi-truck accident, your life may never be the same.
Our Richardson lawyers are here to help. We serve all Texas drivers who may be involved in a semi-truck accident. We'll fight to win the best possible outcome in your accident case. If we don't win, you won't pay for our services.
Call our law offices in Richardson, TX today at (214) 740-4556. You can also schedule a consultation with one of our accident attorneys using our website contact form. Why wait? It's time to exercise your legal rights after a semi-truck accident.
What Are the Most Common Semi-Truck Accident Injuries?
Semi-truck accidents may result in numerous injuries. These injuries vary depending on the details of the crash. The semi truck's cargo may also increase the likelihood of specific injuries. For example, a semi-truck hauling toxic chemicals may cause skin damage or lung damage.
However, some injuries are common in semi-truck accidents. If you or someone you love is involved in a semi-truck accident, you are likely to experience the following:
Neck Injuries
Neck injuries from a semi-truck accident can range from relatively minor strains like whiplash to cervical damage. In severe cases, victims may experience nerve damage and paralysis. Neck injuries can also induce strokes.
After a semi-truck accident, your neck injuries may impact your ability to return to work. You may require surgery, mobility aids like wheelchairs, or long-term care. Extreme neck injuries can also lead to an early death.
Head Injuries
Head injuries are also common in semi-truck accidents. You may suffer concussions, skull fractures, or cuts to the face or scalp. The worst head injuries from a semi-truck accident may result in traumatic brain injuries, also known as TBIs.
TBIs are major injuries that often affect a person's quality of life. You may experience memory loss, hearing or vision loss, inability to speak, and other forms of neurological damage. It's fairly common for TBIs to induce comas and vegetative states, as well.
When a semi-truck accident victim suffers a TBI, they may need multiple surgeries. Years of rehabilitation and home care often follow TBIs. The medical bills associated with TBIs are usually very high as well.
Broken Bones
In an accident involving a semi-truck, broken bones occur frequently. You may break an arm, leg, ribs, pelvis, or collarbone. Although most broken bones are not life-threatening, they can be extremely painful.
However, some broken bones severely impact the victim's life. A broken spine can cause full or partial paralysis. Victims with a broken spine may be permanently disabled. Other types of broken bones require years of physical therapy to return to full strength.
Cuts, Bruises, and Burns
Semi-truck accidents also cause cuts, bruises, and burns. Broken glass, metal, and fallen cargo often cause these injuries. In some accidents, the victim may experience internal bleeding and organ damage as well.
Yet even minor injuries from a semi-truck accident are painful. You may be unable to work for weeks or months while they heal. Medical bills for these injuries are often high as well. You deserve compensation in a semi-truck accident even if you only have cuts, bruises, or minor burns.
Psychological Injuries
A semi-truck accident can be highly traumatic. These accidents are usually loud, destructive, and frightening. Psychological injuries like PTSD and anxiety are common in the aftermath of a semi-truck accident. Although they may be invisible injuries, they can be just as damaging as a broken neck or TBI.
If someone died in the accident, your psychological trauma could be debilitating. Grief from a semi-truck accident may lead to lifelong depression or addictions. These psychological injuries often require years of mental health treatment. In some cases, survivors may be unable to return to a normal life.
Are You Owed Compensation From a Semi-Truck Accident?
Semi-truck accidents in Richardson can be terrible and frightening. If you are injured in a semi-truck accident, you may be eligible for compensation. An accident settlement can help you pay medical bills and replace lost or damaged property. You can also use your settlement to cover lost wages while you recover.
If the accident resulted in a fatality, you could also be able to file a wrongful death claim against the driver. Although no amount of compensation will replace a lost life, a wrongful death settlement can help your family get back on its feet.
That's why it's so important to determine liability after a semi-truck accident. After an accident, always get the driver's insurance information right away. Be sure to collect their employer's information, too.
The truck driver's employer could share liability if the accident occurred as a result of a mechanical failure. Trucking companies are required to maintain their vehicles and perform regular repairs. They may also be liable if the driver lacks proper training or licensing.
If liability sounds complicated, don't worry. We're here to help. Our legal team is on your side. Each of your Richardson lawyers is prepared to help you explore your legal options. We'll explain your rights, then fight on your behalf.
If you or someone you love was involved in a semi-truck accident, call (214) 740-4556 for a free consultation. There's zero obligation to you. If we take your case and don't win, you won't pay for our services.
Frequently Asked Questions