What Are the Different Types of Spinal Cord Injuries in a Car Accident?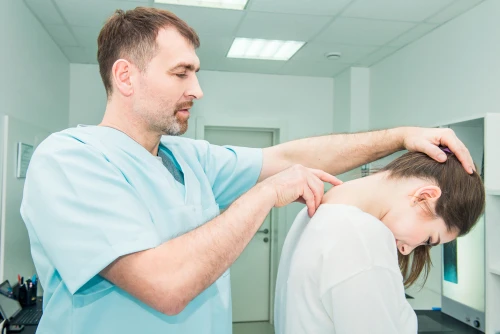 Car accidents in Dallas may leave you with many different kinds of injuries. Damage to the back or spine is common in motor vehicle accidents. Use this article to learn about the different types of spinal cord injuries in a car accident.
You can also review treatment options for spinal cord injuries and find information about your legal options to seek compensation for your medical expenses if someone else caused your motor vehicle collision in Dallas.
Whiplash Is a Possible Car Accident Injury
Whiplash is one of the most common injuries caused by a car accident. You may experience whiplash if your head is jerked back and forth due to the forces of the accident. Whiplash primarily impacts the neck and is in fact considered a soft tissue injury.
However, whiplash may also have an impact on your lower spine. Note that you may not realize that you have whiplash right away after an accident. If you develop neck stiffness, pain, or a reduced range of motion after a car accident, it could indicate that you have whiplash.
A Car Accident Could Damage the Discs of Your Spine
Injuries to the discs of your spinal cord may occur in a car accident in Dallas. The "discs" of your spine are found between your vertebrae. They exist to cushion the bones of the spine and to ensure your bones don't rub together. An accident could cause your discs to:
Any of these conditions could lead to significant pain and difficulty moving your back.
Bones in Your Spine Could be Broken in an Accident
Your vertebrae could be broken or fractured in a car accident if you are exposed to enough force during the collision. You could experience a relatively minor spinal fracture. Note that, sometimes, fractured vertebrae move around, leading to spondylolisthesis.
You may experience spondylolisthesis if your fractured vertebra puts pressure directly on your spinal column or if they simply shift around to a different position. You may experience numbness or pain after fracturing a bone in your spine.
Direct Injuries to Your Spinal Cord From an Accident
Serious car accidents may severely damage your spinal cord and the nerves within it. Nerve damage is not uncommon in car accident cases in Dallas. Additionally, individuals who experience spinal cord injuries may become paralyzed. Spinal cord damage sometimes leads to:
Paraplegia. You may experience paraplegia if you lose the ability to use your legs. You may lose all sensation from your waist down.
Quadriplegia. Severe damage to the upper spinal cord may result in quadriplegia. You may lose all feeling from your neck down if you experience quadriplegia.
Many individuals who experience this form of spinal trauma cannot fully recover. You may be paralyzed for the rest of your life as a result of a spinal cord injury caused by a car accident in Dallas. Make sure that you get medical treatment immediately if you believe your back was injured in any way in a collision.
Treatments for Spinal Cord Injuries in Dallas
It's important that you seek prompt medical care if you experience a spinal cord injury as a result of a car accident in Dallas. A doctor may need to perform numerous assessments to determine the severity of your injury and to develop a care plan.
You may require surgery and extensive physical therapy to recover from a spinal cord injury. In some cases, you may never fully recover from your injuries. Instead, you could be left with a disabling condition that impacts your ability to work and go about your day-to-day life.
In this situation, you could be eligible to receive compensation for your medical expenses, lost wages, lost earning potential, and more. In order to get compensation, you should work with a Dallas car accident lawyer. Your lawyer may be able to help show that someone else caused your accident to bring you a settlement or a court verdict in your favor.
Speak to a Lawyer About Car Accidents and Spinal Cord Injuries
What are the different types of spinal cord injuries in a car accident? You could face broken bones, paralysis, whiplash, and more after a car accident in Dallas. If you are dealing with any of these injuries, you may get legal help on your side by contacting a Dallas car accident lawyer by calling (469) 998-4069 or completing our online contact form.
Reach out to us now to get a free consultation.
Frequently Asked Questions