Dallas Bicycle Accident Lawyer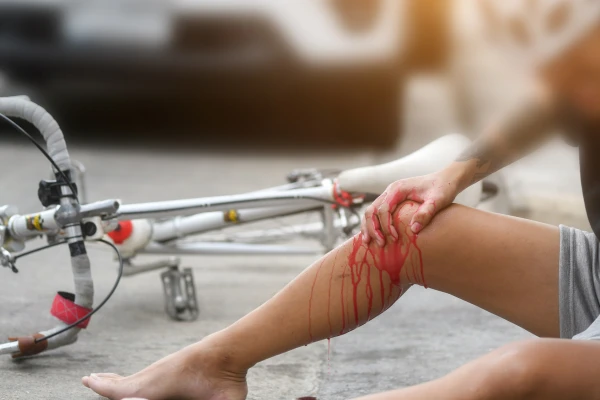 Riding your bike for pleasure in a group ride or solo, or riding your bike to work can be fun, and an environmentally friendly way to get around. But a lot of drivers don't like to share the road and end up hitting cyclists, or running cyclists off the road. According to the National Highway Transportation Safety Administration (NHTSA), in 2016, 840 bicyclists were killed in motor vehicle accidents. Thousands more were injured. The majority of those accidents occurred in urban areas.
The team of personal injury lawyers at our firm, a Dallas car accident law firm, have experience in handling bicycle accident cases for cyclists who ride every day, and for parents of children hit while riding their bikes, and everyone in between. The majority of the vehicle versus bicycle accidents are the fault of a negligent driver, but some insurance companies will try and say you caused the accident, to avoid paying a claim, or to pay a smaller amount. Our bicycle accident lawyers will fight on your behalf.
If you or a loved one has been injured while riding your bike, it's important to contact one of our Dallas bicycle accident lawyers to help ensure you get the best compensation from the insurance company.
Common Causes of Vehicle Versus Bicycle Accidents
While some bicycle accidents are the fault of the cyclist, most accidents are the fault of the driver of the vehicle that hit the cyclist. Common scenarios include:
Inattentive driving/riding
Failure to obey traffic signals
Speeding
Failure to yield the right of way to the cyclist
Someone in a parked car opens the door right as the cyclist is passing
Rear-end collision
Road rage
Cyclists have the same rights as motorists, but a lot of motorists don't realize that and will crowd you, turn in front of you, or generally just not pay attention to you. You can help avoid some accidents by taking several steps:
Wear bright clothing when you are riding your bike – be visible!
Obey the rules of the road, just as if you were driving a car. It's the law.
Use a headlight or flashing light on your bike, even during the daytime.
Use the designated bike lanes or shoulder of the road whenever possible.
Ride on the sidewalk, but know that you must yield to pedestrians.
The at-fault driver's insurance company may try to claim that you are partially at fault for the accident, saying you were violating traffic laws, riding inattentively, or something else. If the police report indicates you were partially at fault, you may still be entitled to claim damages, as long as you were 50% or less at fault. The amount of any damages or settlement may be reduced by the percentage of fault assigned to you by the police.
Have you been injured in a bicycle accident in Dallas today?
Contact one of our bicycle accident lawyers available to help you today. Our personal injury attorneys in Dallas can help you with your Dallas bicycle accident case. All our Dallas bicycle accident lawyers are available 24 hours and we have an online appointment with the best bicycle accident lawyers in Dallas.
---
Potential Injuries in Dallas Bicycle Accidents
It's important to note that in the majority of bicyclist deaths, the most serious injuries were head injuries, highlighting the importance of wearing a helmet. In fact, the Insurance Institute for Highway Safety reports that wearing a helmet reduces the risk of suffering a head injury in an accident by 50%. The majority of bicyclists who die in traffic accidents each year are not wearing a helmet.
Texas law does not require any cyclist of any age to wear a helmet. However, the Dallas city code requires anyone under the age of 18 to wear a helmet. Even if you're not required to wear a helmet, doing so could save your life in the event of an accident.
With or without a helmet, potential injuries include:
Head injuries
Spinal cord injuries
Internal injuries
Broken back or neck
Fractures / broken bones
Concussions and complications from a concussion
Sprains
Cuts, scrapes, and bruising
Getting Insurance Compensation
If you were injured by a vehicle while you were riding your bike, we can help you file a claim for insurance compensation from the at-fault driver's insurance company. Reviewing your case with a Dallas bicycle accident lawyer can help you navigate the complex insurance system to get a settlement that covers your medical expenses, lost wages, damage to your bicycle, as well as pain and suffering.
If you were injured by a hit and run driver who was never found, or the driver who was at fault is uninsured or has too little insurance, we may be able to help you get compensation through the uninsured/underinsured motorist coverage on your own auto insurance policy.
Talk to Experienced Dallas Bicycle Accident Lawyers for Free
Speaking to one of our experienced Dallas bicycle accident lawyers is free and maybe the best decision you make after your accident. At your initial consultation, we'll talk with you about the accident, the extent of your injuries, and discuss any offers the insurance company(ies) have already made to help you decide how to move forward. Call us today at (469) 998-4069 or use our contact form and someone will get back to you quickly.
Frequently Asked Questions