Carrollton Bicycle Accident Lawyer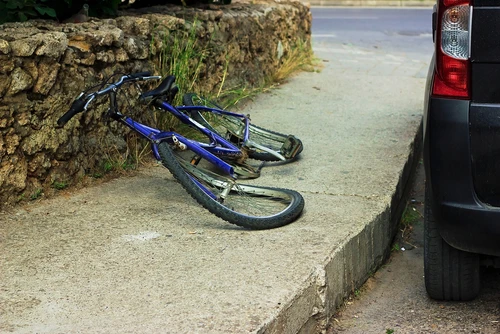 When a bicyclist is struck by a vehicle, there is little protection against serious injury. In fact, Texas and Carrollton do not have laws requiring bicyclists to wear helmets, which can lead to even more significant bodily harm. These accidents can result in:
Broken bones
Road rash
Paralysis
Concussions (TBIs)
Loss of limb
Though nothing can undo the fact that you were in a bicycle accident, there is help available. The law allows injured people to recover compensation from the at-fault driver. At our firm, a Dallas car accident law firm, we aim to assist injured people in getting the money they need to pay for their medical care and get their life back on track after their accident. That is why we offer services as Carrollton bicycle accident lawyers and do not collect an attorney fee until after you get your compensation.
Pursuing Compensation
As the injured person, you can sue the opposing driver who struck you for certain harms that you have received. These can be related to your financial status, in which case they called economic harms, or they can be non-economic in nature. Determining and calculating the value of your damages is crucial to any personal injury claim.
Economic Damage Examples
Your economic damages can rise throughout the treatment you endure after your injuries. They can include factors like medical bills, the cost of necessary medical add-ons to your house, wages lost as a result of missed work, and the value of labor lost if you are unable to return to a similar job in the future.
Non-Economic Damage Examples
On the other hand, some of the harms you experience after an injury do not have clear economic value. They may not be as straightforward as bills with a value attached to them. These non-economic damages can include things like the toll of your physical pain and mental suffering that you endure.
How Fault Affects Your Claim
Negligence or fault is the central part of a personal injury claim. From rear-end accidents to bicycle accidents, the process is the same. Namely, your Carrollton bicycle accident lawyers will collect evidence that shows that the driver of the vehicle was responsible for the accident. On the opposite side, the driver and their attorney will work to produce evidence that exonerates them and puts more blame on you. Luckily, Texas Civil Practice and Remedies Code §33.012 allows partially at-fault injured folks to sue for compensation.
Majority Blame
First, the law only restricts injured people from pursuing recovery if they have more than 50% of the blame for an accident. In other words, if you are found to be the most at-fault party, you will be unable to sue for compensation. Though fault is heavily disputed, certain actions by the driver can virtually pin the blame entirely on them, such as drinking while driving or causing an accident by texting and driving.
Fault Lowers Your Award
Though you may be allowed to pursue damages from the vehicle's driver, any fault that is attributed to you will directly reduce the amount of money you are awarded for your injuries. Essentially, the court decides what percentage of the total damages are your responsibility by deciding what percentage of blame you own for the accident. If you are found 25% responsible for the accident, your total compensation will be reduced by 25% as well.
Experience Matters When Choosing Your Lawyer
Dallas Car Accident Lawyers knows that experience matters. We have worked with clients who have a myriad of injuries, and we have represented them in a wide variety of personal injury claims. We can even help if the driver who struck you was working for a rideshare company like Uber or Lyft.
By working with our Carrollton bicycle accident lawyers, you give yourself a better chance to pursue the best possible result in your case. Whether it is through collecting and preserving valuable evidence of the other driver's fault, coordinating interviews with eyewitnesses, getting in touch with important expert witnesses, negotiating with opposing legal counsel, or representing in court, our attorneys can work for you.
Get Your FREE Case Evaluation Today
A personal injury claim can be incredibly difficult to handle when you are focusing your time on recovery, connecting with family, and working through the implications of your injury. The Carrollton bicycle accident attorneys at our firm, a Dallas car accident law firm, offer a FREE case evaluation to go over details of your claim so that you can decide whether or not you are comfortable with our services. And remember: we do not collect a fee from you until you have won your case.
If you want to get your free evaluation, fill out the form on our contact page. You also can reach us by phone at 469-998-4069.
Frequently Asked Questions