Dallas Car Accident Caused by Poor Lighting Lawyer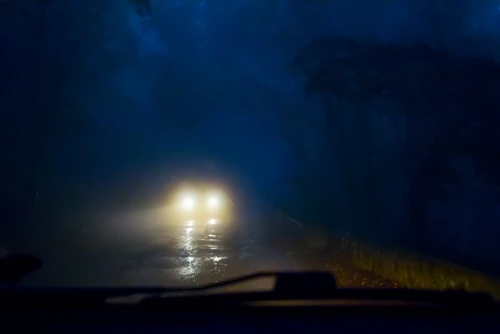 Night driving can be dangerous, so can driving in the rain or fog. Poor lighting can be a factor in many car accidents, but that can sometimes be tough to prove. That's why, if you've been injured in a car accident where you believe low lighting was a factor, you need the help of a Dallas poor lighting lawyer.
According to the National Safety Council, nighttime is the most dangerous time to drive. While Americans do only 40% of their driving at night, that's when 50% of traffic fatalities happen. If you or a loved one has been injured in a traffic accident where low light was a factor, it's important to contact one of our Dallas poor lighting lawyers to help ensure you get the best compensation from the insurance company.
Assigning Fault in a Poor Lighting Accident
There are several common situations where poor lighting may be a factor in a car accident. These include:
Burnt out streetlights
Lack of streetlights on a well-traveled road
Inoperable traffic lights
Rural roads without reflective signs
In some of these cases, you may have hit another vehicle, an animal, or even a pedestrian because the lighting was so bad you couldn't see. Or another vehicle may have hit you. Either way, while we may be able to get you compensation from your insurance company or the other driver's insurance company, you may also have a case against your local government.
If speed, fatigue, or impaired driving were not contributing factors, you may have a case of poor lighting being the main factor in your accident. Towns, cities, counties, and the state are responsible for keeping the roads safe. If poor lighting conditions existed at the time of your accident, our Dallas poor lighting lawyers will do extensive research to determine if a government agency might have been able to prevent it.
This can include researching several things, including:
How many accidents have occurred in that same area in recent years
Whether police reports indicate poor lighting was a factor in those accidents
If street lights were burnt out
If requests have been made for street lights
If reflective road markers are in place
If a traffic light was malfunctioning
What traffic camera footage shows, if there were traffic cameras nearby
As a Dallas car accident law firm, we have the resources and legal authority to access information you would not be able to acquire by yourself. This is why having a Dallas poor lighting lawyer work with you is vital to represent your interests.
After our team does thorough research, you may have a case — if we can prove the government agency should have been aware of the poor lighting conditions and failed to act. If the government failed to take corrective action or put up signs warning of low lighting conditions, there may be grounds to sue them for negligence. The government agency may be held partly at fault in your accident.
The other driver's insurance company, as well as the government's legal team, will try to claim that you are partially at fault for the accident, saying you were violating traffic laws, driving distracted, or something else. If the police report says you were partially at fault, you may still be entitled to claim damages. The Texas Transportation Code, Chapter 601 says that, as long as you were 50% or less at fault, you can pursue compensation. The amount of any damages or settlement you receive may be reduced by the percentage of fault assigned to you by the police.
Potential Injuries in Poor Lighting Accidents
Serious injuries, and even death, can result from poor lighting accidents. This can be the case for drivers, cyclists, and pedestrians alike. Injuries can include:
Head injuries
Spinal cord injuries
Internal injuries
Broken back or neck
Fractures / broken bones
Concussions and complications from a concussion
Sprains
Cuts, scrapes, and bruising
Post-traumatic stress
If you have hospital bills to pay after your accident, or funeral costs, you need a Dallas poor lighting accident lawyer to focus on taking on the insurance companies and possibly your local government, so you can focus on recovery, or dealing with the loss of a loved one.
Our Dallas car accident law firm will work tirelessly to get you a settlement that covers your medical expenses, lost wages, damage to your vehicle, as well as pain and suffering.
Dallas Poor Lighting Lawyer Safety Tips
While you can't do anything about burnt out street lights or dark rural roads, by following some safety tips for driving in poor lighting, you can help prevent a future accident.
Keep a safe distance between you and other vehicles. Your low beams illuminate the road up to 160 feet in front of you. Your high beams light up the road up to 500 feet in front of you. Make sure that if you need to brake hard, you can stop within those distances.
Keep your dashboard lights on a lower (not bright) setting. The contrast between bright dashboard lights and the darkness outside can affect your night vision. Dim the interior lights so your eyes adjust more to the darkness outside.
Keep your windshield, mirrors, and headlights clean. Dirt, grime, and smears can cause a glare on the windshield, making it difficult to see in low lighting. Dirty headlights mean you can't see as far as you need to.
If you wear glasses, get an anti-glare coating. This is a safety feature that is well worth paying a few extra dollars for.
Report any broken or burnt out street lights, traffic signals, or missing reflective signs. Don't assume someone else has already reported the problem. Consider taking a photo if you are not actively driving.
Talk to an Experienced Dallas Poor Lighting Lawyer for Free
Speaking to an experienced Dallas poor lighting lawyer is free and may be the best decision you make after your accident. At your initial consultation, we'll talk with you about the accident, the extent of your injuries, and discuss any offers the insurance companies have already made to help you decide how to move forward. Call us today at (469) 998-4069 or use our contact form and someone will get back with you quickly.
Frequently Asked Questions