Dallas Taxicab Accident Lawyer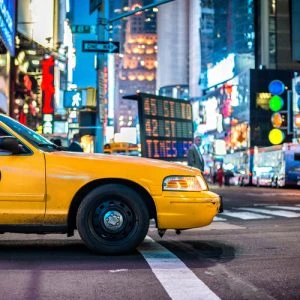 We see taxicabs less often in Dallas now that ridesharing has become so popular, but taxis still exist, and they can still become involved in accidents. If you or someone you love were injured in a taxicab crash, it's important to know your legal options. It's in your best interest to talk to a Dallas taxicab accident lawyer before making any definitive decisions.
To get the answers you need as soon as possible, schedule a FREE consultation with one of our Dallas car accident lawyers. We can match you with the best lawyer for your needs, and there is NO fee unless we win you a settlement or a verdict.
To get started for FREE today, call (469) 998-4069 or contact us online now.
Taxi Driver Legal Duties in Dallas
Every driver on Dallas roads has a legal duty to act in a way that any other prudent person would in a similar situation. In other words, drivers should operate their vehicles safely so that they do not act in a way that causes harm to others. This applies to taxicab drivers, as well.
If a driver's duty of care is breached, it's a form of negligence. When a driver is negligent and that negligence leads to an accident, the driver is legally responsible for the damages. This usually means the driver's insurance company will help cover the damages — but it can be more complicated with taxicab accidents.
Since taxi drivers are carrying many different people around each day, they should be especially careful on Dallas roads. Unfortunately, some taxicab drivers become reckless or overly confident in their driving abilities. They know the roads extremely well, and they might become impatient with other drivers — which can lead to accidents.
Filing a Claim Against a Taxicab Driver After an Accident
When another driver causes your accident, you have the right to file a personal injury claim with their insurance company. How you can do this after a taxicab accident will depend on the driver's employment status.
Some taxi drivers are employed by a taxicab company, while others might be independent contractors. It's important to know the distinction so that you know where to file your claim:
If the taxi driver who caused your accident is employed by a taxicab company, the company is likely responsible for its employee's actions. If so, you can file a claim with the taxi company's insurance company.
If the taxi driver is independently contracted, they may fully rely on their own auto insurance coverage for accidents. If so, you'll need to file a claim with the driver's own insurance company.
Sometimes, accidents are covered by a combination of the taxi driver's insurance and the taxi company's insurance.
These details can become complicated quickly. To make sure you have everything straight, it's best to contact a Dallas taxicab accident lawyer and go over the details. Otherwise, you could end up leaving money on the table and missing out on the full compensation you deserve.
If you were injured as a passenger in a taxicab accident, you had no control over the situation. The same is often true even if you were another driver. Don't get stuck paying for the driver's poor judgment — get the legal help you deserve. Call (469) 998-4069 or contact us online to get a FREE consultation right away.
Why Taxicab Accidents Happen in Dallas
Some of the most common reasons taxicab accidents happen include:
Distracted driving
Inattentive driving
Drunk driving
Drowsy or fatigued driving
Poor taxi driver training
Speeding
Unsafe lane changes
Reckless or aggressive driving
The cause of the accident is also vital to your case. For example, if a driver's poor training led them to make mistakes that caused your accident, the company that employed the driver might be partially or fully at fault. However, if the driver was under the influence of alcohol, they are likely completely responsible and you might be entitled to even more damages.
How Liability Works in a Dallas Taxicab Accident
According to Dallas City Hall, taxicab companies are required to carry liability insurance of $500,000 each for each vehicle and occurrence of bodily injury and property damage. The coverage holder must also maintain liability insurance from an insurance company that the Texas Department of Insurance has approved, licensed, or authorized.
If a taxicab driver caused your accident, their insurance company should be liable for your damages. You can file a claim to seek compensation for your damages. However, you will also have to deal with the insurance company and its tactics.
Dealing with the Insurance Company
Insurance companies will often reach out to accident victims soon after a crash. They will be looking for ways to reduce what they have to pay, and that can involve tactics that you're not even aware of happening. Thankfully, a Dallas taxicab accident lawyer will know how to communicate with the insurance company and protect your legal rights.
Your lawyer can be your voice against the insurance company. They can also ensure you file a claim with the correct insurance company and have the strongest claim possible. Instead of stressing about these details, you can focus on physically, mentally, and emotionally recovering from the accident.
Common Damages From a Taxicab Accident
After the accident, it's important to keep track of your total damages. Any expenses or losses you experience after the accident are damages you should not have to pay for.
Some of the most common taxicab accident damages include:
Medical bills (including future treatment)
Prescription medications
Lost wages
Loss of earning capacity
Vehicle repairs
Pain and suffering
You'll want to keep track of all documentation showing your damages. Medical costs, lost wages, and property damages are fairly easy to document, but pain and suffering damages are another story.
Pain and suffering refer to the physical and emotional pain you experience because of your accident injuries. These non-economic damages are very difficult to demonstrate, which is where a lawyer can be invaluable.
Get a Free Consultation with a Dallas Taxicab Accident Lawyer Today
Don't miss out on the full compensation you deserve after being injured in a taxicab accident. Our Dallas car accident lawyers are here to help you with your claim. We do not charge a fee unless we win you compensation, so you don't have to worry about out-of-pocket or upfront costs.
To schedule a FREE, no-risk consultation as soon as possible, give us a call at (469) 998-4069 or contact us online today.
Frequently Asked Questions