Dallas Improper Lane Changes Accident Lawyer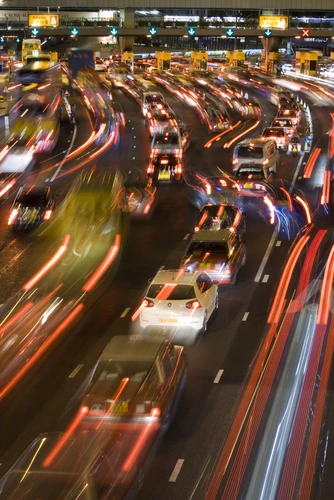 It's one of the most annoying scenarios on Dallas roads: getting cut off by another driver who enters your lane without warning. Even worse, this type of action can easily lead to serious, even deadly, consequences. A Dallas improper lane changes lawyer can help if you have been injured because of unsafe lane change practices.
Anyone can become a victim of an accident resulting from an improper lane change. Our Dallas car accident lawyers are dedicated to helping. We can help you gather evidence from the accident, show the other driver's fault, and build a strong insurance claim to seek fair compensation for you.
Contact us today and we'll get you started with a FREE, no-obligation consultation. Call (469) 998-4069 or contact us online now.
How Dallas Laws Treat Improper Lane Changes
According to Texas Transportation Code section 545.060, someone driving on a road with two or more clearly-marked traffic lanes should:
Drive fully within a single lane
Not leave the lane unless they can do so safely
In addition, drivers on roads with three lanes and two-way traffic should not drive in the center lane unless they are:
Passing another vehicle and it is safe to merge into the center lane
Getting ready to make a left turn
On a road where a traffic-control device has designated the lane for movement in that direction
Under Texas Transportation Code section 545.106, all drivers must also use the left or right turn signal on their vehicle to indicate they intend to change lanes.
In some situations, official traffic-control devices might direct slower traffic to use a certain lane, or the device might prevent drivers from changing lanes in certain areas.
All drivers have a duty to follow traffic rules and not engage in activities that put others in danger. If a driver makes an improper lane change on a Dallas road, they are being negligent and it can result in an accident.
Why Improper Lane Changes Happen in Dallas
There are many reasons a driver might fail to change lanes correctly. It all depends on the situation. If another driver caused your accident, it's important to think about how exactly they changed lanes incorrectly and how that led to the collision. This will help you properly represent the situation in your claim.
A driver might make an improper lane change because they are:
Too impatient to wait for other drivers to pass
Driving recklessly, such as weaving in and out of lanes without signaling
Too distracted to notice another driver is already in the lane
Racing with another vehicle
Driving under the influence or falling asleep at the wheel
Not checking their blind spot for other traffic
Swerving to avoid another collision
If the at-fault driver changed lanes unexpectedly to avoid another driver or object on the road, more than one party may be at fault. You'll want to consult with a Dallas improper lane change driver to uncover the full details and know your legal options.
At the very least, it's a good idea to speak with an experienced lawyer about what to do first. Building a personal injury claim after a car accident is not easy, and it's even harder dealing with an at-fault driver's insurance company. To get a FREE, no-strings-attached consultation, call (469) 998-4069, or fill out one of our online forms today.
Consequences of Making an Improper Lane Change in Dallas
In the state of Texas, a driver who receives an unsafe lane change violation can face a fine of up to $200 and two points on their driving record, which can result in higher insurance car premiums. Four or more similar violations can lead to a suspended driver's license.
Even worse, performing an improper lane change puts others' lives at risk. A serious accident can happen that leaves other drivers, pedestrians, bikers, and more with serious or life-threatening injuries. Unsafe lane changes can lead to side-swipe accidents that cause rollovers or head-on collisions that are some of the most serious collisions that ever happen.
Determining Fault After a Dallas Improper Lane Change Accident
In Texas, the at-fault party in an auto accident is legally liable for the damages. So, if you were not at fault in your accident, you have options. To start, you'll need to determine fault.
If it's really clear that the other driver was at fault in your accident, this will make the process easier. That being said, the burden of proof is still on you to prove that the other driver was negligent in your accident.
Whether it's very obvious who caused the accident or liability is murky, it's a good idea to talk to a Dallas improper lane changes lawyer. Your lawyer can help:
Gather evidence from the accident scene, such as pictures, witness statements, copies of the police report, and more
Calculate your total damages
Gather proof of your damages
Communicate with the insurance company
Negotiate for a fair settlement
If there's a chance you might be at fault for the accident, don't despair. You likely still have rights. Under Texas law, you can still seek compensation for your damages if you were not 50% or more at fault for the accident. Plus, we find that many accident victims are quick to blame themselves even if they actually bear no fault in what happened.
Before assuming or accepting any blame for your accident, talk to a lawyer. Otherwise, anything you say might be used against you and potentially reduce your recovery potential.
Talk to a Dallas Improper Lane Changes Lawyer for Free Today Today
At our Dallas car accident law firm, we are dedicated to getting accident victims what they deserve. If your accident was caused by an improper lane change, we can help. Our attorneys only work on contingency, which means we do not collect a fee unless we win you money.
Contact us today and we'll get you a FREE consultation to go over the details of your case and how we can help. Call (469) 998-4069 or contact us online today for your FREE consultation today.
Frequently Asked Questions