What Causes Rollover Accidents?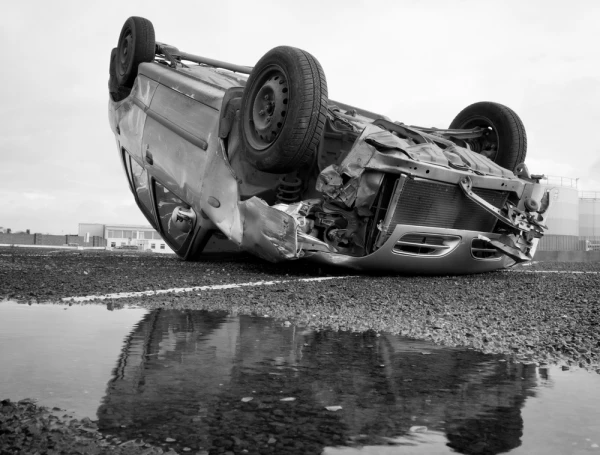 Rollovers are complex accidents. They often cause severe damages. Although rollovers happen less often, they lead to many deaths. Let's look at what causes rollover accidents.
Knowing the cause of a rollover accident helps identify the at-fault driver. If someone else caused your rollover crash, talk to a lawyer today.
We can connect you with the best attorney for your case. Call (469) 998-4069 or contact us online for a FREE consultation.
The Main Causes of Rollover Accidents
Rollover causes depend on factors like:
The driver's behavior
The type of vehicle
Road conditions
Environmental details
Here are the most common causes of rollover accidents.
Excessive Speed
Deadly rollover accidents are often speed-related. Around 40% of fatal rollovers happened with excessive speeding. Almost 3/4 of fatal rollovers happened where speed limits were at least 55 miles per hour.
Speeding can cause a driver to lose control of their vehicle. If the driver swerves too quickly, the car can tip over. Colliding with another vehicle or object can also cause a rollover.
Top-Heavy Vehicles
Any vehicle can get into a rollover crash. But SUVs, vans, light trucks, and pickups have the most risk.
These vehicles are taller, narrower, and have higher centers of gravity. If they crash, they're more likely to roll over.
Rural Roads
Nearly 3/4 of deadly rollover crashes happen on country roads with speed limits of at least 55 miles per hour. Country roads often have no barriers or dividers, increasing rollover risk.
Drunk Driving
According to the National Highway Traffic Safety Administration (NHTSA) NHTSA, almost 50% of fatal rollovers involve drinking and driving. Even a slightly-impaired driver can perform actions that cause a rollover.
Other Contributing Factors to Rollover Accidents
We've covered the top causes of rollover accidents. But rollovers can happen for many reasons. Here are some other contributing circumstances.
Routine Driving Actions
According to Safer Car, over 90% of deadly single-car rollovers involved regular driving actions. For example, they were driving straight or along a curve.
The data shows that driver behavior is most to blame. Even if a driver is going straight, careless actions can cause rollovers.
Single Vehicles
Surprisingly, most rollover accidents are single-vehicle. Careless driver behavior is typical in rollover crashes. However, some rollovers happen where the driver bears no fault.
Road Hazards
Single-vehicle rollovers can happen because of:
Poor warning signs
Hazardous construction zones
Road maintenance issues
Uneven pavement
Tire Failure
Defective or worn tires can cause a rollover accident. Tire blowouts or failure can cause the car to tip or rollover.
Risky Driving Moves
Swerving or turning at high speeds can cause rollovers. When a driver loses control, their vehicle might part with the road and roll. Aggressive driving increases the risk of rollover accidents.
Multi-Vehicle Accidents
It's less common, but rollover accidents can involve more than one car. If one car hits another on the side, the second vehicle can rollover.
No matter how your rollover accident happened, you have rights. You should not pay for a crash you didn't cause. Get a FREE consultation with a rollover accident lawyer today. Call (469) 998-4069 or contact us online to get started.
Two Types of Rollover Accidents
There are two types of rollover accidents. Let's look more closely at each.
1. Tripped Rollovers
Tripped rollovers happen when a car's tires hit something. The collision causes the vehicle to slide. The car pitches sideways or forward and starts to roll.
Tripped rollovers might happen because of:
Guardrails
Curbs
Soft soil
Large rocks
Soft shoulders
Steep slopes
According to NHTSA data, Tripped accidents make up 95% of single-car rollovers.
2. Untripped Rollovers
Untripped rollovers usually happen when a driver swerves to avoid an accident. Instead of "tripping" over an object, the car loses control. It begins to roll.
Untripped rollovers are not very common. They happen less than 5% of the time. Top-heavy vehicles are most likely to roll over in this way.
How to Avoid Rollover Accidents
No one can avoid accidents entirely. However, there are ways to reduce the risk of rollover crashes. The following safe practices can help.
Know Your Vehicle
Rollover accidents are most common for vans, SUVs, and pickups. If you have one of these vehicles, know the risks. Cars with higher centers of gravity can more easily rollover.
No matter what type of car you have, understand your vehicle. You can prevent many crashes by knowing your limits.
Don't Speed
Speeding is very prevalent in rollover accidents. Avoid exceeding the posted speed limit. Also, don't drive too fast for road conditions. If you are in an area with speed limits above 55 miles per hour, be especially careful.
Don't Drink and Drive
This tip should be obvious. Avoid drinking under the influence. Drunk and drugged driving is more likely to cause rollover accidents.
Avoid Distracted Driving
Not paying attention to the road causes many collisions. Just one moment of distraction can cause a fatal rollover.
Always focus on the road ahead. Save texting and other distractions for when you aren't driving.
What to Do After a Rollover Accident
If someone else caused your rollover accident, you have rights. Here are some tips:
Stay calm and assess the situation.
Check on everyone else in the accident.
Call 911 to report the accident.
If you can, take pictures of the scene.
Get medical treatment.
Keep track of all of your damages.
Contact a rollover accident lawyer.
The other driver's insurer might contact you after the accident. They will look for ways to reduce what they pay you. To protect yourself, get an experienced lawyer.
Your lawyer can help you build a strong insurance claim. They can also protect your rights and pursue the compensation you deserve.
Injured in a Rollover Accident? Talk to a Lawyer for Free Today
Our rollover accident lawyers can help after your accident. Contact us today, and we'll get you a FREE consultation. There is no charge unless we win your case.
Call (469) 998-4069 or contact us online today. We'll match you with the best attorney for your needs during a FREE consultation.
Frequently Asked Questions