Dallas Delivery Van Lawyer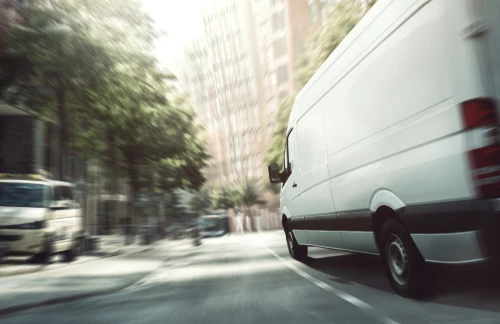 Today, there are more delivery vans on the road than ever before. As more Dallas residents turn to online shopping, vast fleets of vans are being used to deliver packages every day in our neighborhoods. Although we all love the convenience, there's a darker side to two-day shipping: more delivery van accidents.
Marketplace reports that delivery truck traffic is expected to increase by 80% over the next ten years — this means your odds of being in an accident involving a delivery van will also increase.
Whether the accident is caused by a delivery van driver speeding through traffic to make their next stop on time, or they create an accident indirectly by double-parking on a busy street, delivery van accidents pose a serious hazard to drivers. You may incur damage to your vehicle, injury to yourself and your passengers, or even death.
Reach out to our Dallas lawyers right away if you or someone in your family gets in a car accident caused by a delivery van or delivery truck. We are standing by to offer a 100% free consultation call. There's no cost to you unless we take your case and win. Contact our Dallas delivery van lawyers now at (214) 496-5227.
Have You Been in a Car Accident with a Delivery Van?
You may be owed compensation for damages if you've been in a car crash or even a minor collision with a delivery vehicle. Depending on the circumstances of your accident, there may be multiple parties at-fault:
The van driver
The owner of the van
The manufacturer or company leasing the van to transport goods
If the delivery van is privately owned and operated by one company, particularly a small business, this may be a single individual; however, many delivery vans are owned by logistics companies who create contracts with other businesses to deliver packages. For example, large online retailers often establish a shipping contract with a specific van fleet.
Should you find yourself involved in an accident with a delivery van, our Dallas lawyers can help you sort through this complicated logistics process to determine liability.
Contributing Factors in Delivery Van Accidents
Multiple factors can contribute to delivery van accidents. Several of these factors are also causes of other types of vehicle collisions, while some may be unique to delivery trucks. Regardless, you may be owed compensation if you are involved in an accident resulting from any of these factors:
Driving a Delivery Van Under the Influence
When a driver is under the influence of drugs, alcohol, or prescription medication, he or she will be unable to control their delivery van. These substances can also impair the delivery van driver's judgment. They may be unable to measure stopping distance or the amount of space needed to complete a turn safely. When the driver is impaired, they are at fault in a delivery truck accident.
Driving a Delivery Van While Sleep Deprived
A driver operating a delivery van while extremely tired can be just as dangerous as driving under the influence. Unfortunately, some delivery van drivers may push themselves too hard to complete deliveries on time. They may also skip on sleep to accept overnight delivery jobs. When this occurs, the driver can later fall asleep at the wheel and cause an accident.
Driving a Delivery Van While Using a Phone
For most delivery van drivers, a smartphone is an essential tool because it provides information about traffic, driving routes, and delivery addresses. Typically, drivers install a hands-free device on the dashboard of their delivery truck so they can continue to drive safely while operating GPS apps. However, some negligent drivers may use their phone in their lap, manage multiple apps that take their attention away from the road, or even text behind the wheel. All of this behavior can result in an accident.
Driving a Delivery Van without Proper Experience or Training
In Dallas, you don't need a commercial class driver's license to operate a delivery van as long as it is under a specific size. Theoretically, this means that anyone can become a delivery van driver. Yet driving a large delivery truck can be more complicated than driving a regular-sized car. If a delivery driver is inexperienced and lacks proper training for operating their vehicle, they may cause an accident by underestimating their ability to control their van.
Sudden Stops and Double-Parking
Drivers making sudden stops and double-parking can cause other accidents involving delivery vans. If a delivery van driver is looking for an address, they may stop without warning once they find it and cause an accident. Additionally, delivery vans are notorious for double-parking on busy Dallas streets — this means they park their vehicle in the road while running out to deliver a package. A double-parked delivery van can disrupt traffic and cause accidents when other drivers attempt to swerve around it.
Take Action to Get What You're Owed in a Dallas Delivery Van Accident
When you're involved in an automotive collision or any other accident with a delivery van, take action. First, focus on safety. Move your vehicle to a safe place, if possible, and call an ambulance if anyone has been injured.
Then, take photos and videos to document the accident scene as well as any damage to your vehicle and the delivery van. Get the driver's information, contact the appropriate authorities, and call your auto insurance company.
Don't let a delivery van accident interfere with your life. The driver, van owner, and shipping company may be liable if a delivery van has caused damages to your property or resulted in injury or death.
Once you're ready to pursue compensation, call our Dallas lawyers. Our legal team has worked on delivery van accident cases in the past, and we are prepared to assist you. Your consultation call is entirely free, and there's no obligation. If we don't win your case, you won't pay for our legal services. Call us today at (214) 496-5227 to speak to a delivery van accident lawyer.
Frequently Asked Questions