What Is Aggressive Driving Behavior?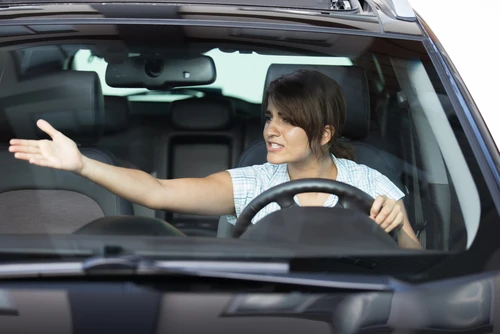 Aggressive driving is more common than people realize, and it's always dangerous. Let's look at what aggressive driving behavior means and why it's so risky for everyone on the road.
If an aggressive driver caused your accident, you might be entitled to compensation for your damages. An aggressive driving accident lawyer can help. To get a FREE, no-risk consultation with an experienced attorney as soon as possible, call (469) 998-4069 or contact us online today.
Examples of Aggressive Driving Behaviors
According to the AAA Exchange, aggressive driving describes any deliberate, unsafe driving behavior executed with a disregard for safety. Examples of aggressive driving behavior include:
Cutting in front of other drivers and slowing down
Weaving in and out of traffic lanes
Changing lanes without signaling first
Tailgating other drivers
Driving above the speed limit
Running red lights or yield signs
Not pulling over or stopping for emergency vehicles
Aggressively using headlights or the horn towards other drivers
Blocking other vehicles from passing
Aggressive driving comes with ill intention or carelessness towards others on the road. When a driver is engaging in aggressive behavior, they can cause serious accidents that lead to severe injuries or death.
If an aggressive driver causes your accident, don't delay getting the legal help you deserve. An experienced lawyer can help you gather evidence from the accident and build a strong insurance claim. To get a FREE consultation with an aggressive driving lawyer, call (469) 998-4069 or contact us online today.
Aggressive Driving Versus Road Rage
If aggressive driving becomes extreme enough, it can escalate into what's known as road rage. Road rage includes behaviors like:
Sideswiping other drivers
Making obscene or rude gestures toward other drivers
Cursing or yelling at other drivers
Ramming your car into other vehicles
Brandishing a weapon at another driver
Throwing things at other drivers
Trying to force another driver off the road
While aggressive driving behaviors are hazardous, road rage is even more serious. Unfortunately, aggressive driving can quickly and easily progress to road rage. If you come across an aggressive driver, it's best to move out of the way and keep a wide distance.
Aggressive Driving Penalties
Aggressive driving behaviors are illegal behaviors. Each state has different penalties for driving aggressively. In Texas, aggressive driving behaviors are typically treated as reckless driving, which is a misdemeanor crime.
The penalties for reckless driving, according to Texas Transportation Code Section 545.401, include:
Up to $200 in fines
Up to 30 days in jail
Both fines and jail time
Reckless driving punishments in Texas tend to be less severe than other states. However, the aggressive driver might get charged with additional violations depending on what they were doing. For example, the driver might face speeding, driving while intoxicated, or hit-and-run charges.
Road Road Penalties
If a police officer sees a driver engaging in road rage behaviors, the driver can face reckless driving penalties on top of moving violation penalties. A driver might also face assault and battery, deadly misconduct, or vehicular manslaughter charges depending on the details.
If another driver hits you while engaging in road rage behaviors, be sure to report it to the police. Your lawyer can also help you get traffic camera footage or other evidence of the road rage behavior.
Bringing an Injury Case After an Aggressive Driving Accident
If someone's aggressive driving causes your accident, you will need to build a case to seek compensation for your damages. To have a successful claim, you'll need to demonstrate that the aggressive driver was negligent in your accident.
A personal injury claim should include proof that:
The other driver owed you a duty of care
The driver breached their duty of care
The breached duty caused your accident and your damages
Compiling evidence of the accident and your damages takes work. Thankfully, an aggressive driving accident lawyer can help. Plus, things will be easier if the other driver gets charged with reckless driving.
A reckless driving charge from your accident acts as negligence per se in states like Texas, which means the charge demonstrates that the driver was negligent. Your lawyer can help you gather the information to show your damages from the driver's negligent and aggressive behavior.
Damages You Can Claim After an Aggressive Driving Accident
You can claim many different damages in your accident claim. There are two main categories of car accident damages: economic losses and non-economic damages.
Economic Damages
Economic damages include losses like:
Medical expenses
Lost wages
Lost earning capacity
Property damage
You can demonstrate these damages through medical bills, receipts, quotes, and other documentation of your costs. In Texas, your economic losses are restricted to the value of your expenses.
Non-Economic Damages
Unlike economic damages, you cannot show non-economic costs through dollar amounts. Examples of non-economic injuries include:
Physical pain and suffering
Mental anguish
Loss of enjoyment of life
Loss of consortium
Your aggressive driving accident lawyer can help you show your non-economic damages in your claim. In Texas, there is no cap for exemplary damages.
If the other driver was being aggressive, you might also be eligible for punitive damages, also known as exemplary damages. These damages are meant to punish the wrongdoer rather than compensate the claimant.
Keep track of all evidence of your damages as they come up. When you begin building your claim, it'll be easier to provide proof of all losses.
Speak with an Aggressive Driving Accident Lawyer During a Free Consultation Today
Our car accident lawyers are here to help after an aggressive driver injures you. We can assist you in gathering evidence from your accident, building your claim, and negotiating with the insurance company if they try to lowball your offer.
We do not collect a fee unless we win you a settlement or an award, so you don't have to worry about upfront fees or out-of-pocket costs. Plus, if you do not have transportation, we can come to you. To get started with a FREE, no-risk consultation with the best attorney for your case, call (469) 998-4069, or contact us online today.
Frequently Asked Questions