What Is the Penalty For Texting and Driving in Texas?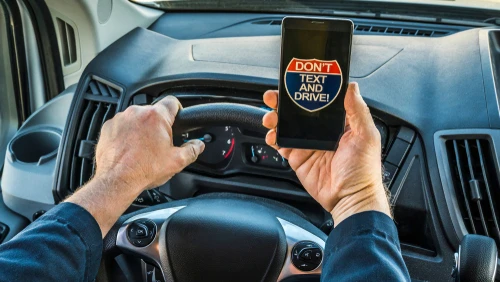 With the passage of House Bill 62 by the Texas legislature, texting and driving became a significant crime throughout all of Texas. Typically, drivers who are caught texting while driving will be handed a fine ranging from $25 to $99 if the occasion is their first offense. For future offenses, the fine can skyrocket up to $200. Plus, texting and driving is a misdemeanor, so it will be on the person's record. This may be a significant nuisance to the person's public persona, as texting and driving is generally frowned upon.
The penalties are greatly increased if the person who was texting while driving caused an accident in which another person was seriously or fatally injured. In that case, the bill allows for a fine of up to $4,000 as well as up to one year in jail.
The reason for these harsh penalties is obvious when considering the impact of texting and driving on road safety. One study found that texting while driving resulted in six times as many crashes as would be expected under normal conditions. Since drivers who text have their focus dragged away from the task of driving, the resulting crashes also can be significantly worse and may occur at higher speeds. Law firms like our firm protect the rights and interests of injured people by working hard to get full compensation from the at-fault driver in these cases.
Exemplary Damages and Texting While Driving
Though it is not necessarily a criminal penalty, the issue of exemplary damages is also a way that the law punishes drivers who cause accidents due to texting while driving. Like drunk driving, engaging in texting while driving can be seen by a jury as evidence of severe neglect of the driver's responsibilities and a reckless action that greatly reduces the safety of other drivers and pedestrians. In such a case, the jury may decide to award additional compensation to be paid by the at-fault driver to the injured party, per Texas Civil Practice and Remedies Code §41.008. The amount that they can order the at-fault driver to pay is limited to the greater of the following two amounts.
$200,000
Two times the injured person's economic damages; plus up to $750,000 of their non-economic damages
Why Texting and Driving is So Dangerous
The negative effects of texting while driving are well-documented. A helpful resource, the anti-texting-and-driving organization End Distracted Driving explains the dangers of the practice by showing that texting and driving is an example of all three major forms of distraction for a driver.
Manual Effects
Since you have to hold the phone as you send or open a text message, you must remove one or both of your hands from the steering wheel. This gives you less control over the car and less ability to adequately respond to factors like other vehicles' movements, unexpected curves in the road, road maintenance hazards, and more.
Visual Effects
While you text, your eyes are also pulled away from the important work of scanning the road and analyzing your changing surroundings. Of course, you can't respond to what you can't see.
Mental Effects
One issue that may be overlooked when discussing texting while driving is its ability to distract your cognition. Instead of having your mind focused on the task of driving, you have to focus your brainpower on reading or typing out a message. In order to drive safely, you must be aware of your surroundings and have your full attention on the task at hand.
Relief for Injured Victims
our firm is dedicated to providing relief for the people injured in crashes that involve texting while driving. Not only are there criminal penalties for the actions of the at-fault party, but they should be held accountable for the damages they caused the people harmed by the accident. If you are injured in a texting and driving auto accident, our Dallas attorneys can help you get the full value of the compensation you are owed.
Economic Damages
The more objective forms of damages are those that already come with monetary values. These economic harms are often things like your medical costs, lost wages, property replacement or repair expenses, etc. Texas statute limits you to recovering only as much as you are charged or pay for these kinds of damages.
Non-Economic Damages
Other forms of harm are also compensable. These non-economic damages can include things like your physical pain, mental anguish, loss of companionship with your spouse, diminished enjoyment in life, and similar ills. There is no limit to the amount for which you can sue regarding these damages.
I Can Start the Process Today for FREE
our firm offers FREE consultations to all clients in order to discuss the merits of each claim. If you are injured in a car accident and suspect that the other driver was texting at the time, schedule your consultation today by calling 469-998-4069 or filling out the form on our contact page.
Frequently Asked Questions