Dallas Construction Truck Lawyer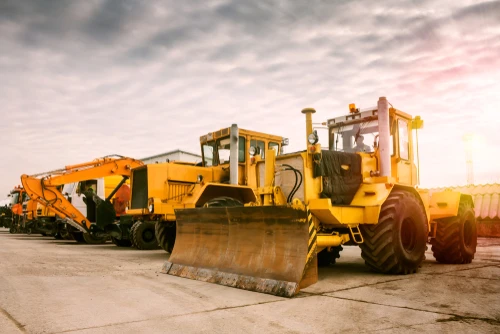 Getting into an accident with a construction truck can be a frightening experience for any driver. According to the National Institute for Occupational Safety and Health, approximately 773 people die each year in work zone crashes. In Texas, the National Work Zone Information Clearinghouse reports 44 fatalities construction-related trucks happen annually.
Although these statistics only account for fatal accidents, even minor car crashes involving a construction truck can result in injury. They may also damage or total your vehicle. Due to the size of construction trucks, these accidents tend to be worse than collisions between standard passenger cars.
If you've been in a car accident involving a construction truck, you deserve compensation. Let our Dallas lawyers help. Call (214) 496-5227 now to discuss your concrete truck accident case with one of our attorneys. Consultations are 100% free. If we don't win, you won't pay for our legal services.
Why Construction Truck Accidents Happen in Dallas
A construction truck accident can occur in Dallas for multiple reasons. Often, these accidents happen without warning.
You may be driving home from work, obeying the signs and slowing down to pass through a construction zone, when you feel the jolt of a side-impact. The next thing you know, you're pulling over to inspect the damage to your car caused by a construction truck. Or perhaps you're driving on a Dallas city street or highway when suddenly your vehicle is struck by a construction truck being driven by an impaired or distracted driver.
Any car accident can be an unpleasant or even traumatic situation. For many drivers, accidents involving construction trucks are particularly jarring. So why do these types of accidents happen?
In Dallas and other parts of Texas, car accidents involving construction trucks can be caused by several conditions or events. Whether they happen near a construction site or elsewhere on the road, here are some common causes of construction truck accidents:
Unsecured Cargo and Improper Loading
"Construction truck" is a broad category, which includes vehicles like front-end loaders and bulldozers as well as cargo trucks used for carrying building materials. When a construction truck is transporting lumber, pipes, bricks, concrete, or any other type of raw materials, this cargo must be properly loaded and secured.
When a construction truck is improperly loaded, its cargo can come loose — this creates multiple hazards for other drivers. Materials may fall onto your vehicle and damage it directly or create dangerous driving conditions by spilling onto the road. Other drivers may be forced to swerve to avoid fallen cargo and crash into you.
Poor Vehicle Maintenance
Vehicles used in construction need to be well maintained. Although construction trucks are larger and more durable than consumer automobiles, they are frequently placed under tremendous stress — this can cause the construction truck's engine, tires, safety equipment, and other parts to wear down more quickly.
When a construction truck hasn't been adequately maintained, it creates a significant safety risk. The truck may stall in high-speed traffic, experience brake failure, or become difficult for the driver to steer — this can cause severe accidents involving other drivers, resulting in damage to property, injuries, and even fatalities.
Negligent Or Unqualified Drivers
As with any other type of car accident, construction truck accidents can also happen as a result of negligent drivers. Drivers who are under the influence of drugs or alcohol, drivers who haven't slept, or drivers who are ill may lose control of their construction truck. In some cases, accidents involving construction trucks occur because the driver is distracted by their phone.
In other circumstances, construction truck accidents happen because the construction company has hired an unqualified driver. Certain vehicles used for construction require a commercial class driver's license and/or specialized training in Dallas and other parts of Texas. However, some construction companies may try to save costs by illegally hiring a driver who lacks these qualifications.
Reduced Visibility in Construction Trucks
Finally, construction truck accidents may be caused by reduced visibility — this includes diminished visibility due to severe weather conditions like heavy rain, snow, or fog. If the driver cannot see your vehicle, they may inadvertently cause an accident while merging or changing lanes.
Blindspots are also a factor in accidents involving cars and construction trucks. Depending on the vehicle's size, a construction truck may have more significant blindspots than a standard car, pickup truck, or SUV. Use caution when passing these vehicles and remember the adage: "If you don't see the driver, the driver doesn't see you."
What to Do After a Construction Truck Accident
If you get into an accident with a construction truck in Dallas, focus on the safety of you and your passengers before taking any other action. If someone in your vehicle needs medical attention, call emergency medical services right away.
Be sure to pull to the side of the road, exit the freeway, or move your car to another safe place. Then, call the proper authorities.
Additionally, take the following steps to document the car accident. These actions will help your lawyer establish liability in a construction truck accident:
Take photos and videos of the accident scene.
Document any damage to your vehicle as well as any damage to the construction truck.
Record your full, detailed account of the accident.
Get the construction truck driver's information, as well as the information of the construction company that employs them.
If there are other drivers involved or witnesses to the accident, gather their information as well.
Construction truck accidents may be more complicated than other car accidents because the driver may not be the truck's owner. The owner may be liable, as well as the construction company employing the truck driver. However, don't let these complications deter you from pursuing the damages owed to you.
By reaching out to our Dallas law team, we'll help you win your case. Call (214) 496-5227 for a 100% free, zero-obligation consult with one of our lawyers.
Frequently Asked Questions