What Is a Defective Vehicle?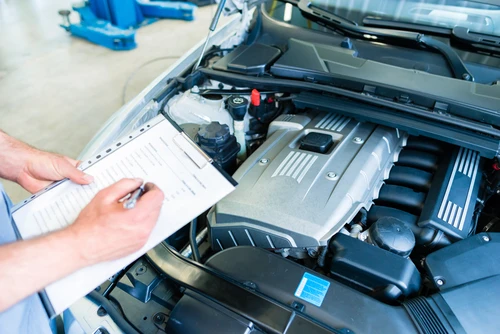 A defective vehicle is one with a manufacturing fault or defect that makes the vehicle dangerous. Defective vehicles put the driver at great risk. If you or someone you love were injured because of a defective vehicle, you may be entitled to compensation for your damages.
To learn more, schedule a FREE consultation with one of our experienced and compassionate Dallas car accident lawyers. We can investigate the details of the defective vehicle and how it caused your accident. Call (469) 998-4069 or contact us through one of our online forms to get started today.
Types of Vehicle Defects
If the manufacturer is not careful, any part of a vehicle can contain defects. However, here are some of the most common types.
Defective Seat Belts
According to the National Highway and Traffic Safety Administration (NHTSA), seat belts saved nearly 15,000 lives in 2017. They can help protect occupants from serious injuries during a crash. If a seat belt is defective, it can fail to provide the protection it should and even cause more damage in some situations.
Defective Airbags
Airbags are forcefully deployed during accidents to protect the driver and the car's occupants. However, they must deploy at just the right moment to work correctly. An airbag that takes too long to deploy, deploys too early, or fails to deploy at all due to defects can lead to serious injuries or even death.
Defective Tires
Manufacturer defects in vehicle tires can lead to quick deterioration, blown tires, and even rollovers that cause serious accidents.
Collapsing Front Seats
Certain vehicle defects can cause one of the front seats to collapse back during a crash. This can seriously injure or kill anyone behind the seats, even during minor collisions.
Electrical Part Failures
Electrical defects, battery malfunctions, or bad alternators in a vehicle can lead to accidents or cause a serious car fire.
Other defective vehicles can involve issues with parts like the:
Brakes
A/C system
Vehicle body or roof
Fuel system
Steering system
Exhaust system
Transmission
Motor Vehicle Defects Law in Texas
When a vehicle manufacturer or dealership sells a vehicle to a consumer, they are authorizing the vehicle as safe to drive. Unfortunately, it's not always true that every car is safe just because it has been sold. If there is a defect in the vehicle from any part of the design or manufacturing process, it can lead to serious injuries or deaths.
Under the National Traffic and Motor Vehicle Safety Act, the United States government is able to uphold motor vehicle safety standards at all times. The Safety Act created mandated standards for vehicles, such as:
Collapsible steering columns
Strengthened door latches
Shoulder-lap seat belts
Protective dashboards
Shatterproof windshields
Your Rights if You Have a Defective Vehicle
If a manufacturer does not maintain the safety standards set under the Safety Act, they are guilty of negligence. This is an important fact if you or someone you love has been injured because of a defective vehicle. However, as long as you can show that the vehicle contained a defect and that defect led to your injury, you do not need to prove that the manufacturer was negligent.
Anyone who owns a defective vehicle is usually entitled to a free repair or compensation for replacement costs. If the manufacturer or dealership notices the vehicle defect, they might also issue a recall and offer to repair the defect. However, if you notice the defect without help from the manufacturer, you'll want to keep track of each repair need.
If you were hurt because of a vehicle defect in Texas, you may be able to bring a lawsuit to pursue compensation for your damages. Not having to prove negligence to win a case often makes it easier for you to get the compensation you deserve. An experienced car accident lawyer can help you build a strong case with the evidence available.
Texas's Lemon Law for Defective Vehicles
If you end up taking your vehicle to the shop many times and it still does not work as it should, the Texas Lemon Law may be able to help. Texas's Lemon Law lets vehicle owners get their vehicles repaired, replaced, or repurchased if they contain manufacturer defects.
The Lemon Law does not directly address car accidents caused by vehicle defects, but it might be an additional option for financial recovery of your repair costs.
If you have had to take your car for repairs (for the same defect) at least four times within two years, you might be able to benefit from the Lemon Law. A car accident lawyer can let you know your options.
Statute of Limitations for Defective Vehicle Cases in Texas
Keep in mind that you have limited time to bring a case after a car accident or injury caused by a defective vehicle:
If you are filing a product liability claim, you typically have two years from the date of your injury to file your claim.
If you don't discover your injuries caused by the defect until later, you have up to 15 years to file your claim.
Don't wait to get the help you deserve. If you were injured because of a defective vehicle (or suspect that might be the cause of your accident or injuries), reach out to a trusted car accident lawyer who has experience with this type of case. Your lawyer can investigate the accident, how it happened, and the total damages you have suffered as a result.
Injured Because of a Defective Vehicle? Talk to a Dallas Car Accident Lawyer for Free Today
Our Dallas car accident lawyers specialize in helping those injured by defective vehicles and other types of negligence. We are dedicated to getting you the compensation you deserve. You should not have to suffer because of a defect that you could not control.
We know what it takes to win cases, and we are not afraid to fight for your rights. Call us today at (469) 998-4069 or contact us online for a FREE consultation. We do not charge a fee unless we win you money, so there is no risk to you. Call today to get started for FREE.
Frequently Asked Questions