How Long Does Whiplash Last After a Car Accident?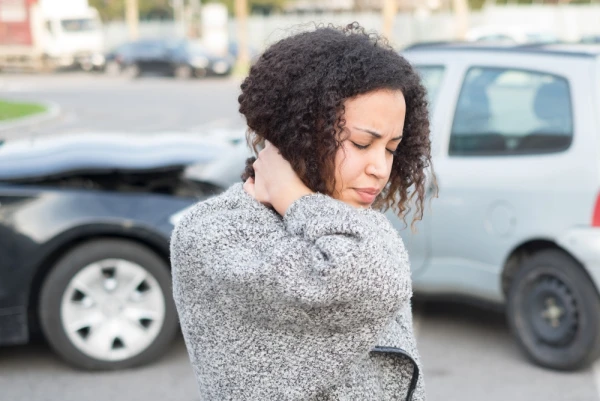 Whiplash is one of the most common car accident injuries. How long whiplash lasts depends on accident severity and other factors.
Whiplash Pain After a Car Accident
Whiplash happens when your neck suddenly snaps backward and forward. According to Harvard Health, the sudden transfer of energy during an accident causes whiplash. Neck muscles quickly stretch and bend beyond their normal movement.
You might not notice whiplash right away from an accident. Insurance companies are skeptical of whiplash because:
Whiplash can take hours or days to show.
You cannot see whiplash on imaging tests.
Accident victims often wait too long to get whiplash treatment.
When whiplash does show up, it causes a lot of pain and discomfort. Some whiplash injuries never entirely go away.
Most whiplash begins within a day of the accident. However, it can take a few days for some people.
How Long Whiplash Injuries Last After an Accident
We've covered how long whiplash can take to show up. What about how long it lasts?
According to the National Institute of Neurological Disorders and Stroke:
Whiplash recovery is positive for more people.
Whiplash pain typically gets better in a few days or weeks.
Most whiplash patients fully recover within three months of the accident.
While most whiplash injuries get better, some never entirely go away. Certain accident victims will have lingering headaches or pain long-term.
Don't underestimate the effects of whiplash. Insurance companies like to downplay whiplash. However, these injuries can be completely debilitating. You will need to show how whiplash has impacted your life after the crash.
How to Protect Yourself After a Whiplash Accident
If another driver caused your whiplash accident, you shouldn't have to pay. As the at-fault party, the other driver is responsible for your costs.
After the accident, you will need to file a claim with the other driver's insurer. A whiplash accident lawyer can help you do this. Here are some ways to protect yourself, as well.
Get Medical Treatment
Don't wait to get checked out after a car accident. You might feel little to no pain right after the crash. See a doctor anyway. You could have injuries that haven't fully shown up yet.
If you don't get medical attention at the scene, go to your doctor after. It's best not to wait for more than a day or two. Tell your doctor about any neck, shoulder, or back pain.
If you wait to see the doctor, you might have severe pain days or weeks later. However, the insurance company might point out how long you waited. They'll try to say that you weren't hurt that badly. Or, they might claim your doctor's trip wasn't related to the accident.
Document Your Damages
After each doctor's appointment, save your medical records. Keep track of all bills. If your doctor prescribes medications, save all the receipts or prescriptions.
It will be harder for the insurer to fight your claim if you have firm proof. If you're worried about not having enough evidence, talk to a lawyer. Your lawyer can make sure you have the right documentation of your damages.
Learn your legal options by speaking with a lawyer for FREE. To get your FREE consultation, call us at (469) 998-4069, or contact us online. We can discuss the details of your case today.
Compile Proof of the Driver's Fault
If the other driver caused your accident, you will have to prove that:
The driver owed you a duty of care.
The driver failed in their duty.
The driver's carelessness caused your accident.
The accident caused your damages.
Your lawyer will know how to demonstrate each point in your case. After you file your claim, the insurance company will swoop in. Your lawyer can handle all communication with the insurer.
If you have whiplash injuries, the insurer is unlikely to take them seriously. Most insurance companies will send you a lowball settlement offer. This amount won't come close to covering your damages.
Your lawyer can negotiate with the insurance company for you. They'll work to get you a fairer settlement offer. If you can't settle, you might need to sue. Your lawyer can help you every step of the way.
Common Whiplash Accident Treatments
Most whiplash treatment can happen at home. Your doctor might recommend any of the following.
Pain Medications
Over-the-counter medications will often help whiplash pain. However, some people might need prescription pain medications.
In some situations, a doctor might prescribe muscle relaxants or antidepressants. The goal is to reduce pain as much as possible.
Ice or Heat Application
Applying ice or heat to your neck can help with whiplash. This can help reduce pain and tension.
Neck Collars
You might need to wear a cervical collar for a few weeks after the accident. Neck collars are not long-term solutions. However, they can help reduce painful motion.
Physical Therapy
Severe whiplash injuries might require physical therapy. Your doctor might also have you do range-of-motion exercises.
If you have any questions after your whiplash accident, contact a lawyer. Most injury lawyers work on contingency, which means no risk. You do not pay a fee unless your lawyer wins.
Talk to a Whiplash Accident Lawyer for Free Today
Our car accident lawyers can help you after a whiplash accident injury. We'll assist you with:
Gathering evidence from your accident
Protecting you from the insurance company
Calculating your damages
Building a strong insurance claim
Negotiating your settlement
Being your biggest advocate
We do not collect a fee unless we win. So, you don't need to worry about upfront fees or costs. You can start working with us, risk-free. Plus, the consultation is always FREE of charge.
No matter where you live, we can help. We'll connect you with the best lawyer for your needs. You typically only have two years from your accident to file a claim. To protect your legal rights, don't wait to get started.
Contact us to get started at no cost today. To schedule your FREE consultation, call us at (469) 998-4069 or contact us online today.
Frequently Asked Questions