How Much Is a Rear-End Accident Worth?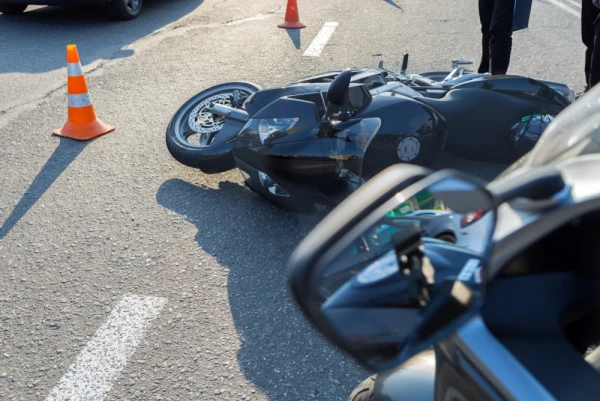 Many motorcycle accidents in Dallas are rear-end collisions. Drivers struck from behind may get compensation after an accident. This raises several questions. How much is a rear-end motorcycle accident worth in Texas? How do you get compensation?
Your rear-end collision will not be worth a set amount. The compensation you receive depends upon your losses. Find out more about the compensation you could receive with this article.
You can also learn more about how to get damages after your accident right by calling us today at (469) 998-4069.
Types of Compensation for Rear-End Motorcycle Accidents
You are not alone if you were rear-ended while driving a motorcycle. The National Highway Traffic Safety Administration (NHTSA) tracks the causes of motorcycle accidents. Rear-end collisions are responsible for at least 11% of motorcycle accidents. You could get compensation if a vehicle ran into you from behind. A lawyer could help you secure compensation for your:
Economic damages
Non-economic damages
Exemplary damages
Keep reading to learn more about these damages. Let's go over each type of compensation you could receive. This may help you prepare to resolve a motorcycle accident claim in Dallas.
Economic Damages for a Rear-End Collision in Dallas
Economic damages represent losses that have a set monetary value. The costs to repair your motorcycle are economic damages. Rear-end collisions cause a lot of damage to motorcycles. Your motorcycle could be totaled after a hit from behind. Repair or replacement costs could be covered by economic damages.
Your medical expenses are also economic damages. Many motorcyclists suffer serious injuries in an accident. The Texas Department of Transportation (DOT) records information about serious motorcycle injuries. There were around 1,900 serious injuries in 2018. These injuries could include:
Broken or fractured bones
Head and brain injuries
Back, neck, and spinal cord injuries
Cuts, burn, and abrasions
Internal injuries to organs
Keep all your bills associated with your medical treatment. Add up your expenses and your lost wages at work. This may provide you with an estimate of your economic damages. This applies to all motorcycle accidents. It even applies to rear-end accidents.
Non-Economic Damages for a Rear-End Collision in Dallas
You may receive compensation in addition to economic damages. You could be awarded non-economic damages. Non-economic damages specifically cover things without a monetary value. Examples of non-economic damages in Dallas include:
Pain
Suffering
Mental anguish
You may estimate the amount of non-economic damages you could receive. Make sure you understand your economic damages first. You must also select a multiplier. A multiplier would be a number between 1.5 and 5. You use a number closer to 1.5 for less serious accidents. Use a number close to 5 for serious collisions.
Multiply your economic losses and the multiplier. The result of this calculation could represent your non-economic losses. Get help handling this calculation from a Dallas motorcycle accident lawyer.
Exemplary Damages for a Rear-End Collision in Dallas
Exemplary damages do not cover your losses after a rear-end collision. Exemplary damages are specifically designed to punish the driver who hit you. Drivers hit motorcycles in Dallas for many reasons. Some accidents occur if:
A driver is not paying attention to the road.
A driver cuts across lanes of traffic or tries to "split" a lane with a motorcyclist.
A driver tailgates a motorcycle to try to get the motorcyclist to go faster.
A lawyer could help you secure exemplary damages. Exemplary damages are not awarded in all motorcycle accident cases. Discuss these damages with a legal team right now.
Methods to Get Damages for a Rear-End Motorcycle Accident
You will not be automatically given damages after a rear-end motorcycle accident. You may work to get compensation by:
Filing a claim with the other driver's insurance company
Filing a lawsuit against the driver who struck you
A lawyer may help you negotiate with insurance agents. Negotiations could lead to a settlement that covers your losses after a rear-end collision. Not all rear-end accidents in Dallas can be settled. Some claims must go to court. Discuss the best way to resolve your claim with a lawyer right now. You can get immediate help.
Find Out How Much Your Rear-End Accident Is Worth
How much is a rear-end motorcycle accident worth? The amount of compensation for a rear-end accident varies. A lawyer may assess your losses right now. Find out more by contacting a Dallas car accident lawyer. You could get a free consultation. Use this consultation to learn more about your potential damages. Start building your claim today.
Call (469) 998-4069 to get legal help. You may also fill out our online contact form. Take steps to get compensation immediately. Build a claim with us.
Frequently Asked Questions