What Happens If You Hit a Pedestrian With Your Car in Dallas?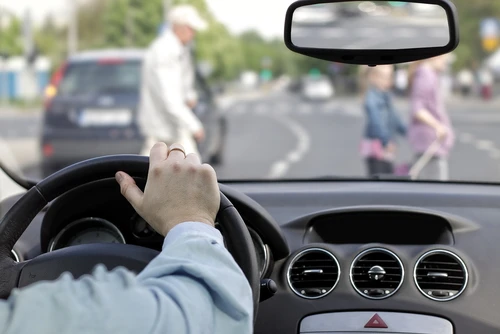 Roadways through big cities like Dallas are notoriously complex, and it is not uncommon for cars to share the road with bicycles, motorcycles, and even pedestrians. The latter group is woefully unprotected from injuries in the event of a collision, as the human body is not designed to withstand the weight, force, or speed of motor vehicles. Sadly, the Texas Department of Transportation reports that more than 5,600 pedestrian crashes occurred in 2018. In many of those cases, the driver of the vehicle that struck the pedestrian is considered at fault.
If you hit a pedestrian with your car in Dallas, the process usually works similarly to other car accidents. You may be liable for the damages caused by the collision, though that is not always the case. Since pedestrians often experience catastrophic injuries in these wrecks, it is possible that you may owe serious amounts of money in compensation. Still, fault is a determination made by the court system and is not taken for granted. You should seek assistance from the skilled attorneys at Dallas Car Accident Lawyers to make sure your rights are protected.
What to Do Immediately After Hitting a Pedestrian
Hitting a pedestrian with your car is a harrowing experience, and you may be confused, frightened, stunned, or dazed in the immediate aftermath. Your mind may be reeling from concern over the future, but there are some steps you should take right after your accident occurs.
Ensuring Safety
The primary concern at the scene of the accident should be to ensure the safety of everyone involved. Get your vehicle off the roadway and out of the way of traffic, if possible. Attend to the pedestrian and call for emergency medical aid if necessary. It is also best to get in touch with the police as well, as they can help sort out the confusion at the scene and will create a crash report.
Gather Data
Once everyone is out of harm's way as much as possible, the next step is to gather as much information as possible that may help your case. This can include personal contact information from the pedestrian and potential eyewitnesses as well as the following forms of evidence.
Locations of nearby traffic cameras
Pictures of the accident scene
Any inclement weather information that may have contributed to the wreck
All these forms of evidence can help you and your attorney build a case to minimize your fault. As we will see, minimizing your fault can significantly lower the amount of compensation, if any, you end up having to pay.
Determining My Share of Fault in the Accident
Texas uses a system of proportionate responsibility when dealing with personal injury claims like pedestrian collisions. After you hit a pedestrian with your car, chances are good that they or their insurance company will contact you for compensation. If you and your attorney cannot come to a settlement agreement with the opposing party, they may decide to take you to court. That is where the system of proportionate responsibility comes into play.
When the Pedestrian is Owed Compensation
In many cases of pedestrians being hit by cars, they will be owed compensation. Under the law, they can sue for compensation as long as they are no more than 50% responsible for the accident that caused their injuries. Pedestrians have rules that govern them just like drivers of vehicles, and disobeying those regulations can mean that they share blame for an accident. For example, it is possible that jaywalking, ignoring crosswalk warnings, and other activities can make the pedestrian shoulder most of the fault. If the court finds them to be more than 50% to blame for the accident, you will not owe them compensation.
Fault and Compensation Amounts
The second way that proportionate responsibility can impact your case is in the amount of compensation you are required to pay. As your portion of fault rises, so too does the amount of compensation you owe the pedestrian. Essentially, you owe the same percentage of the pedestrian's total damage values as the percentage of responsibility assigned to you.
Here is an example. Say the pedestrian you hit with your vehicle experiences a total of $500,000 in damages. At the end of the trial, the court finds you 60% responsible for the accident. That means you would owe the pedestrian a total of 60% of the value of their damages, which in this case would amount to $300,000. Thus, lowering the amount of fault attributed to you can significantly reduce the compensation you have to pay, and that is the goal of your pedestrian accident attorney.
Getting Representation
Pedestrian accidents can be costly and can include significant injuries. If you hit a pedestrian with your car in Dallas, seek legal representation from the experienced attorneys at Dallas Car Accident Lawyers. We provide you with a FREE consultation to discuss the details of your case and will work to protect your best interests. Call today at (469) 998-4069 or enter your information on our contact page to schedule your appointment.
Frequently Asked Questions