Injury Lawyer for Accidents Caused By Rain In Dallas, TX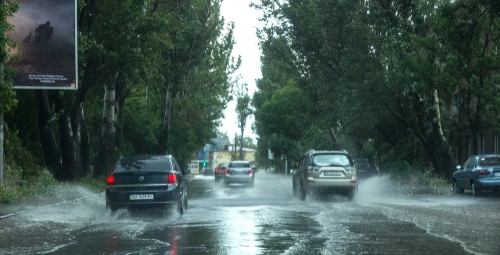 In Texas, it is common for hot weather and droughts to make people pray for rain. While it's true that we need precipitation to keep our land healthy and thriving, rain also can cause significant water hazards through puddling, road erosion, obscuring of vision, and other issues. These hazards, in turn, often increase the risk of car accidents and resulting injuries. If you are injured in a car crash caused by rain, the best option is to get in touch with a highly experienced injury lawyer like the ones we have at our firm, a Dallas car accident law firm, .
Determining At-Fault Parties in My Claim
When an accident is caused by rain or standing water, there are several parties who may bear some responsibility for your injuries. The most common situations involve the fault of the opposing driver, yourself, or the entity responsible for maintaining safe roads.
The Fault of the Opposing Driver
As in other car accidents, all of the drivers involved in the wreck can bear some percentage of fault. The Texas Transportation Code has myriad regulations about factors such as signalling lane changes, safe spacing between vehicles, sharing the road with bicycles, and more. When rain is present, failure to abide by any of these rules of the road increases the risk of causing an accident. The opposing driver in your claim may have caused the crash in any of the following ways:
Driving too fast on slick roads
Failing to have their lights on while rain obscures vision
Running stop signs due to poor visibility
By collecting evidence such as eyewitness testimony, the police report, pictures of the accident scene, and any footage from nearby traffic cameras can help your rain accident injury lawyer prove the opposing driver's fault and provide leverage for compensation negotiations.
When I Am at Fault
Sometimes, you may be assigned some of the blame for an accident caused by rain. Luckily, Texas uses a proportionate responsibility system that is much more forgiving than some other states'. You are able to bring a claim to court and pursue compensation for your damages as long as you are no more than 50% to blame for the accident. This percentage is determined by the jury or judge after hearing all of the evidence in your case.
For any percentage of fault that is assigned to you, your compensation will be reduced by the same percentage. If you have a total of $100,000 in damages and the court assigns you 25% of the blame, then your compensation would be reduced to a total of $75,000, for example. Getting in touch with a skilled rain accident injury attorney in Dallas can help you to avoid as much fault as possible, maximizing your compensation.
Road Builders
There are some situations in which the entity responsible for maintaining the road may be the defendant in a rain accident injury claim. For example, some roads may be improperly designed, built, or maintained, leading to poor water runoff, significant erosion issues, and other unreasonable factors that could lead to an accident.
While some roads are under the purview of private businesses or people, many of the roads in Texas are constructed and maintained under the authority of the government. It is highly recommended that an injured person seek the services of a knowledgeable rain accident injury lawyer when going up against the government or any powerful entity with significant resources.
Important Aspects of My Claim
A personal injury claim is a serious matter that can involve an arduous process of negotiation, mediation, arbitration, and a lawsuit. There are a plethora of factors that should be considered when dealing with any accident caused by rain in Dallas, and it is best to have a lawyer by your side who has handled these kinds of cases before. The following are some of the important aspects of a claim that can greatly impact your ability to get the compensation you need.
My Damages
Your damages come in two main forms: those that directly affect your financial situation and those that are more subjective in nature. The first category, called economic damages, includes items like your medical bills, car repair bills, and lost wages. Non-economic damages, on the other hand, include harms like your physical pain or loss of enjoyment in life, to which it is often difficult to assign a monetary value.
Statute of Limitations
Another crucial concept to understand is the statute of limitations for personal injury claims in Texas. The law allows for two years from the date of your injury to pass before the statute of limitations slams shut. If you fail to file a claim in court before that two-year deadline, you risk losing the ability to pursue compensation from the at-fault party. Our rain accident injury lawyers can work to preserve your rights and protect your interests.
I Can Speak to an Attorney Today
Our firm provides clients with a FREE consultation, and we do not collect a fee unless we win you the compensation you deserve. If you are injured in a rain accident, call us at (469) 998-4069 or fill out the form on our contact page and a representative will respond as soon as possible.
Frequently Asked Questions