Dallas Car Accident Caused by Defective Back-Up Signals Lawyer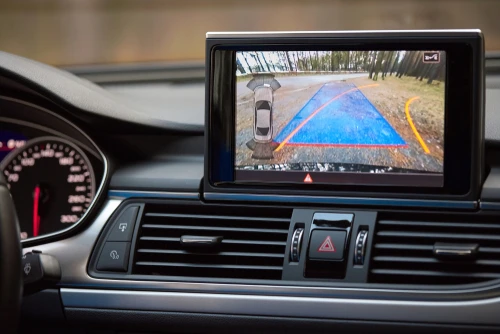 Vehicle backup lights, also known as reverse lights, let other drivers know when someone is reversing their car in Dallas. If these lights are not working correctly, accidents can happen. If you or someone you love were hurt because of defective backup signals, it's time to talk to a Dallas lawyer.
Our Dallas car accident lawyers can help. We'll assist you in investigating the cause of the accident, gathering evidence from the scene, and determining your damages so you can seek compensation. To get a FREE, no-risk consultation, call us at (469) 998-4069 or contact us online today.
What It Means When Backup Signals Are Defective
Your car's backup signals are lights that warn other drivers when you're about to move backward. These lights illuminate when your vehicle is in reverse. They are a standard white color for all vehicles.
It's important to routinely check that your backup lights are working. You can do this by turning on your ignition and putting the vehicle into reverse while keeping the parking brake on. Then, you can check the back of your vehicle to see if the backup signals are working.
In some cases, backup signals do not work. Causes might include:
Burned out bulbs
Bad sensors
Defective reverse light switch
Vehicle design or manufacturing defects
If your backup signals are not working properly, it can be very dangerous to yourself and others on the road. However, if your vehicle contains a defect that was not your fault or another driver causes your accident because of defective backup signals, you should not have to pay for the consequences. A Dallas defective backup signals lawyer can help you get to the bottom of the cause and assist you in seeking compensation for an accident that was not your fault.
Filing a Claim or Lawsuit for Defective Backup Signals
If you were injured because of defective backup signals, you may be entitled to financial recovery for your damages. You can pursue this recovery by filing a personal injury claim or product liability claim with the at-fault party. The responsible party could be any of the following:
The driver who caused your accident
A mechanic or repair company
A manufacturing company
The dealership who sold the car
Car manufacturers have a duty to ensure their products are safe for consumers before releasing them onto the market. If certain vehicles were made with defects that affect their backup signals, consumers should be made aware and the problem should be fixed. If that doesn't happen, the manufacturer can be found liable for the damages.
If the defective backup signals were not caused during the design or manufacture of the car, the problem could have happened after someone worked on the vehicle. Or, maybe the owner of the vehicle neglected to get the maintenance required to fix the issue.
If defective backup signals led to an accident in which you were injured, an experienced car accident lawyer can help determine who exactly was at fault. Then, you will know where to file a claim for compensation.
Taking a Defective Backup Signals Case to Court
Most injury cases get settled during the claims process. Insurance companies do not like to pay out much on these types of claims, but a good lawyer can often help you negotiate and reach a fair settlement with the insurer. However, there are situations where the insurance company won't budge.
If you are not able to reach a settlement agreement, your lawyer can help you file a lawsuit to take the case to court. There will be opportunities to negotiate before actually going to trial. Your lawyer will be there to represent you every step of the way and fight for a fair outcome.
Class-Action Lawsuits
Some vehicle defects affect many different consumers. If the vehicle that caused the accident (whether it was yours or someone else's) had backup signal defects that were caused during manufacturing, you might be entitled to compensation through a class-action lawsuit.
A Dallas defective backup signals lawyer can let you know your legal options based on how your accident happened. Our Dallas car accident lawyers can do this during a FREE, no-risk consultation. To schedule your FREE consultation today, call us at (469) 998-4069 or contact us online.
Damages You Can Claim in Your Case
If you were not at fault for the injuries you suffered, the losses you experience because of your accident can be included in your claim. Those might include the following.
Medical Expenses
Even minor accidents can lead to serious injuries. If a driver in front of you is backing up but their backup signals don't alert you, for example, your vehicle can get hit from the front. This can leave you with severe injuries that require a lot of treatment.
You should not have to pay for any medical costs you have from an accident that was not your fault. You can include the following costs in your claim:
Medical bills
Prescription medications
Physical therapy
Rehabilitation
Future medical care
Lost Wages
If you've had to miss work time because of the accident and your injuries, you can claim these lost wages. You'll need to provide proof of what you were making before the accident and how many work days you've had to miss. You can also claim lost earning capacity if your injuries now prevent you from working as you could before.
A lawyer can help you demonstrate your lost wages and other damages related to missed income opportunities.
Vehicle Repairs
Any costs of repairing your car after the accident can also be included in your claim. Consult with your lawyer before going somewhere to get your vehicle repaired or replaced.
Pain and Suffering
Unlike the economic damages above that have clear dollar amounts, pain and suffering damages are not easy to demonstrate. You might have emotional damages like:
Physical pain and suffering
Mental anguish
Loss of enjoyment of life
Anxiety or depression
Your lawyer will know how to accurately account for these damages in your claim. The insurance company will likely look for ways to reduce the value of your case, but your lawyer will stand up to the insurer and fight for the compensation you deserve.
Get a Free Consultation with a Dallas Defective Backup Signals Lawyer Today
Our Dallas car accident law firm is dedicated to getting injury victims the money they deserve. If you were hurt because of defective backup signals on a vehicle, we can help. Give us a call at (469) 998-4069 or contact us online today to get a FREE, no-strings-attached consultation to discuss the details.
We do not charge a fee unless we win you compensation, so there is no risk to you in getting started. Plus, we are happy to come to you if transportation is not easy. To get your FREE consultation, call (469) 998-4069 or contact us online now.
Frequently Asked Questions