Flower Mound Negligent Motorcycle Rider Accident Lawyer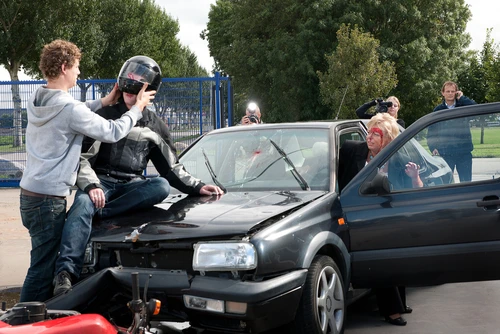 Motorcycles are ingrained into our cultural memory. A large chunk of Americana places the motorcycle as the pinnacle of the American rebel spirit. Zooming down the highway at high speeds seems like a dream lifted from the silver screen, but real life is tragically different. Motorcycle accidents due to negligent riders cause accidents that are as destructive as they are deadly.
By their nature, motorcycles are extremely fast due to their lightweight and power. Speeding is dangerous because it prevents drivers or riders from fully gaining control of their vehicles. Once one mistake happens, you are at the mercy of physics and gravity. Every person on the road must ensure their motor vehicle operation is done in a safe and controlled manner. Willfully ignoring this puts others at risk.
Have you been in an accident due to a negligent motorcycle rider in Flower Mound? Do not wait to call us at (469) 998-4069 to schedule a free consultation. Our Flower Mound negligent motorcycle rider accident lawyers have been practicing personal injury and accident law for years. We have the best lawyers that will fight for your rights in court and help you win your case. Our lawyers have many years of experience helping clients reach success in their cases. Call us today and learn more about your options.
How Motorcycle Negligence Leads to Accidents
How many times have you been on the road and a motorcycle drives in between lanes to avoid traffic? While this may seem like a practical thing to do, lane splitting is dangerous. Lane splitting is legal only in California. If you catch a motorcyclist lane splitting in Flower Mound, that is an illegal maneuver. Lane splitting puts motorcyclists extremely close to other vehicles and can be the source of major accidents.
Speeding is another major factor in all accidents and it is prevalent with motorcycles. Motorcycles can travel very fast, very quickly. The light construction of motorcycles often adds to how fast they can travel. All motorcyclists should be aware of the speed limits and what speed they are traveling at. Failure to do so is negligence and endangers those around them. According to the fact sheet published by the National Highway Traffic Safety Administration (NHTSA), in 2018, speeding caused 31% of all fatal crashes involving motorcycles. 31% for motorcycles is a stark difference between the 18% for passenger cars, 7% for large trucks, and 14% for light trucks.
Driving under the influence (DUI) is not limited to just cars and trucks. Even bicyclists can be subject to DUI laws in certain states. Motorcyclists are no different, and driving drunk or high is illegal. DUI can also be grounds to seek exemplary damages in addition to the compensation you receive.
Dangers of High-Performance Bikes and Young Drivers
Motorcycles tend to be very popular with a younger crowd. It is wrong to assume all young drivers are risky drivers. However, research throughout the years has shown that young drivers are more likely to be involved in or cause accidents. The likelihood of young drivers being a part of accidents comes mainly from their lack of experience on the road. Reckless driving tends to be more common with younger drivers eager to get out on the road in their cars and motorcycles.
Motorcycles, just like cars, come in many different models and types. High-performance motorcycles make up a tiny part of the motorcycles on the road but typically have a disproportionate amount of accidents. These motorcycles are incredibly light and can travel more than 160 miles per hour. The likelihood of controlling a motorcycle effectively at that speed with the random nature of roads and highways is very slim.
Building Your Case Against Negligent Motorcycle Riders
Standard protocol with any accident is first to make sure that you and anyone else in the vehicle with you are okay. If you or anyone around you is seriously injured, call 911. Once you are safe and removed from any danger, you should document the accident through pictures and video. Take photos of injuries, the accident, and the surrounding area. Be sure to also follow up with any witnesses to the accident and check if there is any security footage available in the area that may have recorded what happened. Keep all records, receipts, and invoices safe as evidence.
You need to prove that the motorcyclist was negligent by showing his or her disregard for the duty of care taken by all individuals driving on the road. Proving negligence is not an easy feat as there can be many reasons why an accident may have occurred. Sometimes negligence can be caused by an entirely different party or multiple parties at the same time. Regardless, it is best to get legal help from a motorcycle and car accident lawyer.
Damages that You Can Claim
For economic damages, be sure to keep receipts and invoices for everything. Here are some economic damages you can claim:
Lost wages
Medical costs and hospital bills
Prescription medications
Vehicle repair and property damage
Non-economic damages need the assistance of a lawyer to help assign a dollar amount. Pain and suffering, loss of enjoyment of life, or loss of consortium are examples of non-economic damages you can seek from the at-fault party or parties.
Get Help from a Negligent Motorcycle Rider Accident Lawyer in Flower Mound Today
You should not have to pay for another person's negligence. Getting injured is a traumatic and painful experience. If you have been in an accident at no fault of your own, you are entitled to seek compensation for the damages. Insurance companies will seek to lowball your pain and suffering and offer you a settlement less than what you deserve. Do not be tricked into settling for less. An experienced lawyer can fight for your rights and help you get justice.
The Flower Mound motorcycle accident lawyers are here to help. We operate with honesty and compassion for all of our clients. If you do not win compensation, you pay us nothing. Get started on your case with a free no-risk consultation. The longer you wait, the more evidence will fade away. It is best to get started on your claim now to get the best settlement possible. We are here to help. Call us at (469) 998-4069.
Frequently Asked Questions