Flower Mound Truck Accidents in Intersection Lawyer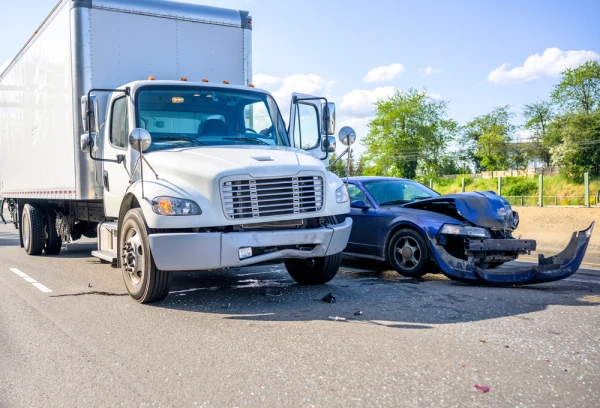 Did you know that 50% of car and truck accidents in cities occur in intersections? In rural areas, this statistic drops to 30%. Nonetheless, this figure is shocking. Intersections are common in towns and cities like Flower Mound, TX. It's impossible to drive a car or truck without passing through an intersection.
Many intersection accidents involve large trucks like tractor-trailers. Unfortunately, these accidents are often fatal. According to the Insurance Institute for Highway Safety (IIHS), large truck crashes caused over 4100 fatalities in 2018 alone. Victims who survived crashes often suffered serious, life-altering injuries.
Don't let a truck accident in an intersection disrupt your life. If you're struggling to recover after a truck accident in an intersection, our Flower Mound accident lawyers can help. We'll figure out if you have a case and determine how much compensation you may be owed. Best of all, if we take your case, you won't be charged for our services unless we win.
Call (469) 998-4069 today or use our online contact form to schedule a free consultation. There's no obligation and you have nothing to lose, so don't wait. Let our legal team help you get justice after a truck accident in an intersection.
Causes of Intersection Accidents
Why do intersections have such a bad accident record? It's because they're more complicated than other roads. In an intersection, two streets cross one another and traffic can change direction. There may also be left-hand turn lanes, bike lanes, and crosswalks for pedestrians. If a driver isn't paying attention at an intersection, it's easy to get confused and cause an accident.
In Texas communities like Flower Mound, most intersections are governed by traffic lights or stop signs. However, some intersections are "hidden." In a hidden intersection, there are no lights or signs to direct the flow of traffic. A driver must rely on their knowledge of the right-of-way law and hope other drivers follow it, too.
Additionally, many accidents in intersections happen for the following reasons:
Failing to Yield
Intersections direct the flow of cross-traffic with stop lights, stop signs, or yield signs. These traffic indicators tell drivers when they need to stop and when they can go. Unfortunately, drivers who fail to yield by ignoring a red light or speeding through a stop sign cause accidents. When trucks fail to yield, the driver may cause a collision because they cannot stop or swerve quickly to avoid hitting other vehicles.
Speeding
According to the National Safety Council, speeding is a factor in 26 percent of all fatal accidents involving cars and trucks. Most adult drivers speed at some point in their lives and many believe that speeding is relatively harmless. Unfortunately, this isn't true. Speeding is always dangerous, especially in an intersection.
When trucks speed, their impact force in a collision increases exponentially. A large truck speeding at 45 mph inflicts more damage than a truck driving at 35 mph. Often, truck drivers cause accidents in an intersection when they speed up to make it through a yellow light. Truckers are often on a tight delivery schedule and may speed to make their deadlines. This behavior results in accidents.
Tailgating
Tailgating occurs whenever a driver follows too closely behind the vehicle in front of them. When you tailgate a truck, the results can be catastrophic. Without proper following distance, you may crash into the truck if it slows down or stops suddenly. Tailgating leads to truck accidents in intersections because many trucks slow down when they pass through an intersection. If you're tailgating the truck, you may rear-end them.
Distracted Driving
In an intersection, distracted driving can be fatal. In 2018 alone, distracted driving claimed the lives of over 2800 accident victims. Examples of distracted driving include texting or using apps on a phone, looking at a map, eating, talking to a passenger, or any behavior that takes the driver's attention away from the road. When truck drivers become distracted in an intersection, they may not be able to react quickly enough to avoid an accident.
Driving Under the Influence
Driving under the influence is another common cause of car and truck accidents in intersections. Drivers who use drugs or alcohol experience lapses in judgment, reduced motor control, vision impairment, and slower reaction time. As a result, they may collide with other vehicles while driving through an intersection.
Fatigued Driving
Truck driving can be a stressful occupation. Commercial drivers who operate long-haul trucks like big rigs and semis often drive for 11 hours at a time, for several days in a row. Many also drive late at night. Due to this intense schedule, truck drivers often succumb to fatigue. When a truck driver is fatigued, they are just as impaired as if they had a 0.08% blood alcohol level.
Types of Collisions That Are Common in Intersections
In an intersection, accidents involving trucks can be mild, moderate, or severe. The nature of the accident depends on the speed of the vehicles involved as well as the angle of impact. Common types of collisions in intersections include:
T-Bone Collisions
Rear-End Collisions
Sideswipe Collisions
Rollover Accidents
Intersection Accident Injuries
If you get hit by a truck in an intersection, your injuries can be severe. Many accident victims require surgery and rehabilitation. Sadly, some survivors suffer permanent disability such as paralysis or neurological impairment after head injuries. Some examples of common injuries after a truck accident in an intersection include:
Neck injuries, including whiplash
Spinal cord injuries, which can lead to nerve damage and paralysis
Head injuries, including concussions, traumatic brain injuries (TBIs), and coma
Cuts, burns, bruises, and broken bones
Internal organ damage and internal bleeding
PTSD and other mental health issues
Often, victims and their families struggle with the financial burdens of hospital bills and at-home care. That's why it's important to explore your legal options after a truck accident in an intersection. You may be eligible for compensation from the truck driver or their employer.
Call (469) 998-4069 now for a free consultation.
Frequently Asked Questions