Is a Rear-End Accident Always Your Fault?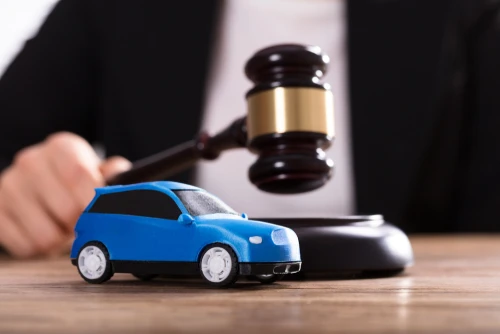 Most people assume that the rear driver in a rear-end collision is at fault. While it's true that the rear driver is usually responsible, there are exceptions. After a rear-end accident, you'll want to get clear on who was at fault and whether you can pursue compensation for your damages.
To get specific questions answered about your case, consult with a rear-end accident lawyer in your area today. We can match you with the best attorney for your needs at no cost to you. Call (469) 998-4069 or contact us online to learn more during a FREE consultation.
How Negligence Applies to a Car Accident
All drivers must exercise ordinary care and prudence on the road so that they don't harm others. A lack of this care is known as negligence. After a car accident in a fault state, the negligent party is legally liable for the damages.
If another driver was negligent and caused your rear-end collision, you will need to show that:
The driver owed you a duty of care (as described above)
The driver breached their duty in some way
The breached duty caused your rear-end accident
You suffered damages because of the accident
A driver might have been negligent because they were engaging in activities like distracted driving, not paying enough attention, ignoring traffic signs, tailgating, or failing to yield.
Even though the rear driver is usually at fault for rear-end accidents, that is not always the case. The front driver can also be negligent in some situations.
Determining Who Was at Fault for a Rear-End Accident
The rear driver in a rear-end accident is usually at least partially at fault for the accident. All drivers must follow at safe distances to avoid accidents. If a driver collides into the back of another vehicle, it's typically a sign they were not following safely or paying enough attention.
After a rear-end accident, you'll need to investigate the accident to identify and prove exactly what happened. Proving negligence and liability is difficult, so it's best to speak with an experienced lawyer. To get a FREE consultation with a rear-end accident attorney, call (469) 998-4069 today.
When the Lead Driver Might Be At-Fault for a Rear-End Collision
Even if the front driver slammed on their brakes before the collision happened, most insurance companies will argue that the rear driver should be diligent enough to respond and avoid a crash. However, the front driver might be partially responsible if they:
Stopped suddenly without warning or signaling
Reversed their vehicle without looking behind them
Were trying to get hit
Pulled over without engaging their hazard lights
Were drinking and driving
Had faulty brake lights that they never fixed or replaced
If the front driver made the accident impossible to avoid, even though the rear motorist was driving carefully, the front driver might be partially or fully at fault.
Proportionate Responsibility in an Accident Case
Most states follow proportionate responsibility or comparative negligence laws that can assign fault to more than one party. In Texas, for example, you can seek compensation for your accident damages as long as you were not more than 50% responsible for the accident (Texas Civil Practice and Remedies Code § 33.001).
Under proportionate responsibility laws, the rear driver in a rear-end accident can be partially but not fully at fault for the crash. However, the injured driver will need to show how the rear driver was negligent and how it contributed to the accident.
A few states still follow contributory negligence laws, which means that any degree of fault bars a driver from recovering damages after an accident.
How to Prove Fault in a Rear-End Accident
If another driver caused your rear-end accident, whether they were the front or rear driver, you should not have to pay for the damages they caused. You'll need to gather evidence of the accident, the other driver's negligence, and how their negligence led to your accident.
Information that can help your rear-end accident case includes:
A copy of the police report from the accident
Pictures from the accident scene
Video footage from traffic cameras
Eyewitness information and statements
Copies of medical bills and other documentation of your damages
You will also need to deal with the other driver's insurance company. Insurance companies do not like to pay more than they have to on injury claims. If you were the rear driver in a rear-end collision, the insurance company will probably fight hard to blame you for the accident.
To protect your legal rights and know what it takes to handle the insurance company, reach out to a rear-end accident lawyer. At the very least, schedule a consultation to discuss the accident and understand your legal rights.
Rear-End Accident Damages
There are two main categories of car accident damages:
Economic damages
Non-economic damages
Economic damages, also known as special damages, include medical costs, lost wages, loss of earning capacity, and vehicle repairs. You will need to prove these damages through documentation like medical bills, receipts, and pay stubs.
Non-economic damages, also known as general damages, account for emotional injuries like pain and suffering, mental anguish, disfigurement, and loss of life enjoyment. You cannot prove non-economic damages through bills or other dollar amounts. A lawyer can help you calculate these damages and determine how much they should be worth.
A third type of damages, punitive or exemplary damages, is available in some accident cases. You might be eligible for these damages if the at-fault driver engaged in reckless, wanton, or criminal behaviors. A lawyer can let you know if this is an option in your case.
Speak with a Rear-End Accident Accident Lawyer for Free
Rear-end accidents can be complicated, but you don't have to handle yours alone. We can match you with an attorney who can protect your rights and ensure you don't get blamed for an accident that was not your fault.
We do not charge you a fee unless we win your case, so you don't have to worry about any upfront costs or out-of-pocket expenses. To get started with your FREE consultation and case evaluation today, call us at (469) 998-4069 or contact us online.
Frequently Asked Questions