Who Is at Fault When a Car Hits a Cyclist?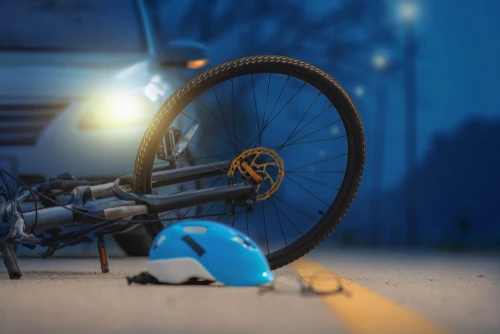 The latest statistics available from the Texas Department of Transportation on motor vehicle accidents are from 2018, which saw a more than 26% increase in pedal cyclist fatalities. This, coupled with the fact that even more bicyclists were injured, means that bicycle accidents are becoming a significant problem on Texas roadways. If you are involved in a bicycle collision with a motor vehicle, one thought maybe the most prominent in your mind: who is at fault? Conventional wisdom might say that the bicyclist, who is likely to be the most injured, is the victim, while the car driver is at fault. However, this is not always the case. There are rules of the road for bicycles as well as cars, and a cyclist ignoring these rules may be responsible for the collision.
Dallas Car Accident Lawyers has years of experience handling bicycle accident claims in Texas. Our attorneys can help you understand the details of your claim and your likelihood of being considered responsible. We also work to catalog all your damages so that, if you are eligible for compensation, you can be sure to get the value for the harms you suffered.
How Fault Works in Texas
The first factor to understand when considering fault in your bicycle collision is that Texas uses a system of proportionate responsibility when determining how fault affects your compensation. This setup allows you to seek compensation from the opposing party even if you share some of the blame for an accident, so the matter is not as black-and-white as it is in other states. There are two elements to this system, which is also known as modified comparative fault.
When I Am Eligible to Pursue Compensation
You can file a lawsuit for compensation from the other party in your bicycle accident as long as you do not have more than 50% of the blame for the wreck. Unlike in other states, Texas allows you to recover a payout even if you have, for example, 45% of the fault in an accident.
Possible Reduction in My Compensation
The second way that this system works is that it lowers your total compensation package by the percentage of fault that is attributed to you. In the above example in which you are found to be 45% responsible for your accident, your compensation would be reduced by 45% as well.
The apportioning of fault is crucial in determining the value of your claim, so it is best to work with an experienced bicycle accident attorney who can help you collect and preserve evidence of the opposing party's fault.
Evidence of the Other Party's Fault
In a collision between a car and a bicycle, either party can be held responsible for the accident if their negligence or actions caused the crash. A bicycle failing to signal a turn or failing to ride their bicycle as far to the right curb as possible may be responsible for the wreck, for example. Or a driver who pulls out in front of a bicyclist may be the responsible party. In order to evaluate compensation, it is crucial for a skilled Texas bicycle accident lawyer to work with you to gather and preserve evidence like the following.
Police Crash Reports
When police are called to the scene of a wreck that results in significant damage, they are required to fill out a crash report. This report is an important piece of evidence because it includes the officer's reconstruction of the crash according to evidence at the scene and witness testimony.
Photos of the Accident Scene
If you are physically able to do so, it is a good idea to take photos of the collision scene on your smartphone. Include pictures of any road markings like tire marks as well as pictures of the damage to the car and bicycle. All of these images can help an accident reconstructionist recreate the crash, as the actual scene will rapidly lose evidence as time elapses.
Traffic Camera Footage
Sometimes, your bicycle collision may happen near a traffic camera or within sight of a store's surveillance camera. At the scene of your crash, try to note any nearby cameras from which your attorney may later seek copies of the footage. Having a video of the incident goes a long way toward establishing who was in the wrong and who should foot the bill for the damage. Unfortunately, many of these records are erased within a few weeks, so it is vital that you tell your attorney about those cameras as soon as possible.
Lawyers Will Speak With Me For FREE
Life after a bicycle accident can be hectic, with the other party's insurance company trying to pin the blame on you. If you are in a collision between a motor vehicle and a bike, get in touch with Dallas Car Accident Lawyers today by calling (469) 998-4069 or by filling out the form on our contact page. Your initial consultation is completely FREE, and we do not collect a fee unless we win you the compensation you deserve!
Frequently Asked Questions