Flower Mound Truck Accident Lawyer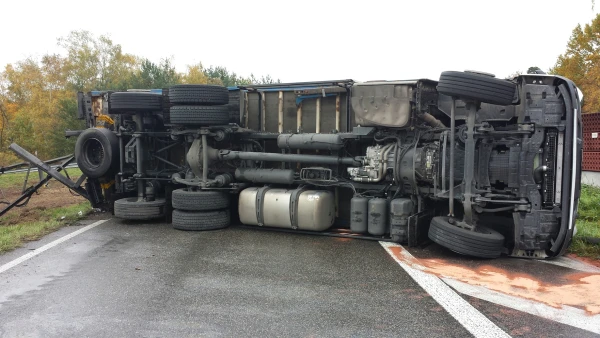 Drivers around Flower Mound share the road with tractor-trailers and 18-wheelers every day. These large vehicles carry raw materials and finished products, playing a vital role in our country's economy. They also pose a tremendous risk to other drivers in the event of an accident.
Truck accidents are incredibly common according to the Federal Motor Carrier Safety Administration (FMCSA). This agency reported the following numbers of truck crashes in the year 2016:
Police Reported Crashes: 475,000
Injury Crashes: 104,000
Fatal Crashes: 3,864
Drivers injured in truck accidents may be entitled to legal compensation for their medical bills and vehicle repair costs. Our team of Flower Mound truck accident lawyers can help you get the damages you need after a truck collision.
Truck Accident Causes in Flower Mound
While all truck accidents are unique situations, many have similar underlying causes. We see truck accidents that are caused by trucking companies that are trying to cut corners to increase their profits. Companies that neglect truck maintenance or hire inexperienced drivers increase the odds the truck accidents will occur.
Truck drivers also cause many accidents on their own. Drivers that operate large trucks while they are fatigued, distracted, or under the influence frequently cause collisions. Your accident could also be caused by a driver that is disobeying traffic laws by exceeding the speed limit or tailgating other drivers.
You may be entitled to compensation from the truck driver or the trucking company, depending on your situation. We have the resources to stand up to large truck companies and we can protect our clients from techniques designed to deny them fair compensation.
Common Injuries Caused by Truck Accidents
The size difference between trucks and other vehicles increase the odds that truck accident victims will suffer severe injuries. Big rig and 18-wheeler accidents may leave other drivers with:
Shoulder and Leg Injuries
Dislocations and Broken Bones
Spinal Cord and Head Injuries
A tremendous number of truck accidents also lead to the wrongful deaths. You may be entitled to compensation for the loss of your loved one. We can help you receive damages for:
Medical Treatment
Rehabilitation Costs
Funeral Costs
Pain and Suffering
Mental Anguish
Lost Wages
You will have the best chances of getting full compensation for all of your losses if you contact a professional truck accident lawyer in Flower Mound right away.
Handling a Truck Accident Case in Flower Mound
Truck companies typically employ insurance agents who are dedicated to protecting their bottom line. These insurance agents are focused on denying you the compensation you deserve. They may do this by offering you an unfair settlement or by trying to blame the accident on you.
Our skilled truck accident lawyers can stand up to insurance agents and trucking companies. We will provide you with the help you need by:
Investigating Your Accident
It is important that we gather evidence and speak with witnesses as quickly as possible. People forget things as time passes, so it is important to get help on your side immediately. We need to find out exactly what went wrong so we can build your case.
Negotiating with the Insurance Company
Once we understand the causes of your accident, we can enter a period of negotiations with the insurance company. Many times, trucking companies will agree to settle a case if they know they can't win in court.
Handling Your Truck Accident Lawsuit
There are situations where trucking companies refuse to agree to a settlement that offers the compensation you need. In this case, we have the courtroom experience to fight for you in front of a judge with the aim of getting you full damages.
You Can Count on a Flower Mound Truck Accident Lawyer
It's easy to feel hopeless after a truck accident. You may be dealing with a totaled vehicle and injuries that require extensive medical care. Our team of Flower Mound truck accident lawyers are here to provide help when you need it most. We understand the best ways to handle truck accident cases and we're here to provide you with immediate advice with a FREE consultation.
You can complete our online contact form or call (469) 998-4069 for immediate legal support.
Frequently Asked Questions