Flower Mound Concrete Truck Accident Lawyer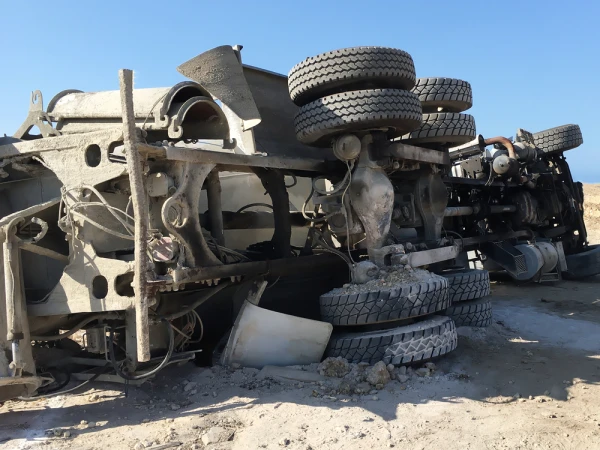 If you've ever driven past a construction site, you've probably seen a concrete truck. Also known as concrete-mixer trucks, these vehicles are an essential part of the construction industry. Concrete trucks are used to pour cement at a wide variety of construction projects, from residential driveways to foundations for commercial buildings.
Concrete truck accidents are not as common as other types of truck accidents. However, when they do occur, collisions involving concrete trucks can cause severe injuries or fatalities. Concrete truck accidents can also cause thousands of dollars in property damage.
If you're in a concrete truck accident in Flower Mound, TX, you may be eligible for compensation. The concrete truck driver, their employer, or the owner of the construction site may be liable for damages. With compensation from a concrete truck accident settlement, you can pay hospital bills, replace a damaged or totaled vehicle, or cover wages lost during recovery time.
Don't wait. Call (469) 998-4069 today for a free consultation with a concrete truck accident lawyer. Consultations are 100% free and confidential. If we take your case, you won't pay a dime unless we help you win.
Types of Concrete Trucks
There are several different types of concrete trucks involved in collisions. Each type of concrete truck can vary in size, length, width, and height. The vehicle's dimensions may determine the amount of damage it can inflict in a crash. A heavier vehicle causes more damage than a lighter vehicle. However, all concrete trucks inflict more damage than regular cars.
Common types of concrete trucks seen around Flower Mound and surrounding Texas communities include:
Standard Concrete Trucks
When most people picture a concrete truck, they're probably thinking of a model known as a standard concrete truck. This consists of a large truck with a rotating drum used to transport raw, liquid concrete materials. These trucks mix the concrete on site, then pour it from a special chute attached to the back of the drum.
Standard concrete trucks can hold between 2 and 8 cubic meters of concrete mix. They are a popular choice for urban construction because they often use "ready-mix" concrete materials. They are also smaller than other types of concrete trucks and thus easier to drive.
Rough Terrain Concrete Trucks
Rough terrain concrete trucks are similar to standard concrete trucks. The key difference is that these vehicles are larger and designed to traverse uneven surfaces, such as dirt roads. They generally have a 100 cubic meter capacity and all-wheel drive. Additionally, many rough terrain concrete trucks use a special mixer drum that can discharge liquid concrete from all sides, not just the rear.
Rough terrain concrete trucks aren't as common in cities. You are more likely to be involved in an accident with this type of concrete truck in rural areas or suburbs on the outskirts of the countryside.
Volumetric Concrete Trucks
Volumetric concrete trucks are another great option for smaller construction jobs, so they're more likely to be seen in urban environments. Unlike standard and rough terrain concrete trucks, volumetric concrete trucks store all the raw concrete ingredients in separate chambers. This allows the construction workers to mix just the right amount of concrete for the job, reducing waste material.
You may encounter these concrete trucks at residential construction sites. They are often used to pour new driveways, foundations, or swimming pools.
Mobile Volumetric Concrete Batching Plants
A mobile volumetric concrete batching plant is like a larger version of a volumetric concrete plant. Essentially, this is a small concrete mixing factor that's mobile. The concrete truck driver or construction workers are able to produce as much concrete as they need to fulfill their project's requirements.
Mobile volumetric concrete batching plants are common at large commercial construction sites. They may be found pouring concrete for industrial buildings, parking lots, and more.
Causes of Concrete Truck Accidents
Most concrete truck accidents happen near construction sites. This is another reason why it's important to slow down and be extra alert when you see orange cones or other signs of construction. However, concrete truck accidents may also happen on the roads and highways in Flower Mound as the trucks drive to and from a construction site.
Common causes of concrete truck accidents include:
Stopping Distance
Like all large vehicles, concrete trucks have a very long stopping distance compared to passenger cars. When a concrete truck driver brakes, it takes several seconds before the truck can come to a complete stop. Unfortunately, many accidents occur because the driver can't stop in time to avoid them.
Bad Weather
Concrete trucks are vulnerable to accidents in bad weather. First, bad weather can reduce the driver's visibility. They may cause an accident if heavy fog, rain, or snow prevents them from seeing the road. Secondly, bad weather can make street surfaces slippery. The concrete truck's tires may lose traction. This can make it harder for the driver to brake, turn, or steer to avoid a hazard.
Mechanical Failure
Like all industrial vehicles, concrete trucks endure heavy wear-and-tear as part of their job. If a concrete truck isn't regularly inspected and repaired, lack of maintenance can lead to a collision. In some scenarios, poor maintenance may cause the drum to malfunction and pour concrete or raw materials on the road, creating an extreme hazard for other drivers.
Blind Spots
Finally, many concrete truck accidents occur due to blind spots. If the driver can't see another vehicle, they may crash into it as they turn or change lanes. If you're driving near a concrete truck, always give it plenty of space. Pass carefully and don't linger in blind spots. This can help you avoid an accident.
What to Do After a Concrete Truck Accident
Were you in a concrete truck accident? Our Flower Mound accident lawyers can assist you. We'll be able to review your case and determine how much compensation you may be owed. If we don't help you win, you won't pay for our services.
Call (469) 998-4069 today to schedule your free consultation.
Frequently Asked Questions