Richardson Concrete Truck Accident Lawyer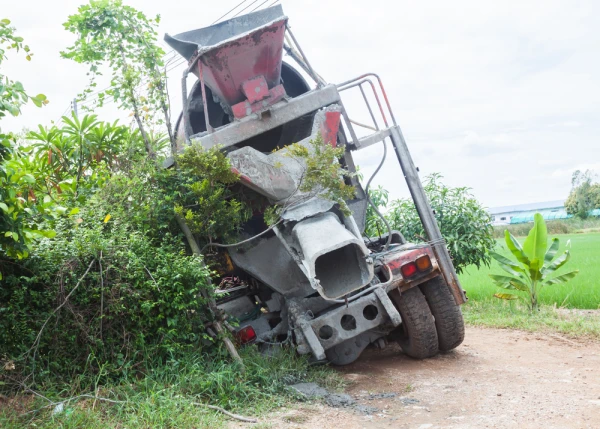 Hurt in an accident with a concrete truck in Richardson, TX? Take steps to get compensation for your losses right now by contacting a member of our team. We may help you get damages to cover your medical expenses and other losses through:
An out-of-court settlement
A courtroom verdict in your favor
Reach us when you want to get help by calling (469) 998-4069. Find out how you could get damages after an accident with a large truck right now.
Facts About Concrete Truck Accidents
Concrete mixer trucks are large vehicles that carry wet concrete to work sites around Richardson. They are often noticeable because they have large drums that must constantly spin while they are full of concrete.
The trucks themselves weigh a lot, and the concrete adds to the weight. Additionally, the concrete shifts around inside the truck as it drives and could cause the truck to unbalance if the driver is not careful. These trucks also have several of blind spots. These factors sometimes contribute to concrete truck accidents.
According to the Federal Motor Carrier Safety Administration (FMCSA), there were 800 tow away crashes involving concrete trucks in 2017. There were also over 600 injury crashes. Additionally, 33 people were killed in concrete truck accidents.
A Richardson concrete truck accident lawyer could help if you were hurt in a collision or if you lost a family member due to a concrete truck wreck. We're standing by to offer you considerate care during your time of need.
Show Liability for a Concrete Truck Wreck in Richardson
Someone else must have caused the concrete truck accident in order for you to get compensation. A lawyer can work to show that your accident was caused by someone else. Allow your lawyer to:
Speak to all witnesses to the accident.
Go over your police report.
Consult with accident reconstruction specialists.
Many concrete truck accidents occur due to driver errors. If concrete truck operators break the law, they endanger other drivers on the road. They could drive too quickly or pass illegally. The concrete truck company could also cause an accident in some cases.
We can also help if the accident occurred because of a vehicle defect. The concrete truck manufacturer could be responsible for a vehicle defect. Allow us to assess all of the causes of your accident right now. Just call (469) 998-4069.
Your Injuries and a Richardson Concrete Truck Accident
Concrete trucks are very large vehicles that can cause significant damage during an accident. You may experience vehicle damage or serious injuries in a wreck. You could get compensation for your medical expenses if you face:
Head or brain injuries.
Neck, back, or spine injuries.
Broken bones or fractures.
Burns, cuts, or lacerations.
It's recommended that you visit a medical facility quickly if you are hurt in a concrete truck accident in Richardson. Getting medical care fast may show that your injuries were caused by the accident, which could help you get compensation for your losses.
Note that you can also seek damages to cover the costs to repair your vehicle and for your pain and suffering.
Build Your Claim with a Richardson Law Firm
Members of our team are standing by to help you handle a concrete truck accident in Richardson. We're ready to help you build a claim to submit to the insurance company. Your case could end with an insurance settlement to cover your healthcare expenses and other losses.
We also understand what it takes to file a lawsuit in Richardson. You may choose to seek compensation through the court system here in Texas. Generally, you have two years to file a claim or a lawsuit. After this, the statute of limitations on your claim will expire. Get started on your legal case right now by reaching out to us for help.
Call a Richardson Concrete Truck Accident Lawyer Now
Take control of your future if you were struck by a concrete truck driver in Richardson. Contact a member of our team today for a free consultation. A concrete truck accident lawyer in Richardson will focus on your unique needs after a collision. We're ready to help you get compensation for all of your losses.
Reach us by calling (469) 998-4069. You could also complete our online contact form.
Frequently Asked Questions