Richardson Moving Van Accident Lawyer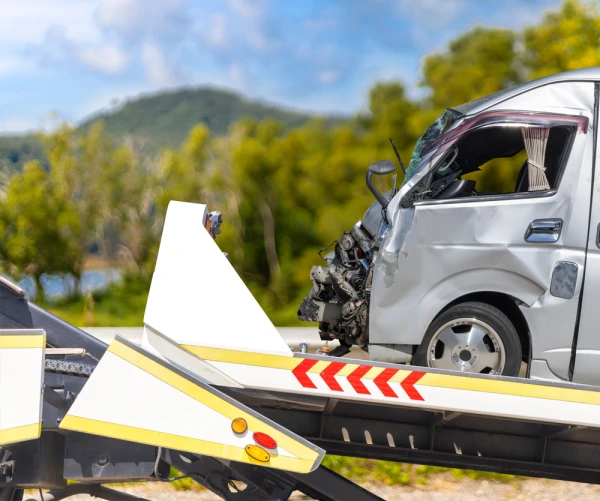 Moving vans are a common sight in Richardson, TX. You may see them in neighborhoods and business districts. Whenever people move their home or business, they'll need a moving van to transport their belongings.
Moving vans come in a variety of sizes. They can range from smaller vans and trucks to huge trailers. The largest consumer moving vehicles are 26 feet in length, with a maximum load of 7,000 pounds. However, professional moving companies may use special trucks that exceed this size.
Due to their size and weight, moving van accidents can be very dangerous. They may cause damage to property, injuries, and even death. If you're involved in a moving van accident in Richardson, TX, seek help from our lawyers.
Call (214) 740-4556 to schedule a consultation with a lawyer. We'll discuss your rights in a moving van accident, as well as any compensation you may be owed. Consultations are always free and there's no obligation to you. If we don't win your case, you won't pay a penny.
The Dangers of a Moving Van Accident
According to the American Moving & Storage Association (AMSA), approximately 10% of Americans move every year. That's about 31.9 million people — and that means a lot of furniture, appliances, and personal items are transported in moving vans or trucks.
Today, there are more moving vans on the road in the Lone Star State than ever before. In 2018, Texas was the second most popular destination for moves. Unfortunately, this has increased the risk of moving van accidents in places like Richardson.
Why are moving van accidents more dangerous than regular car accidents? Several factors contribute to severe accidents involving moving vans:
Inexperienced Drivers
AMSA reports that only 19% of the population hires professional movers. Everyone else uses a personal vehicle, borrows a truck from a friend, or rents a moving van from a company like U-Haul. These drivers are less experienced than professional movers.
Driving a large moving van requires skill and experience. If someone isn't used to driving one of these vehicles, they may not be able to control it as well as a normal car. These inexperienced drivers are more likely to cause moving van accidents.
Drowsy Drivers
Moving can be an exhausting experience. Whether you've stayed up late packing or woke up early to drive to your new home, it's not uncommon for people to lose sleep during a move. Unfortunately, this behavior increases accident risk.
According to the National Safety Council (NSC), drowsy driving can be just as dangerous as driving under the influence of drugs or alcohol. Staying up for 20 hours or more actually has the same impact on driving ability as a .08% blood alcohol concentration level.
Drowsiness negatively affects a driver's judgment, depth perception, and ability to control their vehicle. If a moving van driver hasn't had enough sleep, they may cause a serious accident.
Poorly Maintained Moving Vans
Mechanical failure can also trigger accidents. If a moving van isn't maintained, it can experience problems with brakes, steering, acceleration, and more. These problems may result in accidents even if the driver isn't doing anything wrong.
That's why most professional movers and rental companies are required to keep their fleet in good working condition. If a company has been cutting corners, its rental moving vans may malfunction. It's vital to check a vehicle's repair history before using it as a moving van.
Fallen Cargo
Many moving van accidents are caused by fallen cargo. This occurs when objects like furniture aren't properly secured or the moving van's doors malfunction. In other situations, oversized objects like mattresses may fall from the top of the moving van.
Fallen cargo from a moving van poses many dangers for everyone on the road. Dropped objects can hit other cars, shatter windshields, and cause a driver to lose control. This may result in severe injury or death.
Additionally, fallen cargo can create unsafe road conditions. Even if the fallen object doesn't hit anyone, other vehicles may need to swerve or brake without warning to avoid it. These sudden, erratic driving maneuvers can result in multi-car accidents.
Bad Weather and Reduced Visibility
External factors like bad weather and reduced visibility may cause other moving van accidents. Often, people move early in the morning or late in the evening. This darkness makes it more difficult to see other cars. As a result, drivers may cause accidents.
Additionally, bad weather can contribute to moving van accidents. Although most people try to schedule their moving dates around good weather, this isn't always possible. Rain, snow, fog, and other bad weather conditions affect visibility and make it more difficult for a driver to control their vehicle.
Determining Liability in Moving Van Accidents
Who is liable in a moving van accident? Determining liability in a moving van accident can be complicated. First, it depends on the cause of the accident. What happened, and why? If the other driver was negligent or driving under the influence, they are clearly at fault.
However, other parties may share liability. For example, if the driver rented their moving van, the van's owner may also be responsible — especially if the accident occurred due to mechanical failure. If the driver works for a professional moving company, their employer may also share liability.
If you're involved in an accident with a moving van, it's important to get the other driver's insurance information right away. If they're a professional driver, be sure to collect their employer's information as well. If they're not a professional driver but rented their moving van, ask for the rental company's direct contact.
Although liability in moving van accidents may be challenging, our lawyers can help. We've handled many moving van accidents in Richardson, TX. We'll help you understand your case and determine how much compensation you may be owed. Then, we'll help you fight for your rights.
Call (214) 740-4556 or use our contact form to schedule your free consultation today.
Frequently Asked Questions