What Is a Whiplash Accident?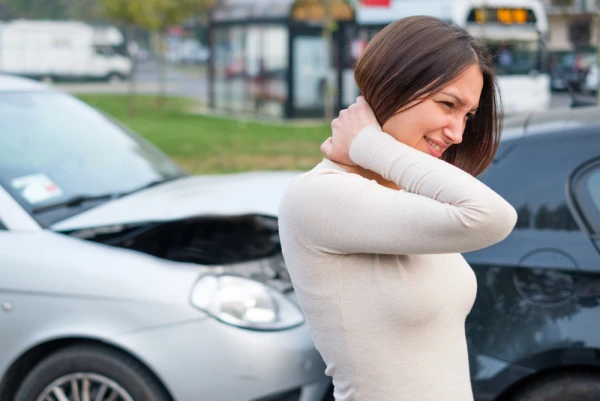 Whiplash is a common accident injury. Sadly, insurance companies rarely take whiplash seriously. If you suffered a neck injury, it's crucial to be informed. Here's what you need to understand about a whiplash accident.
What Is Whiplash?
According to the Mayo Clinic, whiplash is a neck injury. Quick, forceful back-and-forth movement causes whiplash. The action is similar to the cracking of a whip.
Sports accidents, abuse, or other traumas can cause whiplash. But car accidents are the most common cause.
How Whiplash Happens During a Car Accident
Whiplash can happen during any car accident. It's especially common in rear-end collisions. Your head can jerk backward and forward when another car hits you from behind.
If you were in a whiplash accident, you have rights. Talk to a whiplash accident lawyer as soon as possible.
To get a FREE, no-risk consultation, call (469) 998-4069, or contact us online. Our lawyers can help you build a strong injury claim. Plus, there is no fee unless we win for you.
Whiplash Accident Signs
Whiplash accident injuries don't always show up right away. You might not notice the pain until hours or days later. Pay close attention to symptoms like:
Lost range of motion
Pain and stiffness
Pain or tender arms, upper back, and shoulders
Headaches from the base of the skull
Fatigue
Arm numbness or tingling
Dizziness
Worse pain with movement
Other Signs and Symptoms
Other whiplash symptoms you could have include:
Tinnitus (ringing or buzzing ears)
Irritability
Blurry vision
Trouble remembering things
Depression or anxiety
Concentration problems
Trouble sleeping
Delayed symptoms can make an insurance claim more difficult. In general, whiplash is harder to prove. It does not show up on imaging tests like other injuries.
Chronic Whiplash Signs
Most whiplash injuries heal within a few weeks. You might not experience any more symptoms. However, some people have whiplash long-term.
Whiplash accident pain might last for many months or years. Recovery time can be unpredictable. Someone is more likely to have chronic whiplash if:
The neck pain is severe.
Pain has spread to the arms.
Range-of-motion is minimal.
The person is older.
It's not the first whiplash injury.
It was a high-speed accident.
The person already had neck or back pain.
The at-fault driver's insurer might try to downplay whiplash injuries. If the insurer denies or questions your claim, contact a lawyer immediately.
A lawyer can help you prove your whiplash accident. They can also make sure you get the compensation you deserve.
Documenting Your Whiplash Accident
After a whiplash accident, you'll need to document everything. The insurance company might doubt your whiplash injuries. You can strengthen your claim by gathering evidence.
Here are some ways to document your whiplash accident:
Call the police to report the accident.
Take pictures at the scene. Photograph any visible injuries and vehicle damage.
Write down any symptoms you experience after the crash.
Talk to witnesses. Ask for their names and contact information.
Note any traffic surveillance or other cameras.
See a doctor right away, even if you feel fine.
Talk to a whiplash accident attorney.
Don't Wait to See a Doctor
Even if you don't have pain right away, get medical attention. A doctor can evaluate you for possible whiplash injuries. Seeing a doctor can help prevent worsening pain.
Getting medical treatment early on will help your claim. Medical records from right after the crash support your case. The insurance company is less likely to doubt your injuries.
Sometimes, the force of a whiplash accident can also cause a concussion. Signs of a concussion include:
Weakness
Having trouble talking
Headaches that stay or worsen
Extreme sleepiness
Nausea
Dizziness
Confusion
Your doctor might also order CT scans, x-rays, or other imaging tests. These tests can rule out other serious problems.
How a Doctor Treats a Whiplash Accident
Thankfully, most whiplash injuries heal with time. To help your recovery, your doctor might order any of the following.
Icing Daily
Putting ice on whiplash can help decrease swelling and pain. Your doctor might recommend icing for 15 minutes every three to four hours. This usually continues for a few days.
Be careful not to put ice directly on your skin. Wrap the ice in a cloth or thin fabric first.
Over-the-Counter Drugs
Your doctor might also recommend over-the-counter pain medications. Ibuprofen or naproxen are common suggestions. These drugs can help decrease swelling and pain.
Talk to your doctor before using any medications for whiplash injuries.
Neck Brace
Sometimes, a doctor might order you to use a brace or collar for whiplash. These are not for long-term use, but they can help prevent pain and too much movement at the beginning.
Applying Heat
After icing your neck reduces the swelling, your doctor might recommend moist heat. Heat can help with pain and swelling.
Before engaging in any treatment, talk to your doctor. Otherwise, you might end up making an injury worse or slowing healing.
Remember to save all medical records and bills. You will need to prove your treatment costs when you file your claim.
Statute of Limitations for Whiplash Accident Claims
After a whiplash accident, you have limited time to pursue compensation. In Texas, you have two years from the accident to file a claim. Texas Civil Practice and Remedies Code Section 16.003 covers the statute of limitations.
If your whiplash accident happened in a different state, check your local statutes. Don't wait too long to get started on your case. If you miss the statute of limitations, you probably can't recover.
Contact a whiplash accident lawyer as soon as possible. Your lawyer can help you:
Gather evidence of the accident
Show your whiplash damages
Prove that you suffered whiplash
Calculate your total damages
Handle the insurance company
Speak with a Whiplash Accident Lawyer for Free Today
Insurance companies do not like to pay much on whiplash claims. Thankfully, our car accident lawyers can help. We can deal with the insurer for you.
We know how to build a strong whiplash accident case. Plus, you don't pay us unless we win your case. To learn more during a FREE consultation, call (469) 998-4069, or contact us online today.
Frequently Asked Questions