Richardson Car Accident Lawyer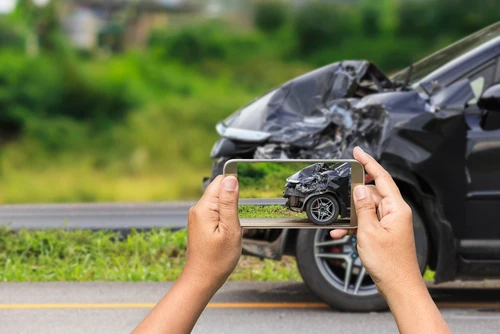 Car crashes in Texas are everywhere. According to the latest data compiled by the Texas Department of Transportation in 2018, a reportable crash occurs roughly once per minute throughout the state. That is a staggering amount of wrecks, and each one represents the serious possibility of significant injury to a driver, passenger, bicyclist, or pedestrian. If you are injured in a car accident in Richardson, one of your top priorities should be to get compensation for the harm caused to you and your family.
The best way to work toward an acceptable compensation package or settlement is to get in touch with a skilled Richardson car accident law firm as soon as possible. At our firm, our attorneys can help you find and preserve evidence to support your claim, evaluate the strength for your case for compensation, negotiate with the opposing attorneys, and handle all litigation if it becomes necessary to take your claim to court. Instead of trying to pursue justice on your own, let our experienced Richardson car accident lawyers assist you.
Time is a Crucial Factor in My Richardson Car Accident Claim
As with most things in life, it is always better to start in on a case earlier rather than later. Not only is a quick response important because of legal deadlines, but you can be sure that the opposing side is going to build their case against paying you compensation as soon as possible. Below are some of the elements that make it important for you to get in touch with our Richardson car accident law firm immediately.
Car Accident Claims and the Statute of Limitations
In legal terms, a statute of limitations is the rule that sets a deadline for filing a claim. Throughout all of Texas, personal injury claims like car accident cases have a statute of limitations of two years. If you fail to file your claim in court within two years of the initial car accident in which you were injured, you risk losing the ability to pursue any compensation at all from the responsible party. As a seasoned Richardson car accident law firm, our firm Law Firm can help ensure that your claim and related paperwork is filed on time.
Diminishing Evidence
Unfortunately, crucial evidence that supports your claim can vanish with time. Car accidents almost always occur outdoors, where debris and tire markings are vulnerable to erasure by the elements. Without documentation of these matters, you may not be able to show that the other driver was responsible for your accident. Our Richardson car crash attorneys will work to catalog and preserve all available evidence as soon as we are on your case, including the following.
Photographs of the scene and surrounding debris
Eyewitness testimony
Medical records of your injuries
Surveillance or traffic camera footage
Learning the True Value of My Claim
Another reason you should get a Richardson car accident law firm on your case as soon as possible is to learn what your claim is really worth. Often, insurance companies for the opposing driver will contact you and may offer low-ball settlements that are severely inadequate. If you accept an offer from the insurance company, you may lock yourself out of the larger settlement you truly deserve. Our Richardson car accident law firm will gather the appropriate evidence to assess the true value of your claim, putting you in a position to earn much more compensation.
What I Can Sue For
There are two distinct categories of damages for which you may sue the opposing driver, and they may include items that you did not anticipate. Other than the rare case that qualifies for exemplary damages, the two kinds of harm for which you can sue are called "economic" and "non-economic."
Examples of Economic Damages
The first category is perhaps the easiest to understand. It includes all of the damages that have a clear monetary value attached to them, such as receipts or bills. After your car crash, you can sue the other driver for things like your medical bills, car repair costs, rental car expenses, and even wages you lost because of your injury. Importantly, you can only sue for an amount up to the amount you paid or were charged for your medical care, per Texas Civil Practice and Remedies Code §41.0105.
Examples of Non-Economic Damages
You also can recover compensation for items that are more subjective in nature. These non-economic harms can include issues like your pain, mental suffering, change in personality, loss of companionship with your spouse, and similar ills. In Texas, there is no limit to the amount of money you can sue for regarding these damages, but it is often necessary to have an expert witness who can corroborate their values.
I Can Get FREE Help Today
If you are in a car accident, you can get a FREE consultation with skilled Richardson car accident lawyers. our firm also works on a contingency fee basis, which means you don't have to pay us unless and until you get your compensation! Fill out the form on our contact page to schedule your appointment, or call us today at 469-998-4069.
Frequently Asked Questions