Richardson Tractor-Trailer Accident Lawyer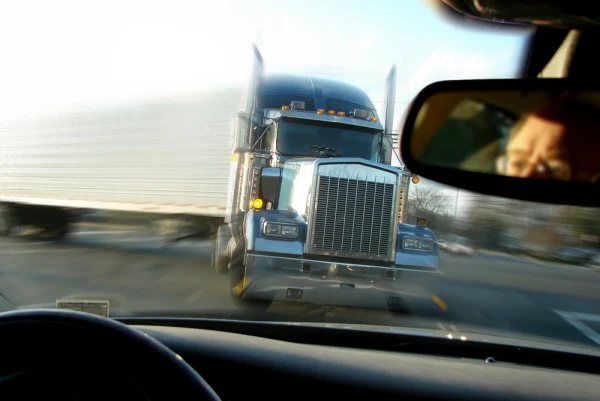 Were you in a tractor-trailer accident in Richardson, TX? If so, help is available. Tractor-trailer accidents are among the worst kinds of car accidents. Luckily, you don't have to deal with them alone.
Our accident lawyers have handled many cases involving tractor-trailers. We understand what you're experiencing as an accident survivor. Tractor-trailer accidents can destroy your car, damage property, and worse. Many collisions with tractor-trailers result in severe injuries or death.
In the aftermath of a tractor-trailer accident, you could have high medical bills and other expenses. Let us assist you. Our Richardson accident lawyers can fight for your rights. If you're owed compensation in a tractor-trailer accident, we'll work hard to ensure that you receive it.
Don't wait. Call (214) 740-4556 or use our online contact form to make an appointment with our legal team. Your consultation is completely free. If our accident lawyers don't help you win, we won't bill for our services.
What Is a Tractor-trailer and Why Are They So Dangerous?
What's the difference between a tractor-trailer and a semi-truck? Are tractor-trailers the same as an 18 wheeler or a big rig? The short answer is yes. They are the same vehicle.
But many people confuse these trucking terms. The trade publication FreightWaves reports that some terms are regional, like "soda" versus "pop." In most parts of Texas, they are called 18 wheelers.
Whether it's called a semi, an 18 wheeler, or a big rig, everyone recognizes a tractor-trailer. Tractor-trailers are large trucks used to transport freight cargo or equipment. They have a front tractor unit with multiple axles designed to pull huge trailers.
The average tractor-trailer or semi-truck dimensions are 72 feet long, 8.5 feet wide, and 13.5 feet tall. When loaded to capacity, tractor-trailers can weigh up to 80,000 pounds. An average midsize sedan is about 14 feet long and only weighs 3,300 pounds.
This size and weight difference make tractor-trailer accidents dangerous, even deadly. It comes down to physics. In an accident, we multiply mass (weight) times acceleration (speed) to determine impact force. More impact force means more damage.
For example, let's say you're in an accident with a car that weighs 3,300. It's traveling 35 mph. The impact force in this collision is 115,500 newtons (a newton is the scientific measurement of force).
Now let's calculate impact for a tractor-trailer weighing 80,000 pounds. At the same 35 mph speed, the impact force increases to 2,800,000 newtons. Even if the tractor-trailer is only traveling 10 mph, it still produces greater force than a small car.
Additionally, tractor-trailers have unique limitations that make them dangerous:
Blindspots: Due to their length, tractor-trailers have huge blindspots. The driver cannot see the sides and rear of the trailer. Although newer trucks use cameras and other safety technology, blindspots are still a problem for tractor-trailers. Many accidents occur because the truck driver doesn't see the other vehicle.
Stopping Distance: Tractor-trailers use a slower hydraulic braking system because they have multiple axles. They also need more time to decelerate due to their size and weight. As a result, tractor-trailers require much longer stopping distance than smaller cars. The truck driver may cause an accident because they can't decelerate in time to avoid a hazard.
Heavy-Duty Maintenance Requirements: Tractor-trailers take a lot of wear and tear. Hauling heavy cargo over long distances takes its toll on the truck's engine, brake system, steering, and other mechanical components. Tractor-trailers need to be carefully maintained. If the truck's owner hasn't kept up with repairs, mechanical failures could trigger severe accidents.
Delivery Schedules: Tractor-trailers are constantly on the road, with tight delivery schedules. Drivers often work long shifts or drive all night to meet deadlines. As a result, drivers may become exhausted or drowsy. This impairs judgment, depth perception, and reaction time. A drowsy driver is just as dangerous as a drunk driver.
Fallen Cargo: A tractor-trailer's cargo needs to be secured. If not, it may come loose or fall out while the truck is moving. Fallen cargo damages cars and creates road hazards. Drivers may cause accidents as they swerve or stop suddenly to avoid hitting fallen cargo.
Tractor-trailer accidents also happen as a result of bad weather. Fog, ice, and flooded roads may cause a driver to lose control. In bad weather, tractor-trailers may spin out or "jackknife."
What Should You Do After a Tractor-Trailer Accident?
After a tractor-trailer accident, call 911 to report the crash. If someone is injured, request an ambulance. Then, if possible, move your car to the side of the road or another safe location. You don't want to cause another accident by blocking traffic.
Once you're safe, get the tractor-trailer driver's insurance information. Collect their employer's information, too. The trucking company may share liability. If there were other drivers or pedestrians in the accident, gather their information as well.
Next, take photos and videos of the crash. Be sure to document the damage to your car, the position of the tractor-trailer, and any road conditions like tire marks. However, don't do this unless it's safe. Never walk into traffic or approach a burning vehicle.
It may also help your case if you record a testimonial. Write down everything you remember about the accident. Be as detailed as possible. Include the time of day, weather conditions, light conditions, and the position of your vehicle at the moment of impact. Your testimonial may provide the evidence we need to win your lawsuit.
Finally, contact our Richardson accident lawyers. Call (214) 740-4556 or use the form on our website. We're here to listen. We'll determine if you're entitled to compensation, and how much. Then, we'll develop a legal strategy for your case.
Remember, our services are free unless we win. If we lose, you don't pay.
Frequently Asked Questions