How Much Do Motorcycle Accident Lawyers Charge for Accident Claims?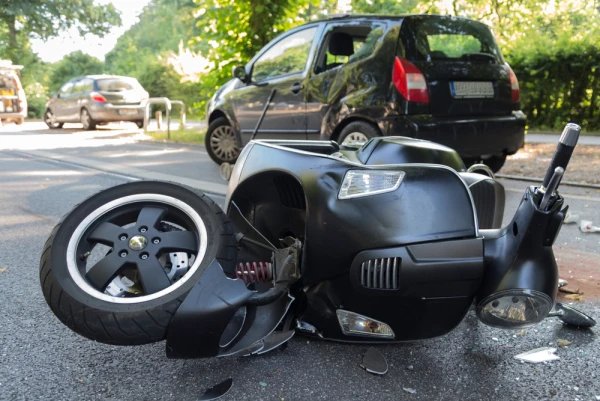 You could work with a lawyer after a motorcycle accident in Dallas. A lawyer could help you get compensation for your losses. You will have to pay the lawyer for their services in this situation. How much do lawyers charge for motorcycle accident claims?
Lawyers do not charge a set amount for motorcycle accident claims. Many law firms charge a percentage of your awarded compensation. This means you pay more if they win you more funds. Find out more charges for a motorcycle accident lawyer here.
If you'd like to discuss your accident for a knowledgeable lawyer, call (469) 998-4069 today.
Motorcycle Accident Lawyers Charge Contingency Fees in Dallas
Lawyers in Dallas often charge contingency fees for their services. A contingency fee is a payment you only make in some circumstances. Your lawyer must successfully resolve your claim before you pay a contingency fee. Lawyers resolve claims by:
Settling them out of court
Bringing you a court verdict in your favor
Contingency fees do not have a set dollar value. These fees represent a percentage of your monetary award. Many lawyers charge a 33% contingency fee. This averages out to around 1/3rd of your monetary award. Some lawyers charge a higher percentage. Going to court generally raises your contingency fee.
You should be aware that law firms may use different contingency fees. Talk to a lawyer before you agree to take on their services. Ask them what percentage they charge for a contingency fee. Read over any contract provided by the lawyer. Make sure you agree to the fee before you sign any documents.
Your Lawyer May Charge Other Expenses for Your Case
Contingency fees are not the only payments used for a motorcycle accident case. You may have to cover other expenses for your case. These expenses could include:
Court fees and court reporter fees
The cost to get your police report or medical records
Fees to work with expert witnesses
Fees for accident reconstruction specialists
Shipping and copying costs
The above fees are not covered in your contingency fee. You must pay for them separately. Your lawyer may take the costs for these expenses directly out of your settlement. Contingency fees also come out of your settlement in many cases. The lawyer then forwards you the remaining amount of the settlement.
Legal Services Offered for a Contingency Fee in Dallas
Some drivers wonder if paying a contingency fee to a lawyer is worth it. You must make this determination on your own. Consider some of the services offered by a lawyer before you make a decision. You may hire a lawyer if you want:
Help Handling Insurance Agents
Insurance agents may attempt to deny you compensation after a motorcycle accident. Agents may try to blame you for the accident. They could try to claim you are not actually injured. They may also attempt to get you to accept a small settlement. A lawyer may stand up to insurance agents for you. This allows you to recover.
Assistance Investigating Your Motorcycle Accident
You may only get compensation if a lawyer shows that someone else caused your collision. A lawyer may investigate your accident by:
Interviewing eyewitnesses
Visiting the scene of the accident
Going over the police report
Allow a lawyer to establish liability for your accident today. Your lawyer may work to show that another driver was 100% at fault. This may help you get compensation for your losses.
Guidance Assessing the Value of Your Claim
You could get compensation for a motorcycle accident. The other driver could pay for your economic losses. Economic losses are things like your medical expenses and vehicle repairs. The driver could also cover non-economic losses. Non-economic losses represent things like pain and suffering. A lawyer may go over your losses. This helps you determine how much compensation you could receive.
Aid in Resolving Your Claim
You could settle your claim or take it to court in Dallas. A lawyer could help in either situation. You only have two years to resolve most motorcycle accident claims. The statute of limitations in Texas expires after those two years. Get immediate help from a lawyer now.
Find Out How Much Lawyers Charge for Motorcycle Accident Claims
Lawyers charge a fee to handle motorcycle accident claims in Dallas. This fee varies depending upon the case. Many lawyers charge around 33% of your final compensation. Find out how much a lawyer could charge you by calling (469) 998-4069. You could also complete our online contact form. A Dallas car accident lawyer may assess your situation quickly.
Find out more about your options with a free consultation.
Frequently Asked Questions