Do You Need a Police Report to Make an Insurance Claim?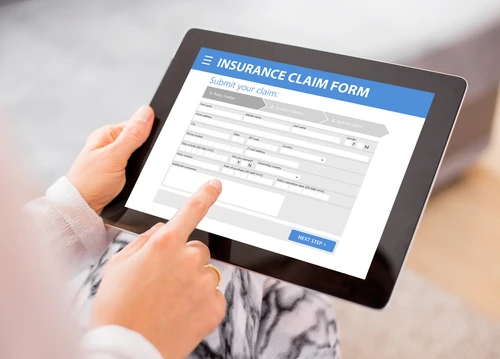 After a car accident, you might wonder if you need to involve the police. What if you and the other driver don't appear to have any injuries and the vehicle damage is mild? Will you still need a police report if you make an insurance claim for a minor accident?
Your accident might be more severe than you realize. You might notice neck or back pain the next day. Your car might start having issues that you suspect are related to the accident. Having a police report can be incredibly helpful when pursuing compensation for your costs.
Is a Police Report Necessary to File an Insurance Claim?
No, you are not required to have a police report to file an insurance claim in most cases. However, a police report is highly recommended because it can help:
Show the other driver's fault
Back up evidence of your damages
Speed up the claims process
If you need to file a lawsuit against the other driver, you'll need a police report as evidence.
Crucial Information the Police Report Can Provide
When you call the police after an accident, officers should create an accident report with information about the accident. According to Texas Transportation Code Section 550.062, any on-duty police officer who investigates an accident with injuries, death, or $1,000 in property damage or more must submit a written report of the accident within 10 days of the accident date.
Each state has different laws on police involvement after an accident, so be sure to check with the laws in your state. Your car accident lawyer can also help you know what's required based on where your crash happened.
The police report usually contains information that can be used to support your insurance claim or personal injury lawsuit. The accident report might include information like:
A suggestion of which party caused the accident
The accident location
The date and time of the accident
Vehicle descriptions
Driver descriptions
Road descriptions
Current weather conditions
If it was clear the other driver caused your accident, the police report will probably contain notes about the other driver's fault. This information can make your insurance claim process a lot smoother.
If you and your lawyer end up filing a lawsuit against the other driver, the accident report will also act as a third-party description of what occurred.
The Problem with Not Having a Police Report
Although you can file your insurance claim without a police accident report, you'll probably run into issues without the report.
The Insurance Company Will Doubt You
Insurance companies do not like to pay much on injury claims. If you don't have a police report to back up your insurance claim, the at-fault driver's insurance company will have to take your word for everything — which they're unlikely to do.
Without a police report, you might have a lot of trouble getting the insurer to take you seriously. You'll want to speak with a car accident lawyer as soon as you can. Your lawyer can help you gather additional evidence to support your claim and protect yourself from insurance company tactics.
You'll Need More Documentation
If you don't have a police report, you will probably need to provide additional information to show what happened during the accident. You will need to provide tangible evidence like:
Medical records
Doctor bills
Receipts
Car repair quotes
Pictures from the scene
You will need to include these pieces of evidence in your claim anyway, but they're especially vital without a police accident report.
You Might Have Trouble Proving Fault
Not all accidents involve one party who is 100% at fault. For example, left-turn accidents can include multiple partially-at-fault drivers. If you live in a state like Texas with proportionate responsibility laws (Texas Civil Practices and Remedies Code Section 33.001), being partially at fault can hurt your compensation.
The police report can help determine liability in your accident. Without the report, it will be easier for the other driver's insurance company to accept enough responsibility. It might also be harder to get coverage from your own insurance company.
When to Get a Police Report
Not all accident types require a police report, but here are the situations where a report is most important.
An Accident with Another Driver
If you get into an accident with another driver, it's always best to report the accident and get a copy of the police accident report. Even if the accident doesn't seem dangerous and you don't think police should be involved, you can't know for sure how injuries or vehicle damage might worsen.
To be safe, get a police report after an accident with another motorist. The report will help protect your rights, especially if you end up needing to file a lawsuit.
Theft or Vandalism
If someone stole, broke into, or vandalized your car, get a police report. Without involving the police, there might not be enough evidence to prove what happened and get the insurance coverage you need.
When You Might Not Need a Police Report
There are certain situations where a police report might not be necessary. However, even in the instances below, it's best to consult with an experienced car accident lawyer before making any decisions.
Hitting a Stationary Object
If you crash into a stationary object while driving and the collision was your fault, you won't always need a police report. However, if there's a chance you were not at-fault for the crash, it can help to contact the police.
The police report will include information about the collision damage, any injuries you suffered, and other details surrounding the incident. These details can help support your claim and speed up the process.
Private Property Accident
If an accident happens on private property, the police usually consider these personal matters that don't require a police report. However, if you're unsure, it's better to call the police anyway.
If in doubt, report the accident to the police just in case and call an experienced car accident lawyer to guide you through the next steps.
Get a Free Consultation with a Dallas Car Accident Lawyer Today
If someone else caused your accident, you should not have to pay for the damages. We can match you with the best car accident lawyer for your needs — and at no risk to you. We do not charge a fee unless we win you compensation.
To get started with a FREE consultation, call us at (469) 998-4069 or contact us online today.
Frequently Asked Questions