How Long Does an Insurance Company Have to Pay a Claim in Texas?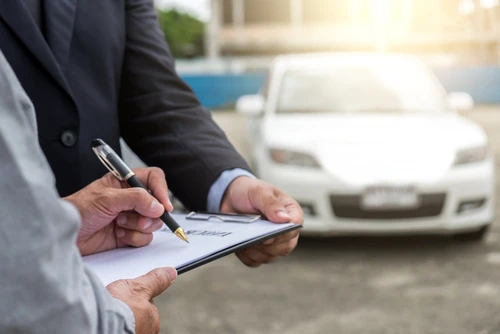 You've been injured in a car accident in Texas, and you've filed (or are planning to file) a claim with the other driver's insurance company. One of your first questions is probably about how long it takes the insurance company to pay for your claim. Below, we'll answer that question and more.
What Is the Timeline for an Insurance Claim in Texas?
When an insurance company receives a claim, state laws require them to respond and take action on the claim within a specified period. Here are the steps your claim will go through and the deadlines for each.
Acknowledgment and Investigation of the Claim
After your car accident, you or your lawyer must send a notice of claim to the at-fault driver's insurance company. This notice lets the insurer know that you intend to file a claim with them.
According to Texas Insurance Code Section 542.055, the insurance company must do the following within 15 days of getting your notice of claim:
Acknowledge that they received the claim
Start investigating the claim
Request additional forms and information from you to aid in their investigation
Notification of Rejection or Acceptance
After the insurer receives all forms, statements, and other information they need to investigate your claim, they have 15 days to let you know if they accept or reject your claim (Texas Insurance Code Section 542.056):
The insurer must notify you in writing of the acceptance or rejection. If they reject your claim, they must state the reasons for the denial.
In some situations, an insurance company might be unable to reject or accept a claim within the 15-day deadline. If so, the insurer must notify you (within the 15-day period) why they need more time to decide on your claim and have a valid reason for the delay.
If the insurance company needs more time, they must accept or reject your claim within 45 days of the date they notify you.
Delaying an insurance claim is a common tactic that insurers use to reduce what they have to pay. If the insurance company does not notify you within the required period or they say they need more time to decide, contact a Texas car accident lawyer immediately.
Your lawyer can be your advocate and ensure you are treated fairly. To get a FREE consultation with a Texas car accident lawyer, call us at (469) 998-4069 or contact us online. We can go over your accident and your legal options to pursue the fullest compensation possible.
Claim Acceptance and Payment
After an insurance company notifies you that they are paying your Texas claim, it has five days to send your payment. The insurer is not legally allowed to delay their payment past that amount of time. If they do fail to submit payment within five business days, you might even be entitled to damages.
Is There a Way to Speed Up the Insurance Claim Payment Process?
While you can't change the deadline for an insurance company to respond to your claim, you can do things to help move the process along.
Try to provide the insurer with as much information as possible when you file your claim. The more documentation and other details you can contribute to support your claim, the more it might speed up the process. The insurer won't have to spend time requesting additional documents from you as it investigates.
Gather Information at the Accident Scene
Compiling information from the scene of your car accident is one of the best things you can do. Unless you are injured too severely, you can help your case by:
Taking pictures of the entire accident scene, your injuries, and your vehicle damage
Talking to witnesses and getting their contact information
Exchanging names, contact information, and insurance information with the other driver
Getting any necessary emergency medical treatment at the scene
You'll also want to immediately report the accident to the police and get a copy of the police accident report.
Keep Documentation of Damages
As you experience costs and other losses from the accident, get copies of all bills, receipts, quotes, and other documents. Your damages will probably include:
Medical bills
Prescription medications
Lost wages
Lost earning capacity
Vehicle repairs
Physical pain and suffering
Mental anguish
Do whatever you can to document all of your damages. Get a car accident lawyer to help you calculate the full value of your losses. This will ensure you can provide the insurance company with as much proof of your damages as possible, which might help you get an answer more quickly.
How the Insurance Company Pays Your Claim
The insurance company will typically send your settlement as a check in the mail. If you hired a car accident lawyer to help you with your case, your lawyer will probably receive the check, deduct their lawyer fee, then send you the remaining balance.
If you have collision coverage, your own insurance company might help pay for damage to your car. If you own your car, your insurer will either send the check for repairs to the repair shop or directly to you. If your vehicle is a lease or you're still paying a car loan, you and the leaseholder or lienholder might receive the insurance check.
The insurance company will send the check to you or the repair shop if the other driver's insurance is paying for your vehicle repair costs.
You Have a Right to Fair Treatment
According to the Texas Department of Insurance (TDI), you have the right to fair and honest treatment from the insurance company when you file a claim. If the insurer is not treating you fairly, contact a car accident lawyer immediately. You can also report unfair treatment to the TDI by phone or through their website.
Get a Free Consultation with a Dallas Car Accident Lawyer Today
Insurance companies routinely employ tactics to reduce how much they have to pay on accident claims. Don't get taken advantage of after your accident. To maximize your recovery potential, talk to a car accident lawyer immediately.
Our Dallas car accident law firm can connect you with the best attorney for your case. To get a FREE consultation and discuss your legal options, call (469) 998-4069 or contact us online today.
Frequently Asked Questions