Lancaster Tractor-Trailer Accident Lawyer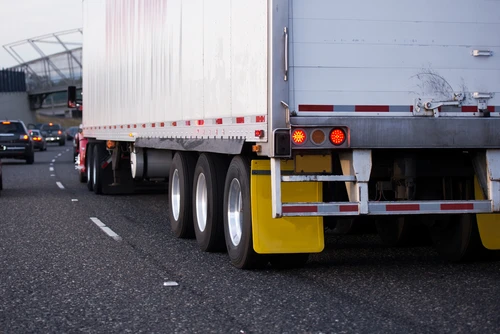 Members of our team are here to help if you were hit by a tractor-trailer in Lancaster, Texas. We're prepared to take on all of your legal needs quickly. Allow us to help you deal with insurance agents and the legal process for securing compensation.
Reach out to us right now by calling (469) 998-4069. Allow our Lancaster tractor-trailer accident lawyers to focus on your specific needs. We'll work to bring you damages to cover your healthcare expenses and other losses.
Focus on Tractor-Trailer Accidents in Our Area
There are many accidents every year in Texas. In fact, the Texas Department of Transportation (TxDOT) reported that there was less than a minute between crashes throughout the year 2019. Many of these accidents involved commercial vehicles, like tractor-trailers.
Commercial vehicle accidents are often more destructive than collisions involving passenger vehicles. This is because tractor-trailers – and other commercial trucks – are very large. They can destroy smaller vehicles and cause serious injuries.
These vehicles require trained operators. However, sometimes truck drivers do not pay attention to what they are doing. They can also break the rules of the road because they are in a hurry to reach their destination. These actions often lead to tractor-trailer collisions in Lancaster.
Types of Lancaster Tractor-Trailer Accidents
Tractor-trailers cause many different kinds of accidents here in Lancaster. We understand what it takes to help you if you were hurt in a:
Head-On Collision
Head-on accidents occur when two vehicles drive into one another. These accidents can occur in intersections if drivers are not paying attention. They also occur if one driver crosses the centerline. This could happen if a truck driver falls asleep behind the wheel.
Rear-End Collision
Sometimes, vehicles plow into the back of other cars or trucks. Rear-end collisions often happen at intersections. Trucks have a greater stopping distance than passenger vehicles. This means it takes them longer to slow down. This can result in a rear-end accident.
Side-Impact Collision
Side-impact collisions are also called T-bone accidents. They occur when one vehicle strikes the side of another. A truck that runs a red light or a stop sign could end up causing a T-bone collision here in Lancaster.
Rollover Accident
Large trucks sometimes end up in a rollover accident. This can occur if they become unbalanced or if they take a turn too quickly. Often, rollover accidents only affect one vehicle. However, this is not always the case. Our Lancaster tractor-trailer accident lawyers are here to help after any kind of collision. Just call us at (469) 998-4069.
Your Compensation for a Lancaster Tractor-Trailer Accident
We understand that a tractor-trailer accident in Lancaster can leave you with high expenses. That's why we're standing by to help you secure compensation for your:
Medical bills
Costs to repair or replace your vehicle
Wages lost at work
Limited earning potential
Pain and suffering
You are eligible to receive compensation if someone else caused your accident. That's why it's important to work with a truck accident lawyer in Lancaster. A lawyer can focus on showing that someone else was at-fault for the collision. We'll investigate what happened and work to build a solid claim for you.
Resolve a Lancaster Tractor-Trailer Accident Claim
You can take immediate steps to get compensation if you were hurt in a tractor-trailer accident in Lancaster. Members of our team are ready if you want to:
File a claim with the insurance company
Files a lawsuit against the driver who struck you
The majority of truck accident claims in Lancaster are handled outside of court. However, some claims go before a judge and jury. This can happen if insurance agents refuse to treat you fairly. We know how to deal with insurance agents and their lawyers in court.
You can focus on the best way to get compensation for your losses by reaching out to us right away. We'll go over the specifics of your case. We know that no two tractor-trailer accidents are the exact same. Seek personalized support from us.
Talk to a Lancaster Tractor-Trailer Accident Lawyer Now
Interested in getting damages after a tractor-trailer collision in Lancaster? Reach out to our team for assistance by calling (469) 998-4069. We also have an online contact form you can choose to fill out. Our tractor-trailer accident lawyers in Lancaster are ready to assist with all your legal needs.
Begin working on your claim with a free consultation. We are ready to help from the time your accident occurs until you get damages.
Frequently Asked Questions