Lancaster T-Bone Truck Accident Lawyer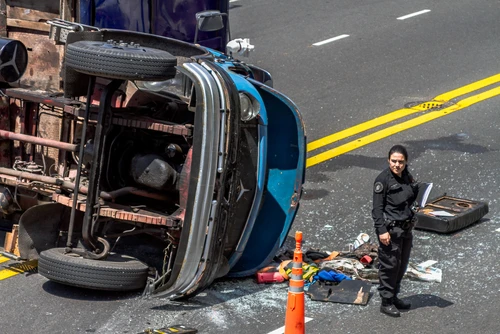 A Lancaster T-bone accident lawyer can help you after a collision. Members of our team are standing by to handle all of your legal needs following an accident in Lancaster. We're ready to help you by:
Investigating the causes of your accident
Demonstrating that your injuries were caused by the collision
Handling all communication with insurance agents
Helping you get compensation for your losses
It's easy to reach us when you want legal assistance. Just call (469) 998-4069. Allow us to build your claim while you focus on your recovery.
Learn More About T-Bone Accidents Right Now
T-bone accidents are also called "side-impact collisions." As you can guess from the name, these accidents occur when one vehicle slams into the side of another. These accidents are likely to occur in intersections, where vehicles are crossing in front of one another.
However, not all T-bone accidents happen in intersections. Some occur when vehicles turn into the path of other drivers. Making a left turn against traffic could lead to a T-bone accident anywhere. These accidents can involve passenger vehicles or commercial trucks.
Many motor vehicle accidents in Texas lead to injuries, according to the Texas Department of Transportation (TxDOT). In fact, there were more than 15,000 people seriously hurt in accidents in the year 2019. Many of these accidents were side-impact collisions.
Assess the Causes of a Lancaster T-Bone Accident
T-bone accidents have various causes here in Lancaster. It's important to determine exactly what caused your T-bone collision. You can seek compensation for your losses if someone else was at-fault for the collision. Allow us to:
Speak to any witnesses who saw your accident
Request access to your police report right now
Visit the scene of your collision
Work with accident reconstruction techs
We are prepared to dig into the exact circumstances surrounding your collision. We know that some side-impact accidents occur because drivers:
Run red lights
Ignore stop signs
Perform a rolling stop
We'll review all the facts about your accident. We can work to show that another driver was not paying attention or was driving aggressively at the time of your collision. This can help you get damages to cover your losses. Get started today by calling us at (469) 998-4069.
Injuries Associated with Lancaster T-Bone Accidents
Side impact collisions often end up causing significant injuries here in Lancaster. Individuals may face broken bones on the side where they were hit. A T-bone accident can also jerk your head back and forth, causing:
Whiplash
Back or spine injuries
Head injuries and concussions
You may contact emergency services for treatment after you are hurt in a collision. Paramedics can provide you with emergency care and transport you to a hospital. You can also travel to a hospital yourself, if your injuries are not too severe.
Getting medical care quickly helps show that your injuries were caused by the accident. Insurance agents can try to claim that the accident was not responsible for your injuries if you wait to get treatment. Move quickly in the aftermath of your collision.
Build a T-Bone Accident Claim in Lancaster
Insurance agents do not simply hand over compensation after a T-bone accident in Lancaster. In fact, they can take steps to try to deny your claim. Insurance agents may even accuse you of causing the accident. Note that you can still get compensation if you were partially at-fault.
Texas is a comparative negligence state. This means that more than one driver can cause an accident. However, you get a lower amount of compensation if you bear a percentage of liability for the collision. That's one reason it's important to work with a lawyer.
A T-Bone accident lawyer in Lancaster can focus on showing someone else caused the accident. We'll also stand up to insurance agents for you. Allow us to file an insurance claim and handle all negotiations with these representatives.
Many T-bone accident claims lead to a settlement in Lancaster. A settlement provides you with damages even if you don't go to court. You also have the option to file a lawsuit. However, lawsuits can lead to high court fees. Find out more by contacting us.
Talk to a Lancaster T-Bone Accident Lawyer Immediately
Focus on getting damages to cover your losses if you were hurt in a T-bone accident in Lancaster. Reach out to a member of our legal team right now. You can easily contact us if you complete our online contact form. You can also call us at (469) 998-4069. Find out how a Lancaster T-bone accident lawyer can support you.
We provide clients in your situation with a free consultation so contact us now.
Frequently Asked Questions