Mansfield T-Bone Accident Lawyer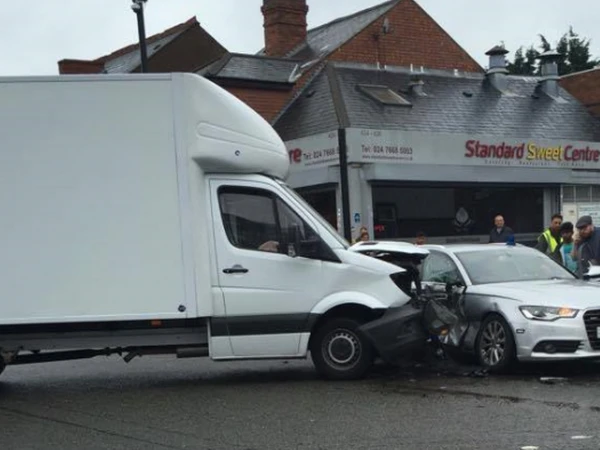 Seek compensation if you got hurt in a T-bone accident here in Mansfield, Texas. Reach out to our team so we can help you get damages from the truck that struck you. We know what it takes to help you resolve your claim with a:
Settlement
Verdict in court
Our Mansfield T-bone accident lawyers are standing by to offer you the assistance you want. You can count on our legal experience and know-how.
We'll work to bring you damages for your medical expenses and vehicle repairs after you call (469) 998-4069.
T-Bone Collisions vs. Other Kinds of Accidents in Mansfield
All truck accidents in Mansfield should receive serious attention. We are familiar with many different kinds of accidents, including T-bone collisions. You can also call these accidents "side impact collisions." These accidents are different from head-on accidents and rear-end collisions.
T-bone collisions only occur when one vehicle hits another in the side. This kind of impact can shove a vehicle across lanes of traffic and even into other vehicles.
Many drivers experience crushing injuries along their sides in T-bone collisions, due to the position of the impact.
We often see T-bone collisions in intersections. Drivers who are not paying attention can proceed across an intersection incorrectly. This can cause them to strike another vehicle in the side.
Rear-end accidents are, on the other hand, more likely to occur if one vehicle stops suddenly in front of another.
Head-on accidents often occur when a vehicle drifts into another lane or drives the wrong way.
We're here to provide you with the help you want after any kind of truck accident in Mansfield. This includes dangerous side-impact collisions.
Truck Accidents and T-Bone Collisions
Our team takes all vehicle accidents seriously here in Mansfield. However, we know that truck accidents are often more serious than other types of collisions.
There are many thousands of truck accidents every year according to the Federal Motor Carrier Safety Administration (FMCSA). According to the FMCSA, in 2018, there were:
Around 500,000 truck accidents reported to the police
Around 107,000 injury accidents involving large trucks
Around 4,000 fatal accidents involving large trucks
These accidents occurred around the entire country, not just in Texas. Many of these accidents occurred in intersections and involved T-bone collisions.
Trucks can end up in T-bone accidents because they are so heavy. It takes large trucks much longer to stop than smaller vehicles. This means they can end up accidentally driving through an intersection.
We understand the facts about large truck accidents right here in Mansfield. We'll work on your claim if you call us at (469) 998-4069. Start getting answers to your legal questions by reaching out to a T-bone accident lawyer in Mansfield right away.
Let Us Investigate a T-Bone Accident in Mansfield
It's important to determine what caused your T-bone collision here in Mansfield. The state of Texas allows you to seek compensation if someone else caused your accident. That's why we'll begin digging into the reasons for the collision right away.
You can count on us to:
Visit the scene of the accident and look around
Contact the police and get a copy of your police report
Interview all witnesses who were there for the accident
Work with accident reconstruction technicians
We work quickly after a collision in Mansfield for a number of reasons. We know how quickly the memory of eyewitnesses can start to fade. Speaking with these individuals quickly can help us get an accurate view of what happened in your collision.
We'll also visit the scene of the accident before it can be disturbed, if possible.
Finally, we understand that Texas has a statute of limitations. A statute of limitations sets a firm limit on how long you have to seek compensation after your collision. We'll work on your case before you run out of time to secure damages here in Mansfield.
Get Damages for a Mansfield T-Bone Accident
As we mentioned, you only have a limited amount of time to seek compensation after a T-bone accident in Mansfield. You may wonder what kind of compensation you can receive after you are hurt in a side-impact collision.
Many drivers in your situation seek damages for their medical expenses, such as the treatment they need for:
Broken bones or fractures
Burns, cuts, or abrasions
Internal injuries or organ damage
We'll also take steps to bring you damages for your vehicle repairs. You could even get the funds you need to replace your vehicle after a T-bone accident in Mansfield. Furthermore, we know you may want damages for your lost wages and diminished earning potential.
We'll even work to bring you compensation for your pain and suffering. If there was gross negligence involved in your accident, you may be entitled to pursue punitive damages as well.
Talk to Us About Your Options After a T-Bone Collision
You have more than one option for handling a T-bone accident in Mansfield. We know that the same approach does not work for all drivers. In fact, we believe in offering our clients personalized care meant to address their unique needs.
You can reach out to us to discuss the best way to handle your situation. In many situations, we'll work to settle your claim with insurance agents. We know how to handle insurance representatives on your behalf. We're ready to:
Negotiate with insurance agents
Assess all settlement deals you're offered
Reject deals that don't fairly compensate you
Our team also understands the court system here in Mansfield. That means that we can help you file a lawsuit against the truck driver who caused your accident. Allow us to represent you in front of a judge and jury here in Mansfield, starting right now.
Get Help from a Mansfield T-Bone Accident Lawyer
Want compensation for a T-bone accident in Mansfield? Contact our team and allow us to handle all of your legal challenges. We'll focus on helping you after you reach out to us to get a free consultation.
Use this risk-free discussion to find out how to seek compensation for your losses. Our Mansfield T-bone accident lawyers are standing by to help you now.
Find out more by calling us at (469) 998-4069. We also have an online contact form for you.
Frequently Asked Questions