Mansfield 18-Wheeler Accident Lawyer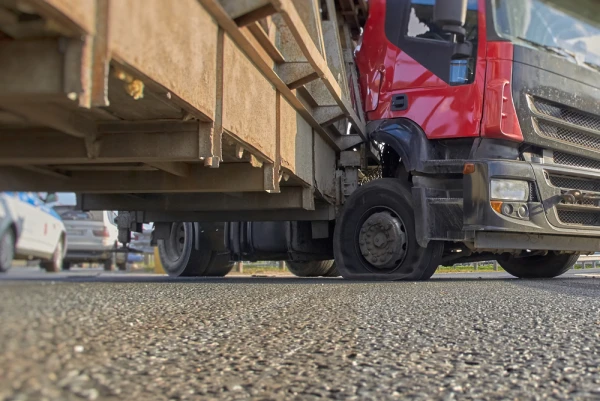 Find out how to get compensation after an 18-wheeler accident in Mansfield, Texas with this article. You can reach out to our legal team after a collision with a large truck. We'll focus on bringing you damages to cover your:
Healthcare costs
Vehicle repairs
Lost wages at work
Pain, suffering, and mental anguish
A Mansfield 18-wheeler accident lawyer can always put you first after a collision. Begin getting the legal help you want by calling us at (469) 998-4069. We'll support you in and out of court after you are struck by an 18-wheeler.
18-Wheelers and Commercial Vehicle Accidents in Texas
There are many commercial vehicle accidents in Texas every year. In fact, the Texas Department of Transportation (TxDOT) reported over 39,000 of these accidents just in the year 2019. 18-wheelers are one example of a commercial vehicle in our area. People also call these vehicles:
Semi-trucks
Big rigs
Tractor-trailers
These vehicles end up in accidents for a number of different reasons. They are often very difficult to operate safely. Truck drivers have to pay attention to the road and operate their vehicles carefully. Drivers sometimes end up causing accidents if they drive too quickly, ignore traffic signs, or drive in an otherwise dangerous way.
We're here to help you after any accident involving an 18-wheeler in Mansfield. You can also contact us if a family member got hurt in an 18-wheeler collision. Let us begin assessing your situation right now.
Injuries Caused by 18-Wheeler Accidents in Mansfield
18-wheelers are very large vehicles. These vehicles can end up causing extensive damage and injuries during a collision. We are ready to help you if you are left with a:
Head injury like a traumatic brain injury (TBI)
Back or neck injury like whiplash
Broken bones or fractures
Internal injuries or organ damage
You can also turn to us if you are dealing with burns, cuts, or abrasions.
We know how difficult it can be to pay for medical attention. That's why we'll focus on helping you get compensation from the driver who caused your accident.
Get Treatment Quickly for Your Accident Injuries
Make sure that you get medical care quickly after your collision. This can help us show that someone else caused your injuries. Find out more about what to do after a collision with a commercial vehicle by calling us at (469) 998-4069. Start working with a Mansfield 18-wheeler accident right away.
18-Wheeler Accidents in Mansfield and Liability
A lawyer can step in to establish liability for your 18-wheeler accident. We know it's important to show that someone else was predominantly at-fault for your accident. This can help you get full compensation for your losses.
In many cases, our team will step in to review the specific causes of your collision. Contact us now so we can:
Contact eyewitnesses and interview them
Request a copy of your police report
Visit the scene of the accident to look over possible hazards
We also work with accident reconstruction specialists in some cases. These individuals can recreate what happened during your accident. We know that you can get compensation even if you are partially at-fault for an accident in Mansfield. However, you'll get more compensation if we show that someone else caused your collision.
Handle an 18-Wheeler Accident Claim
We know that resolving an 18-wheeler accident on your claim can feel very stressful. That's why we're ready to take charge of all your legal challenges. We'll focus on bringing you compensation by:
Settling your claim with the insurance company
Taking your lawsuit to court
In many cases, drivers in Mansfield choose to settle their claims out of court. We'll negotiate with insurance agents while focusing on bringing you a fair settlement. This can help you avoid high court fees.
You have options if insurance agents refuse to treat you fairly after a Mansfield 18-wheeler accident. Our team can step in and help you file a lawsuit against the driver who struck you. This can allow us to present your case in front of a judge and jury.
Talk to a Mansfield 18-Wheeler Accident Lawyer Today
Don't hesitate if you want legal help after an accident with an 18-wheeler. Reach out to our team today so we can get to work on your claim. It's easy to contact us if you want to review your options with a free consultation. Our Mansfield 18-wheeler accident lawyers are standing by to take your side.
Reach out to us for assistance by calling (469) 998-4069. You can also fill out our online contact form.
Frequently Asked Questions