Mansfield Bus Accident Lawyers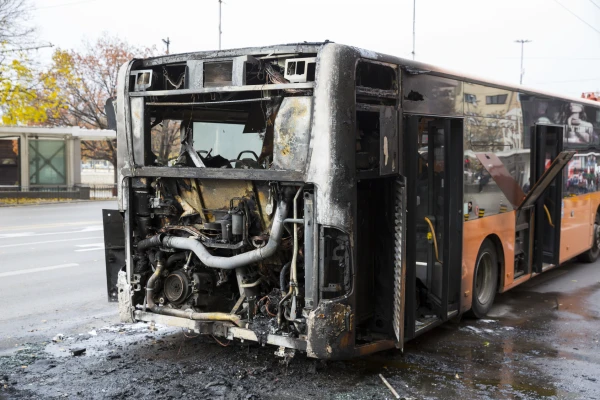 Buses offer Mansfield residents a convenient and cost-effective way to get around town and to travel. Unfortunately, they also pose a risk to other drivers. Buses are larger than most other vehicles and require special training to operate safely.
These factors contribute to the many bus accidents we see in Texas every year. Victims of bus accidents may be entitled to compensation for their injuries, damage to their vehicle, lost wages, and more.
You will have the best chances of getting full compensation if you contact a Mansfield bus accident lawyer immediately after a collision. Bus companies are often protected by powerful insurance agents that may try to refuse you payment. We can stand up for you and help you fight for the damages you deserve.
Causes of Bus Accidents in Mansfield
The Federal Motor Carrier Safety Administration (FMCSA) tracks accident statistics around the country. This organization reports on thousands of bus accidents every year. Reports show that the total number of bus crashes has risen in recent years. We have also seen that Texas is one of the most dangerous states for fatal bus crashes.
Many of these bus accidents are caused by:
Bus Driver Errors
Bus drivers may be inexperienced or poorly trained. This lack of training endangers other drivers. We have also seen bus accidents caused by bus operators that were driving under the influence (DUI). Accidents may occur if a bus driver:
Swerves or Brakes Suddenly
Loses Control of the Bus
Drives While Distracted or Fatigued
The Bus Company
Some bus companies will try to cut corners to increase their profits. These companies may perform improper maintenance or skip bus upkeep altogether. Bus companies may also hire drivers that are not qualified to operate large vehicles.
Other Drivers
Some bus accidents are caused by other drivers striking a bus because they are not paying attention. Drivers that hit a bus may injure bus passengers, leading to high medical bills.
Types of Compensation for Bus Accident Victims in Mansfield
Bus accidents can be some of the most severe collisions we see on the road. Victims of bus accidents often need emergency medical care and a long period of recovery. You might be unsure about what compensation you are entitled to as you recover from your injuries. The state of Texas may allow you to pursue compensation for:
Your Medical Expenses
Damage to Your Property
Wages Lost Due to Injury
Pain and Suffering
Mental Anguish
We know that some bus accidents result in the wrongful deaths of bus passengers, other drivers, or even pedestrians. Your family has legal options if you've lost a loved one in a bus accident. Our team of wrongful death accident lawyers in Mansfield can help you review your options today.
Let Us Fight for You after a Bus Accident
It can be difficult to get compensation after a bus accident. You may be denied damages by the insurance agents working for the bus company. Many insurance companies will try to:
Get Bus Accident Victims to Agree to Small Settlements
Blame the Bus Accident on You
A bus accident lawyer can help protect you after a serious collision. We understand how insurance companies work and we can help you navigate a bus accident claim so you have the highest chances for receiving the compensation that you need.
In many cases, we will be able to get the insurance company to agree to a settlement that covers your injuries and other expenses. However, you have options even if the insurance company refuses to treat you fairly. Our professional bus accident lawyers may be able to take your bus accident lawsuit to court to get full compensation.
Our Mansfield Bus Accident Lawyers Are Here to Help You
Taking on a powerful insurance company on your own can make it difficult to get the compensation you need after a bus accident. You can increase the odds of getting the damages you need right away by contacting a professional Mansfield bus accident lawyer immediately after a collision. You can call us at (469) 998-4069 or complete our online contact form to get help today.
Take charge of your future after a bus accident by reaching out for a FREE consultation about your legal options.
Frequently Asked Questions