Mansfield Oversized Loads Accident Lawyer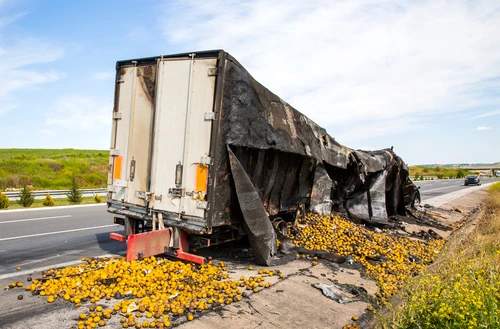 You could end up facing major losses after an accident involving an oversized truck in Mansfield. We're here to help you handle this situation. Members of our team are prepared to build a claim for you, starting immediately after your accident.
You can easily contact a Mansfield oversized loads accident lawyer if you reach out to us. We'll take your call at (469) 998-4069. This allows us to get to work on bringing you compensation for your medical expenses, vehicle repairs, and lost wages.
Information About Oversized Loads in Mansfield
The Texas Department of Motor Vehicles (TxDMV) has set up size limits for vehicles that travel the roads through our state. Vehicles that exceed these limits are considered "oversized." Many oversized vehicles are commercial trucks.
Vehicles qualify as oversized if they are:
Wider than 8'6"
Taller than 14'
There are also weight limits used for commercial vehicles throughout our state. The state's gross maximum weight is 80,000 pounds.
However, many vehicles are not allowed to haul this much weight. For example, trucks with a:
Single axle can only haul 20,000 pounds
Tandem axle group can only haul 34,000 pounds
Triple axle group can only haul 42,000 pounds
However, some vehicles are allowed to exceed these vehicles. Truck drivers can acquire an oversize permit if they want to haul a loud that is over any of these limits. This allows a truck driver to haul a vehicle that is longer or heavier than a standard load. Some vehicles are even allowed to be wider than usual.
Drivers hauling oversized loads must still obey all the rules of the road here in Mansfield. If a driver with an oversized load hit you, make sure that you reach out to us right away to get legal assistance.
Expectations After a Mansfield Oversized Truck Accident
Many drivers aren't sure what to expect after they are involved in an oversized truck collision in Mansfield. After an accident, you should stop your vehicle and contact the police. It's important to report all accidents to the police, especially if they lead to injuries or vehicle damage.
The police can then visit the scene of your accident. They'll likely question everyone involved in the accident. They'll file a report regarding the accident. Your lawyer can later request a copy of this report while working on your claim.
You should expect to get in contact with insurance agents after a collision with an oversized truck. However, you should reach out to a Mansfield oversized loads accident lawyer first. A lawyer can advise about what to say to insurance agents. This can protect your ability to get compensation after an accident.
Find out more about what happens after a truck accident by calling (469) 998-4069. A truck accident lawyer can answer all of your questions when you schedule your free consultation.
Our Team Helps After a Mansfield Truck Accident
Insurance agents won't just give you compensation after an accident involving an oversized load in Mansfield. Instead, a lawyer will need to pursue compensation through legal means. We are ready to build your claim by:
Investigating the causes of your accident
Interviewing any witnesses to the accident
Working with accident reconstruction technicians
We'll also step in to handle all communication with insurance agents on your behalf. We know that these individuals often try to blame truck accidents on other drivers. They may even claim that you weren't hurt in an accident.
You can also count on us to keep you up to date on all the time limits to handle your claim. The state of Texas uses a two-year statute of limitations on most truck accident claims. This means you cannot get compensation for your losses if you wait too long to file a claim.
Forms of Compensation for an Oversized Loads Accident
Drivers hurt in an oversized loads accident in Mansfield can take steps to get compensation for their:
Economic losses
Non-economic losses
Economic losses are the kinds of damages most of us think of after a truck accident. Your medical expenses and vehicle repairs are both examples of economic losses. Any wages you lost while you were off work are also economic losses here in Mansfield.
Many drivers are also eligible to receive non-economic losses. These losses don't have a pre-set dollar value. Things like your pain and suffering are considered non-economic losses in Texas. We can assess your situation and determine a value for your non-economic losses.
You can even count on us to bring you exemplary damages in some situations. These damages are supposed to penalize the driver who caused your accident. We'll work to show that a truck driver was at-fault for your collision so you can get fair compensation.
Options to Handle a Mansfield Oversized Loads Accident
You have multiple options to seek compensation after an oversized loads accident in Mansfield. Many drivers work to get damages by filing a claim with the truck driver's insurance company. We know the strategies that work to handle insurance agents throughout Texas.
We'll review every settlement offer made by insurance agents after your collision. You don't have to just take the first offer made by the insurance company. In fact, the first offer from insurance representatives is generally too low to cover all of your losses after a collision. Let us step in and negotiate for you after your accident.
We can also step in to assist you if you want to file a lawsuit against the driver who hit you here in Mansfield. Some drivers want to take their claims to court to get compensation. We have the legal know-how to help you in this situation, and we're not afraid to take your side.
Contact a Mansfield Oversized Loads Accident Lawyer
Allow members of our team to help you after an accident involving an oversized load in Mansfield. We'll start working on all aspects of your legal claim today. You can easily contact our Mansfield oversized loads accident lawyers to get the help that you want.
Reach out to us now for a free consultation. You can speak with members of our team if you call (469) 998-4069 or complete our online contact form.
Frequently Asked Questions