What Age Group Causes the Most Accidents?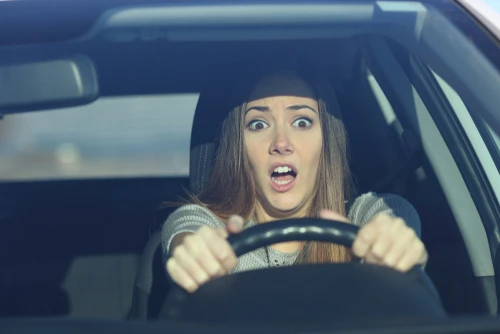 Negligence in drivers of all ages can cause accidents, but younger drivers are more likely to exhibit behaviors leading to crashes. Below, we'll detail what the research shows about what age group causes the most accidents.
The Youngest Group of Drivers Causes the Most Accidents
According to a research brief from the AAA Foundation for Traffic Safety, drivers between the ages of 16 and 17 have the highest accident rates, including accident-related injuries and deaths.
The AAA brief looked at statistics on accident rates, injuries, and death per 100 miles driven related to driver ages. The numbers come from the most recent data from the years 2014-2015. In contrast with teen drivers, those between the ages of 60 and 69 were least likely to cause accidents.
According to fatality statistics from the Insurance Institute for Highway Safety (IIHS), drivers between the ages of 16 and 19 have a fatal accident rate per mile that is almost three times that of drivers aged 20 and older. Again, the risk is highest for drivers aged 16-17.
Top Six Reasons Teenage Drivers Cause the Most Accidents
There are many reasons for higher rates of teen driving accidents, many of which result from inexperience.
1. Lack of Driving Experience
Teenagers in their first or second years of driving, and especially during the first few months, tend to cause the most accidents. A new driver won't have enough hands-on experience to recognize and react to hazards on the road properly.
Many teens are excited to start driving, even if they aren't fully prepared. Proper and careful driving habits take time and experience to develop.
2. Driving While Distracted
Distracted driving is a problem for all driver age groups, but it's especially prevalent among teen drivers.
Distracted driving activities include:
Texting while driving
Eating or drinking while driving
Checking social media or email while driving
Talking to car passengers
Speaking on the phone while driving
Changing the radio or choosing music while driving
Putting on makeup or grooming while driving
Many teen drivers fail to realize just how dangerous distracted driving can be. Doing other things while operating a motor vehicle puts the driver and everyone else on the road at risk of severe accidents.
3. Reckless Driving
Actions like speeding, tailgating, swerving in and out of lanes, and racing are all examples of reckless driving. Young drivers are more likely to engage in these types of behaviors while driving. Reckless driving prevents a driver from carefully watching for and responding to hazards that can cause accidents.
4. Alcohol Use While Driving
Teens are more prone to drinking and driving compared with other age groups. Plus, a shocking percentage of teenagers have said they were willing to get into the car with another teen who has been drinking.
5. Teenage Passengers
Here's an often-overlooked reason for teen driving accidents: teenage passengers. Research has shown that having teen passengers can increase a teen driver's risk of reckless behavior, drunk drinking, and other unsafe practices that often cause accidents.
6. Lack of Seat Belt Use
Seat belts help save lives, but they can't be effective if drivers and passengers don't use them. Teenage drivers are more likely to forgo using seat belts. While seat belt use cannot prevent accidents, it can reduce the severity of accident injuries and help avoid accident deaths.
How We Can Reduce Teen Accidents
The U.S. states began using graduated driver licensing (GDL) systems in the 1990s, and these programs have helped reduce rates of severe and deadly teenage crashes. These GDL programs restrict what new drivers can do until they reach a new stage of experience.
All states have some form of GDL system in place, but the details vary by state. Each system can include restrictions like:
Having to reach a certain age to get a learner's permit
Not being able to drive during the nighttime hours
Having a holding period of 12 months or more
None or only one underage passenger in the vehicle
Having to be at least 18 years old to be fully licensed to drive
GDL programs have helped decrease the rates of deadly teen accidents, but some research suggests more thorough programs might further reduce teen accidents. Parents should also be careful to monitor their new teen drivers and ensure they follow all experience and licensing requirements.
Which Age Group Has the Lowest Accident Rate?
While new teen drivers cause the most accidents, drivers between the ages of 50 and 60 seem to have the lowest accident rates. Drivers in their 30s and 40s also tend to get into fewer accidents, as they are older than teenage drivers and still young enough not to suffer from impaired physical or mental abilities.
What to Do if You Were Injured in a Teen Driving Accident
If a teen driver caused your accident, you may be entitled to compensation. Younger drivers are not off the hook if they cause an accident. It's best to speak with an experienced teen driving accident lawyer for help building a claim.
You can file a claim with the driver's (or their parents') insurance company. To do that, you'll need to show that:
The teen driver owed you a duty of care.
The driver breached their duty of care.
The teen driver's negligence caused your accident.
You suffered injuries and other damages because of the accident.
Your lawyer can help you demonstrate each of the above points and gather evidence to prove the teen driver caused your crash. Your lawyer can also help you deal with the insurance company and negotiate for the settlement you deserve.
Talk to a Teen Driving Accident Lawyer During a Free Consultation Today
If a teen driving accident left you injured, you should not have to pay for the costs. Our Dallas car accident lawyers can help you build a strong case for compensation — at no risk. We can match you with the best attorney for your needs, and we do not charge you a fee unless we win your case.
To get started with a FREE, no-obligation consultation, call us at (469) 998-4069 or contact us online today.
Frequently Asked Questions