Irving Oversized Loads Accident Lawyer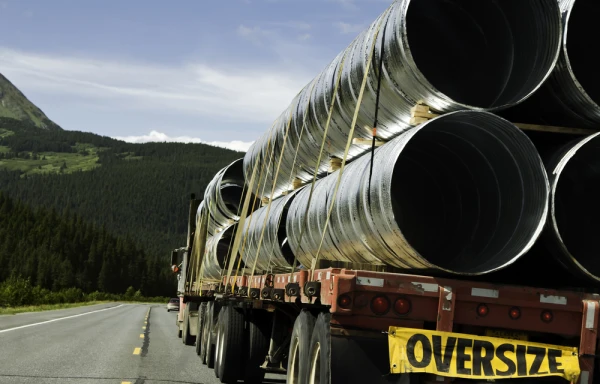 Oversized loads are defined as any freight that exceeds the oversize and wide loads regulations. They are a common sight on the highways near Irving and elsewhere in Texas, and often include construction materials, industrial machinery, or even mobile homes.
There are different types of oversized loads. An oversized load may be wide, where the objects being transported exceed the width of the truck bed. Other times, the shipment fits in the bed but is over local weight restrictions. These are known as overweight loads.
The good news is an oversized load is hard to ignore. As if the cargo wasn't already easy to spot because of its size, many trucks carrying oversized loads use brightly colored banners. In some cases, oversized loads are also followed by a smaller pickup truck displaying safety flags.
Unfortunately, visibility isn't enough to prevent accidents. Even if they don't surprise you, an oversized load can still be very dangerous. When oversized loads cause accidents, they are often severe — even fatal.
If you or someone you love has been in an accident caused by oversized loads, call us today at (469) 998-4069 to speak to a lawyer. Our consultations are always free, so there's no obligation. If our accident lawyers don't win your case, we won't charge for our services.
Oversized Load Restrictions in Texas
The Texas Department of Motor Vehicles (TxDMV) has size and weight restrictions to help keep drivers safe. Private and commercial vehicles must follow certain limits. If they don't, they will require a permit. Driving oversized loads without a permit is illegal in Texas.
If you do not have a permit for oversized loads, you are restricted to the following:
The height of your load may not exceed 14 feet.
For passenger cars, the width of your load may not exceed eight feet.
For other vehicles, the width of your load may not exceed eight feet, six inches.
Vehicles that are too long are also considered oversized loads. A single motor vehicle must not exceed 45' without a permit. Semi-trailers are limited to 59' in length.
Weight limitations are determined based on the number of axles:
A single axle vehicle may not exceed 20,000 pounds.
Tandem axles are limited to 34,000 pounds.
Triple axles are limited to 42,000 pounds.
Quad axles may not exceed 50,000 pounds.
Overall, the gross legal weight limit for a vehicle is 80,000 pounds total. This includes the weight of the vehicle itself as well as its cargo.
There are also oversize restrictions for towing vehicles, such as boats or trailers. Vehicles with front or rear overhangs also have size limits. Contact your local DMV branch for more information about Texas vehicle size restrictions. If your vehicle is oversized, they can also help you obtain legal permits.
How Do Oversized Loads Cause Accidents?
Oversized loads are responsible for some of the worst car crashes. In an accident involving an oversized load, the damage can be extreme. Your car may be totaled beyond repair. Additionally, you and your passengers may suffer serious injuries or fatalities.
In other words, an accident caused by an oversized load can ruin lives. So how do these accidents happen? What can you do to avoid them? Here is an overview of the causes of oversized load accidents:
Traffic Disruption
Legally, a vehicle carrying an oversized load must drive slower than other traffic. Although this is designed to promote safety, other drivers often become frustrated. When an oversized load creates a traffic jam, they may speed up or change lanes without regard for safety.
This risky maneuvering causes accidents. In the worst cases, it may require the driver of the oversized load to brake or swerve. This can be disastrous because oversized loads may easily tip over.
Fallen Cargo
Often, an oversized load consists of bulky cargo. Lumber, machinery, pipes, and other industrial materials are common. This cargo must be carefully secured with chains or ropes. If not, it may come loose.
Fallen cargo causes very bad car accidents. The loose cargo may crush smaller vehicles or shatter their windshields. It also creates unsafe driving conditions. Other drivers cause accidents when they brake or swerve to avoid objects in the road.
If the oversized load consists of gravel, dirt, or liquids, it can create deadly driving conditions. The road may become unstable. Drivers may experience brake failures, tire failures, and steering problems. It is common for vehicles to spin out or roll over in these situations.
Driver Error
Finally, many oversized load accidents are caused by the driver. Anyone driving an oversized load must be trained. They also need a special license. If drivers are not qualified, they may cause accidents. In these cases, the company that hired the driver may be held liable for damages.
However, even professional truck drivers still cause accidents. Oversized loads are harder to handle. The extreme size and weight create imbalances that affect steering. If a driver experiences a problem, they may lose control of the vehicle.
Oversized load accidents also occur when a driver is impaired. This may happen due to driver fatigue or illness. Drivers may also be distracted. Additionally, they may be under the influence of drugs or alcohol.
If a driver is impaired for any reason, it will impact their ability to drive safely. They may experience loss of coordination, vision problems, and impaired judgment. Severe accidents are common when drivers are impaired.
Irving Accident Lawyers Can Help
If you or someone you love has been in a collision caused by an oversized load, you're not alone. Our accident lawyers will fight for your rights. We are proud to serve all drivers in Irving and nearby communities.
An Irving accident lawyer will help you win compensation for damages caused by oversized loads. Settlements can be used to pay medical bills, replace a damaged or totaled vehicle, and cover lost wages.
Reach out today for a free consultation appointment. If we don't take your case and help you win, you won't pay any fees. Use our online contact form or call (469) 998-4069.
Frequently Asked Questions