Irving Motorcycle Accident Lawyer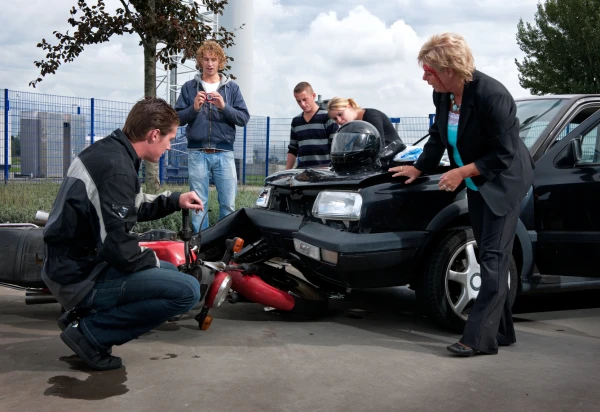 Motorcyclists can be severely injured if they are involved in motor vehicle accidents in Irving. Large vehicles can crush riders and motorcycles offer little protection from the impact.
You can face a long period of recovery after a motorcycle accident. You should be able to get compensation from the driver that caused the accident to help with your medical bills, but this can be difficult.
An Irving motorcycle accident lawyer can help you get the damages you need to cover your injuries and the repairs to your motorcycle. Make sure you're ready to face down insurance companies and other drivers by getting professional help today.
Handle Your Motorcycle Accident the Right Way
After a motorcycle accident, you will likely face a tough fight to get the fair compensation you deserve. The other driver's insurance company can start working against you immediately. You can improve your chances of success with a few simple steps:
Call for Help
Emergency services in the Irving area are there to help after any motor vehicle accident. You can ensure that an accident report is generated by calling emergency services, which can make it easier to prove that you are telling the truth about what happened.
You can also receive medical care by calling for help. Any injuries that you sustained in the crash should be treated. Make sure that you get documentation of your wounds, so that it's harder for the other driver to deny you compensation later on.
Record the Scene
Memories can fade and be unreliable, but pictures and video are not. If you have a cell phone you can get evidence of what happened before anything is changed or moved around. You can also get contact information from any witnesses and the driver that hit you.
Having physical proof that the accident occurred in a certain way can make winning your case a lot easier. You don't want to get caught putting your word against the other driver's without proof.
Get Legal Advice
You can boost your odds of getting the compensation you need by contacting a motorcycle accident lawyer quickly after the wreck. It can be tempting to delay, but you will likely need legal advice before you are even out of the hospital.
Insurance companies for other drivers know that most motorcycle accidents involving more than one vehicle are caused by other drivers. They may try to protect their client by immediately offering you a small settlement if you promise not to sue. They can make these deals sound great, but they often leave you with medical and repair bills you can't pay.
A motorcycle accident lawyer will step in and go over any deal with a fine-tooth comb to help ensure you aren't taken advantage of.
Win Your Case with a Motorcycle Accident Lawyer
Motorcycle accident lawyers can offer you the support you need if you are one of the many motorcyclists injured in an accident. The National Highway Traffic Administration reported 88,000 injuries to motorcycle riders in 2015 alone.
Contacting a motorcycle accident lawyer quickly will give them the best chance of building your case. Your lawyer can contact eyewitnesses to the scene and interview them while the accident is still fresh in their memory.
Your motorcycle accident lawyer can also:
Hire investigators to look into the accident
Negotiate a settlement with the insurance company
Take the other driver to court to get the compensation you need
Getting a settlement or winning in court will require your motorcycle accident lawyer to prove two things:
The other driver was predominately at fault
Your injuries were caused by the accident
Both of these facts can be difficult to establish without experience and resources, but it can be done. An Irving motorcycle accident lawyer can even help you if you were riding your motorcycle without your helmet. While riding with no helmet is technically legal in some situations, it can make your case harder to win. Get experienced help on your side handling this issue.
An Irving Motorcycle Accident Lawyer Can Help You Now
Dealing with a motorcycle accident on your own can make it impossible to get the compensation you need. You can be left with mountains of bills for something that wasn't even your fault. An Irving motorcycle accident lawyer can help ensure you're treated fairly.
Our lawyers understand what you're going through. We're here to offer you the assistance you need when you need it. Let us focus on the specifics of your case today with a FREE consultation.
You can reach us by filling out our online contact form or calling (469) 998-4069.
Frequently Asked Questions