Arlington Motorcycle Accident Lawyer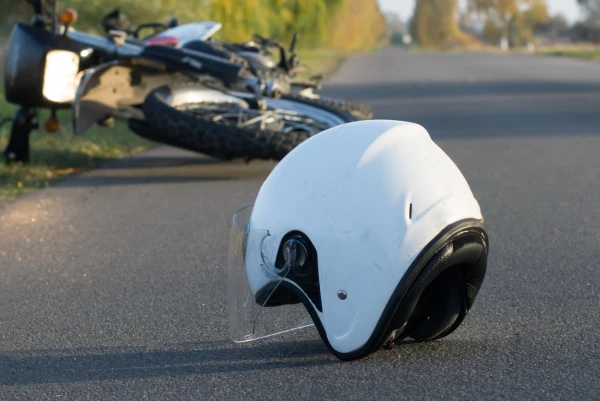 Riding a motorcycle can be invigorating and freeing, but motorcycle accidents can lead to severe injuries if you're lucky. Motorcycle riders face traffic and other drivers with little protection, which can lead to serious consequences in the event of an accident.
You might suffer from broken bones or serious neck and back injuries if you are in a motorcycle accident, while other motorists walk away unharmed. Even if the accident is not your fault, you can end up left with high medical bills and a totaled bike.
Getting compensation for your injuries can be difficult in Texas's legal system. You can get the legal support you need from the our firm, a Dallas car accident law firm,. Our Arlington motorcycle accident lawyers are ready to take your case and fight for you.
Motorcycle Accidents Can Change Your Life
You could end up seriously injured and shaken up in a motorcycle accident. The insurance companies representing the other drivers in the accident know this and may try to take advantage of your condition. Often, insurance representatives will try to contact you quickly with a settlement offer.
Initial settlement offers are typically meager amounts that will not fairly compensate you. Insurance companies just wants you to agree to their terms and to promise not to file any claims against their clients in the future.
You don't have to accept an unfair offer. You can count on a motorcycle accident lawyer in Arlington to look over any offers to ensure they're acceptable. The sooner you contact the our firm, a Dallas car accident law firm, , the sooner you can get legal help in your corner and protection from insurance companies.
Fight Back with an Arlington Motorcycle Accident Lawyer
You take a risk every time you drive your motorcycle around other vehicles. The state of Texas advises motorcyclists to always wear proper protective gear, including helmets. However, even following all of the guidelines for the safe operation of a motorcycle can not guarantee that another vehicle will not hit you.
Many motorcycle accidents occur because other drivers violate the right of way of the motorcyclist. While other drivers may claim that they did not see the motorcyclist they hit, this can be of little comfort to you.
Other drivers may also try to place the blame for the accident onto your shoulders. You can get help proving that you did not cause the accident by working with an experienced motorcycle accident lawyer in Arlington.
Proving that another driver is liable for the accident will be only part of your legal battle. Your lawyer will also need to prove that your injuries were caused by the accident. Ensuring that the court understands your side of the story can be tricky. You need a skilled motorcycle accident lawyer to handle your case properly.
Get Help from a Motorcycle Accident Lawyer You Can Trust
There are many motorcycle accident lawyers in the Arlington area that you can turn to after an accident, but they are not all created equal. The quality of your representation could determine whether or not you get the compensation you need.
Finding a motorcycle accident lawyer who has experience can boost your chances of success. You want a law group that is used to fighting and beating insurance companies. The our firm, a Dallas car accident law firm, have established a reputation for successfully defending our clients.
Most high-quality, responsible motorcycle accident lawyers will use a "no win, no fee" pay structure. You shouldn't have to pay a lawyer that did not successfully win your case or arrange a fair settlement. Don't get taken advantage of by a scheme from a lawyer who should be protecting you.
Finding legal help from a law firm you can trust can be difficult, especially in the aftermath of a motorcycle accident. You need a motorcycle accident lawyer that you feel comfortable talking to and working with. You can contact the our firm, a Dallas car accident law firm, for a FREE consultation to see if we're a good fit for you.
A Motorcycle Accident Lawyer in Arlington Can Help You
A motorcycle accident can leave you dealing with serious injuries and pushy insurance companies, but you don't have to face these challenges on your own. The our firm, a Dallas car accident law firm, understand what you're going through and can help you today.
Our motorcycle accident lawyers in Arlington won't be taken advantage of by insurance companies or other motorists. We can put our skills and experience to work on your case. Contact us to find out what we can do for you. You can reach us by calling (469) 998-4069 or by filling out the form on the right.
Frequently Asked Questions