Arlington Fatigued Driver Accident Lawyer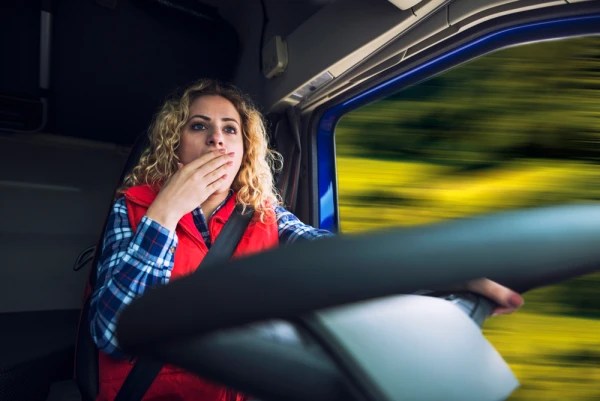 Fatigued drivers in Arlington pose a danger to those on the roads with them. Many truck drivers operate their vehicles while fatigued in an attempt to make an important delivery — this could result in a major collision.
You should reach out to an Arlington accident lawyer after a collision. Your lawyer may assess your case to help you build a claim. In some cases, a lawyer may help you get compensation for your healthcare expenses and other losses. Find out how by calling (469) 998-4069.
Driving While Fatigued Is Dangerous in Arlington
Many drivers realize that driving under the influence of alcohol is dangerous. However, driving fatigued may result in impairment similar to driving after drinking. In fact, drivers who drive after staying awake for 20 hours may experience serious impairment. Fatigue may cause drivers to:
React more slowly to changing road conditions
Exhibit poor decision making
Fall asleep behind the wheel
You can find statistics regarding fatigued driving through the National Safety Council (NSC). The NSC tells us that every year there are:
About 100,000 reported fatigued driving crashes
Approximately 71,000 injuries caused by fatigued driving
Around 1,500 fatalities caused by fatigued driving
These numbers are not definitive. In many cases, it is difficult to prove that someone was driving while fatigued.
Reasons Truck Drivers Operate a Vehicle While Fatigued
Truck drivers may operate an 18-wheeler or semi-truck while they are drowsy. These drivers may face time constraints from their employers. They may be expected to deliver a certain load by a specific time, leading them to drive for an extended period.
Drivers may also experience fatigue if they work very long routes — this often requires a driver to sleep overnight in their truck. Sleeping in the back of the truck may prevent the driver from getting deep sleep, leading to general fatigue the following day.
Regardless of the reason for the fatigue, driving while drowsy is dangerous. You should get legal help if you were struck by a drowsy driver. Find out more about your specific options by calling (469) 998-4069. Speak with a member of a legal team right now.
Establish Liability for a Fatigued Driving Accident in Arlington
You may only get compensation after an accident with a fatigued driver in some cases. Getting damages may require a lawyer to show that the other driver caused the accident. Driving while fatigued is not enough to cause an accident. A truck driver must also take direct action that results in a collision. Drivers may:
Fail to stop at an intersection
Swerve across lanes of traffic
Come to a sudden and unexpected stop
These are only examples of actions that could result in a truck accident in Arlington. A lawyer can investigate your case to find out what caused the collision. Your lawyer may talk to any witnesses to the accident. In some cases, lawyers even work with accident reconstruction specialists to get help.
Focus on Compensation for a Fatigued Driving Accident
A lawyer could help you get compensation for your losses after an accident with a fatigued driver in Arlington. You may want to get damages to cover your medical expenses after a wreck with another driver. Depending upon your situation, you could receive funds to cover your:
Emergency medical treatment
Ambulance transportation
Time spent in the hospital
Medical tests and procedures
Rehabilitation and physical therapy
You may get coverage for the time you spend off work during your recovery. You may also focus on getting damages for your vehicle repair costs. You might get this compensation through a settlement with the insurance company. Many truck accident claims end with a settlement.
A lawyer will review all settlement offers on your behalf. Sometimes, insurance companies do not treat drivers in your situation fairly. Your lawyer may help you file a lawsuit in this case. You could then seek compensation through the court system. Discuss all your options with a lawyer now.
Talk to an Arlington Accident Lawyer
Help is waiting if you were struck by a fatigued truck driver in Arlington. Start working on your claim today. Just reach out to an accident lawyer for assistance. You may start building a claim with a free consultation. Learn more about securing compensation with a member of our team.
You may complete our online contact form. You may also call (469) 998-4069 to get in contact with us. We may begin working on your specific legal case right now.
Frequently Asked Questions