Frisco Fatigued Driver Truck Accident Lawyer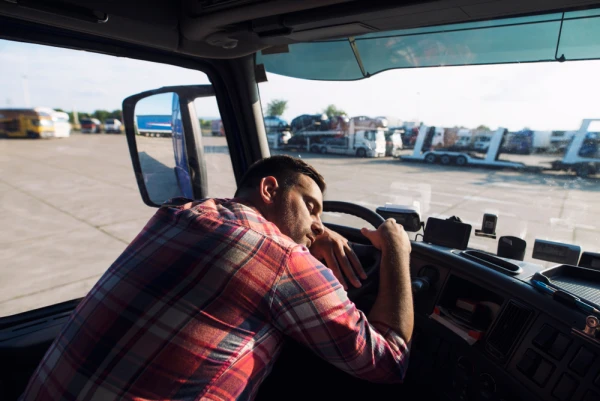 Fatigued drivers cause many accidents every year in Frisco. These drivers often have trouble focusing on the road. They even fall asleep behind the wheel in some cases. These actions often result in major collisions, vehicle damage, and injuries.
We're here to help you get compensation after an accident caused by a drowsy driver. Reach out to us right now by calling (469) 998-4069. Let a Frisco fatigued driver accident lawyer get to work on your claim today.
Fatigued Drivers Are a Problem Around the Country
Fatigued drivers are not a problem only in Frisco, Texas. The National Safety Council (NSC) focuses on the actions of these drivers. According to the NSC, around 50% of U.S. drivers operate a vehicle while drowsy on a regular basis. Additionally, around:
40% of drivers have fallen asleep behind the wheel at least once
20% of drivers fall asleep behind the wheel at least once per year
Fatigued drivers are dangerous even if they do not fall asleep at the wheel. Driving while fatigued slows down a driver's reflexes. Drivers often have trouble adjusting to dangerous situations if they are fatigued. All of these factors lead to fatigue accidents in Frisco.
Commercial Drivers and Fatigued Driving in Frisco
As you can see, a large number of drivers operate vehicles while fatigued every year. Many of these drivers are operating passenger vehicles. However, some drivers operate commercial vehicles. Commercial vehicles are very large. They are hard to handle even when drivers are awake and aware.
Commercial drivers are often fatigued due to the schedules they have to keep. Some drivers are long-haul truckers. This means they do not make it home every night while working. They often end up sleeping at truck stops or along the road. This can prevent them from getting enough sleep.
These factors sometimes cause commercial drivers to cause accidents. However, you should know that fatigue is often not a direct cause of an accident. Instead, doing something like swerving across lanes of traffic after falling asleep at the wheel could cause an accident.
We're ready to determine the specific causes of your accident, right now. Find out how by contacting a fatigued driver accident lawyer in Frisco. Just call (469) 998-4069. We are prepared to take on your case starting today.
Take These Steps After a Fatigued Driver Accident in Frisco
It's important that you get medical treatment after an accident involving a fatigued driver in Frisco. In many cases, drivers are primarily concerned with addressing their major injuries. However, there are some other steps you should take, as well. Make sure that you:
Inform the police about the accident
Take pictures of the scene of the collision
Get contact information from eye-witnesses
Talk to a truck accident lawyer in Frisco
Ensure that you report your accident to the police, especially if someone got hurt. Reporting your accident works to show that it actually occurred. The police can also focus on the causes of your accident. Note that it's difficult to prove a driver was driving while fatigued in many cases.
There are no tests that measure a driver's fatigue level. However, a police officer can work to determine if the driver who struck you was impaired. This can help to show that the other driver was at-fault for the accident in Frisco.
Focus on Compensation for a Fatigued Driver Accident in Frisco
Members of our team are here to help if you are struck by a fatigued driver in Frisco. We focus on handling all aspects of your case. This includes:
Investigating the causes of your accident
Dealing with insurance agents on your behalf
Working to settle your claim
Focusing on building a lawsuit for you
We'll provide you with clear-cut information about the state of your claim. You can count on us to take steps to secure full compensation for your losses. Let us work to bring you damages for your healthcare expenses and other losses. We'll work to settle your claim out of court. We're also ready to take your claim before a judge and jury.
Speak to a Frisco Fatigued Driver Accident Lawyer Immediately
Call us at (469) 998-4069 if you were hurt in a fatigued driver accident. We'll start working to build your claim immediately. Let us work to determine who caused your accident. Focus on your needs by working with a fatigued driver accident lawyer in Frisco. We also have an online contact form you can fill out.
Consider your unique situation with a free consultation from our team.
Frequently Asked Questions