Mesquite Fatigued Driver Accident Lawyer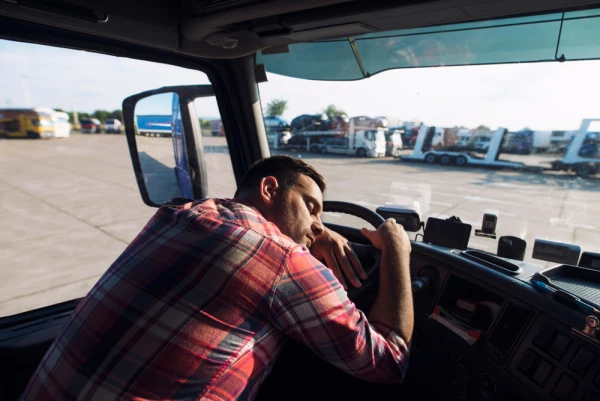 Fatigued drivers cause many accidents every year around the country. Any driver could become fatigued and drowsy behind the wheel. However, many fatigued driver accidents in Mesquite, TX involve large truck drivers. It's especially dangerous when a trucker becomes drowsy while driving, as this could result in a large accident.
Take steps to get compensation if you were hit by a drowsy truck driver. Just contact a Mesquite fatigued driver accident lawyer right now. Call (469) 998-4069 to learn more about your options to secure damages after your accident.
Learn More About Fatigued Driver Accidents in the U.S.
Many drivers in Mesquite do not realize how dangerous it could be to drive while fatigued. The Insurance Information Institute (III) gathers information about the number of accidents caused by fatigued drivers. According to the III, in the year 2017 there were:
91,000 crashes involving drowsy drivers reported to the police.
50,000 people injured in accidents involving drowsy drivers.
795 fatalities in accidents involving drowsy drivers.
However, there are concerns that these numbers may not be completely accurate. Additional fatigued driver accidents likely go unreported, and police officers might not always realize that a driver was operating a vehicle while tired after an accident in Mesquite.
Dangers of Driving a Truck While Fatigued in Mesquite
Driving fatigued increases the odds of an accident occurring for several reasons. Drivers who are fatigued may have a harder time focusing on the road or they could have slower reaction times. In some cases, going without sleep can have the same effect as consuming alcohol.
Additionally, drivers who are very tired might fall asleep at the wheel. This could cause the driver to move across lanes of traffic or even drift to a stop in the middle of the road. These actions could end up causing major collisions here in Mesquite.
Truck drivers experience fatigue for a number of different reasons. Many truck drivers in Mesquite are expected to haul their loads for long hours. They may also need to sleep in their trucks, which could prevent them from getting solid rest before they get back on the road.
Discuss the causes of a fatigued driver accident with your lawyer. Speak to a member of our legal team now by calling (469) 998-4069. We're ready to go over the specific facts of your case today.
Take These Steps After an Accident with a Fatigued Driver
You may feel uncertain about what to do after an accident with a fatigued truck driver. There are a number of steps you should take in this situation. It's important that you:
Report your accident to the police, especially if you were hurt.
Take pictures of the scene of the accident and your injuries.
Get contact information from the truck driver and eye witnesses.
Get medical treatment for your injuries.
Reach out to a truck accident lawyer in Mesquite.
Taking these steps could help you get compensation after a collision. Note that you may want to reach out to a lawyer even before you contact your insurance company. Insurance agents sometimes try to reduce your compensation if you speak to them without a fatigued driver accident lawyer in Mesquite.
Focus on Getting Compensation After a Fatigued Driver Accident
As mentioned, a lawyer could help you get compensation after a collision with a fatigued driver in Mesquite. After your accident, your lawyer will work to bring you a settlement, which represents funds offered by an insurance company. You may receive damages to cover your:
Current and future medical expenses.
Wages lost at work during your recovery.
Costs to repair your vehicle.
Pain, suffering, and mental anguish.
Note that insurance companies sometimes offer a settlement right away after an accident. This first settlement may be too small to cover all of your losses. Allow a lawyer to go over any settlement before you accept it. You could also choose to file a lawsuit in court against the driver who caused your accident. Review your options with us right now.
Call a Mesquite Fatigued Driver Accident Lawyer Today
Don't wait to get help on your side after a collision with a fatigued driver in Mesquite. Start working on your claim today by contacting us. Just call (469) 998-4069 or fill out our online contact form. A fatigued driver accident lawyer in Mesquite can start working to bring you compensation.
Find out more about how we could help with a free consultation.
Frequently Asked Questions