Mesquite Truck Accident Lawyer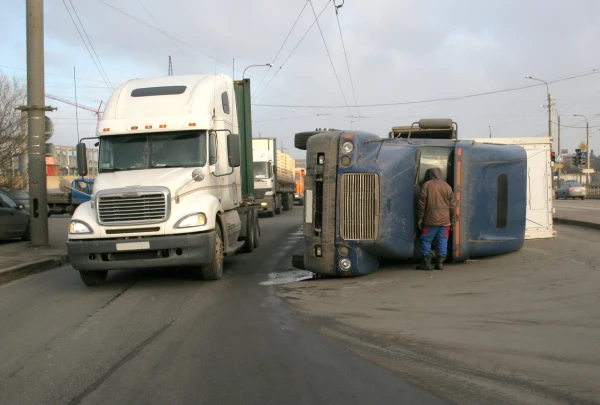 The roads around Mesquite, Texas are seeing more and more semi-trucks and 18-wheelers. These large vehicles are vital to the economy, but they can end up causing tremendous amounts of damage when they are involved in accidents.
The Federal Motor Carrier Safety Administration (FMCSA) reported that there were more than 475,000 truck accidents just in 2016. These accidents can occur anywhere. The FMCSA reported that, by percentage, truck accidents occurred:
In rural areas 61% of the time
On interstate highways 27% of the time
On rural interstate highways 15% of the time
Trucks accidents can severely injure motorists and total smaller vehicles. Trucking companies are often protected by high-powered insurance agents who fight against truck accident claims. Get help securing the compensation you deserve by working with a Mesquite truck accident lawyer today.
Make Sure You Handle a Truck Accident the Right Way
You're probably not going to be thinking about legal issues and courtroom battles right after a truck accident, and that is understandable. But there are some steps you should take right away if you are injured in a truck accident in Mesquite. You should:
Call Emergency Services
If you are injured, you need to seek professional help. Make sure you have a record of any medical treatment you receive and your bills. You can also strengthen your case by ensuring there is a police report generated about your accident.
Record the Scene
Almost everyone has a cell phone these days. You can use this device to take pictures or video of the accident. This can help prove that your story is truthful if your case goes to court. You can also take down the personal information of the truck driver that hit you and any witnesses who saw the accident.
Get Professional Help
Trucking companies generally carry insurance policies on their drivers. These policies are managed by insurance agencies that want to protect the company and save money. They can try to deny you the compensation you deserve.
You can fight back by contacting a truck accident lawyer. Truck accident lawyers understand the strategies used by insurance companies. They can step in and deal with insurance agents to make sure you aren't taken advantage of while you recover.
Truck Accident Lawyers Are Here to Help You
Getting compensation after a truck accident will require you to prove that the truck driver was mostly at fault. Texas is a modified comparative fault state, which means that you can still get compensation even if you were partially to blame for the accident. Note that you will not receive payment if you are more than 50% at fault.
Your lawyer can work to prove the truck driver was at fault by:
Hiring investigators
Collecting evidence
Interviewing witnesses
Your accident might even be reconstructed to prove your case. Many times, your lawyer will be working to prove that the driver broke a law or was driving while tired or drunk. Other times, the truck driving company could be at fault for:
Performing improper maintenance
Improperly loading a truck
Hiring inexperienced or unsafe drivers
Regardless of the reason for the accident, your truck accident lawyer will stand up for you.
How You Get Compensated for a Truck Accident
Getting the compensation you deserve after a truck accident requires skill and experience. In some cases, your truck accident lawyer will be able to negotiate directly with an insurance company, securing you a settlement without ever going to court.
Other cases must go before a judge. You need a legal team that has experience to win a truck accident case in court. You can find a legal professional you trust to ensure you are represented fairly.
Be aware that you only have a limited amount of time to file a truck accident suit in Mesquite. Texas has a 2 year statute of limitations on all motor vehicle accidents. This means that if you wait too long, your case can no longer be heard and you will get no compensation.
Fight Back with a Truck Accident Lawyer in Mesquite
Don't let the insurance agents working for a trucking company push you around. You deserve fair compensation for your injuries and medical bills. You can get the help you need by contacting a Mesquite truck accident lawyer.
Make sure you're ready to fight for a settlement or to take your suit to court by getting professional legal aid. We can start working on your case today with a FREE consultation.
Take steps to secure your future by calling (469) 998-4069 or filling out our online contact form.
Frequently Asked Questions